New snow: 26 inches
Total settled snow depth: 67 inches (at 8,600 feet)
High temperature: 54 degrees F (January 26)
Low temperature: -9 degrees F (February 2)
Ski Conditions and Weather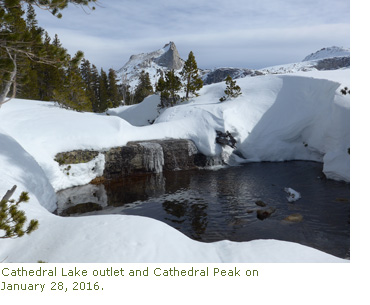 The winter rangers finally saw their shadows this week when the sun came out! Not sure what that means for the rest of the winter. The temperatures were much warmer this week. Those calm, sunny days were then followed by a rather drenching snow storm. The weekend storm was windy, and initially warm. We observed rain up to 10,000 feet near Tioga Pass. Once colder temperatures arrived, the snow started to fall and became progressively lighter and drier, making for ideal powder skiing conditions. Typical strong north winds followed the storm and impressive snow banners were observed along mountain ridges into the middle elevations on Monday. There has now been over 200 inches of snowfall at Tuolumne Meadows this season.    
Avalanche and Snowpack Conditions
For the avalanche advisory for this area of the Sierra Nevada go to http://www.esavalanche.org for the Eastern Sierra Avalanche Center.
The warm temperatures and rain this week have produced some changes in the snowpack. The top part got a good soaking making it more stable overall. The new snow then bonded well to this wet snow surface. However, the upper foot of low density snow was easily transported by the north wind and has caused the alpine terrain to become quite wind affected. Large areas of wind slab have developed and travelers should exercise caution in steep and exposed terrain.
Wildlife
The birds in general were quite active this week with the rain and warm temperatures. We saw a Steller's Jay at Lake Tenaya who was prematurely looking for picnickers on a sunny day. During the stormy weather, a flock of Canada Geese flew overhead in their classic "V" formation, honking as they headed east. The mountain chickadees could be found hunkering under cave like formations caused by the wet snow clinging to the pine boughs. We observed several up close in their little shelters, so comfortable they didn't dare venture out into the tempest.
Questions
The Tuolumne Meadows Ski Hut is open! There is limited firewood and 10 bunks that are available on a first-come, first-served basis. There is power but no public phone service in Tuolumne Meadows this winter. We can be contacted via email, but we may be delayed in responding if we are on patrol. Contact the wilderness office at 209/372-0740 with any questions or concerns. Come prepared; don't count on electricity or phone service at the ski hut.
Happy Groundhog Day!
Laura and Rob Pilewski - Tuolumne Winter Rangers