New snow: 22 inches
Total settled snow depth: 50 inches (at 8,600 feet)
High temperature: 44°F (February 11)
Low temperature: -10°F (February 17)
Ski Conditions and Weather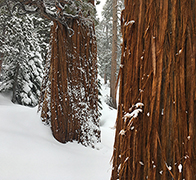 Like the rest of the country, it was a wintry week in the Tuolumne Meadows area. Three weather disturbances came through, leaving fresh snow in their wake. Our thermometer hit a season low of -10°F this morning. Like we mentioned in our last post, if one is patient, the dynamic nature of snow ensures that surface conditions will eventually improve. Even a little new snow to freshen up the old surface can make a vast difference. Remember, when it comes to ski conditions, once the ground is adequately covered, it is not about how deep the snow is, but rather what the surface conditions are like. 
The winds continue to affect the alpine zone. High winds prevailing out of the south west this week have left mostly firm snow surfaces above treeline. A brief hour of freezing like rain has coated a few rocky exposed areas with ice. Softer snow can be found in the middle elevations at and below tree line.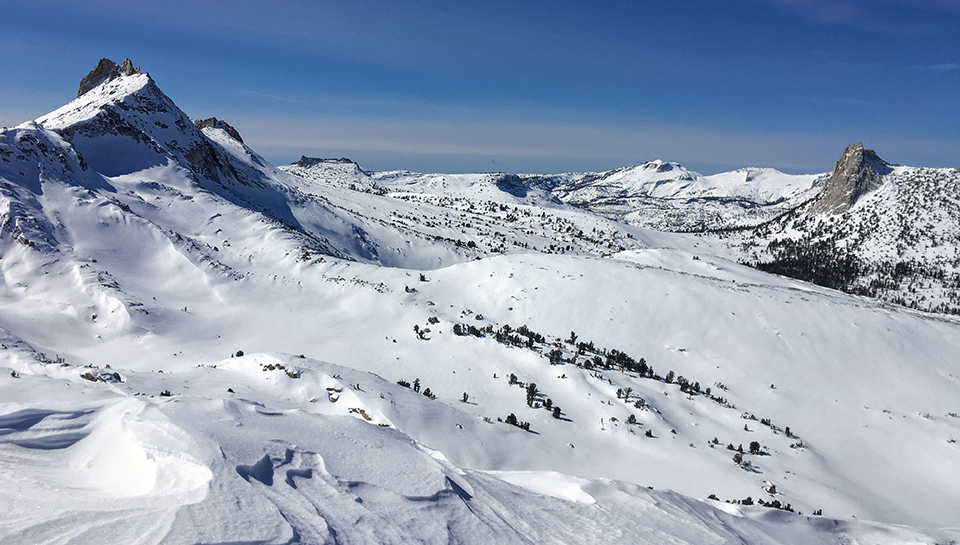 Avalanche and Snowpack Conditions
Please refer to the Eastern Sierra Avalanche Center (ESAC) for the avalanche advisory for this part of the Sierra Nevada.

The third weather disturbance that came through this week was warm and humid. There was a short period of freezing rain, followed by wet snow, ending in the below-zero temperatures we are now experiencing. We observed a thin rain crust up to 11,000 feet (see shiny snow surface in photo of Altusky Peak). Though this crust is not widespread, it may lead to future avalanche problems if buried by subsequent storms. This could be a smooth and slick sliding surface for a slab avalanche.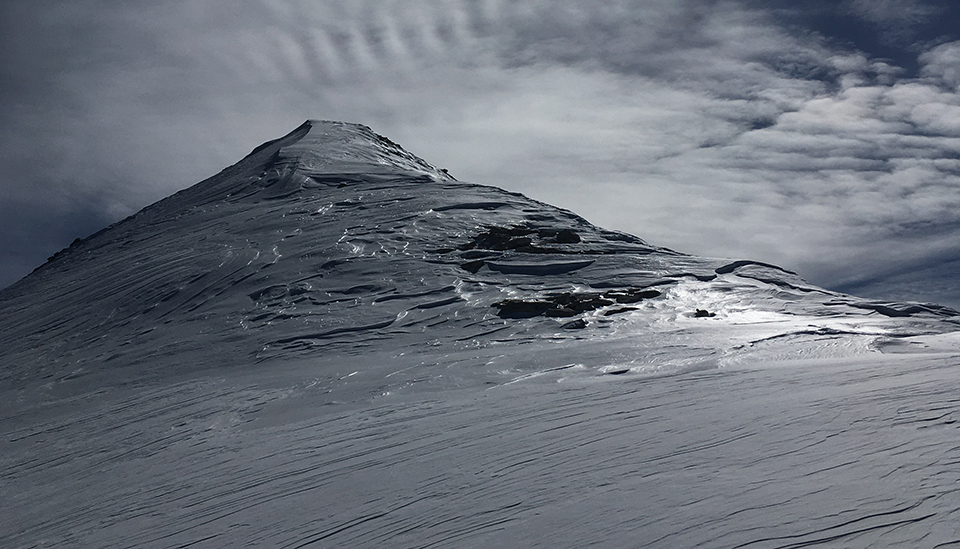 The more immediate avalanche concern is from wind slabs, although presently there is not a lot of loose snow available for transport, but there is some if the winds switch directions as they often do in the Sierra. Being able to assess terrain features, slope aspects, and weather history increase one's margin of safety when traveling in winter.
There are some very hard snow surfaces out there presently and a "slide for life" is possible on steeper terrain. Anyone traveling in the alpine zone should carry an ice-axe and crampons to keep their options open and safe.     
Wildlife
Most birds were hunkered down this week for the Great Backyard Bird Count of Tuolumne Meadows. But, once the sun came out, a worm of American robins, a flock of golden-crowned kinglets, a smattering of mountain chickadees, brown creepers, Clark's nutcrackers, Townsend's solitaire, and a solitary common raven were seen. Flying or skiing were the preferred method of travel this week as was evidenced by the few tracks left behind in the new fallen snow.
General Information
The Tuolumne Meadows Ski Hut is closed for the 2020-2021 season.

Enjoy the sunshine!
Rob and Laura Pilewski - Tuolumne Meadows Winter Rangers