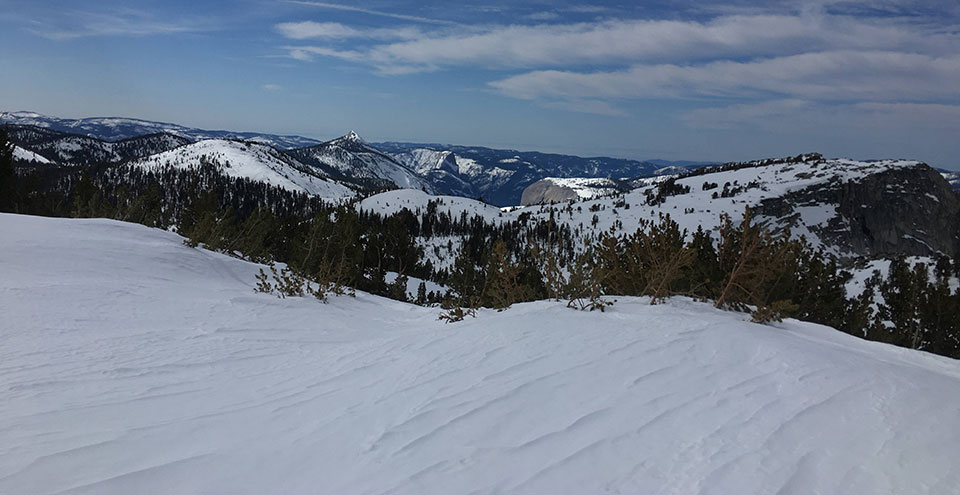 New Snow:
none
Settled Snow Depth:
 38 inches
High temperature:
59°F (February 7)
Low temperature:
12°F (February 3)
Ski Conditions and Weather
The average high temperature was 52°F over the past seven days. This is twelve degrees higher than the February average of 40°F. The warm sunny days have resulted in a melt freeze cycle at the snow surface on most aspects below 10,000 feet. The sounds of snow melt pouring off of the local granite domes and the Tuolumne River can now be heard on a windless day.

The melt freeze cycle has resulted in good touring conditions in the Tuolumne Meadows area. During the "melt" part of the cycle, the snow surface softens up enough for good kick and glide skiing. We patrolled the drainages of the Cathedral Range this week and found corn snow, wind hardened snow, and in the higher elevations the ubiquitous nieve penitentes. We wrote about these snow formations last week and without new snow to "fill in the gaps" they are just getting deeper and more challenging to navigate.

A new study reported in the journal Nature Climate Change finds that the megadrought that the western United States and northern Mexico are presently experiencing is the driest period in at least 1,200 years. Of course, weather is different than climate, so we hope that this week sees at least a few flakes.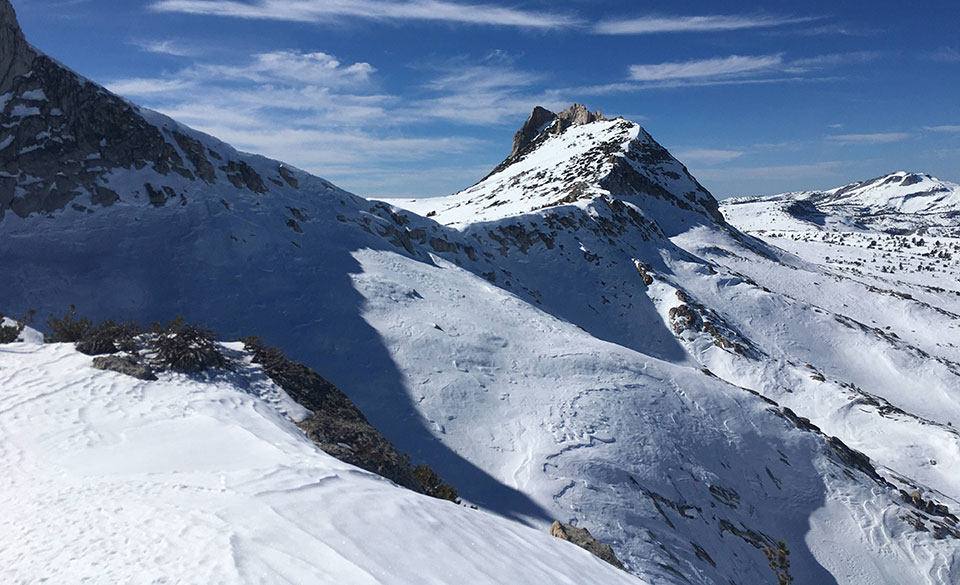 Avalanche and Snowpack Conditions
Please refer to the Eastern Sierra Avalanche Center (ESAC) for the avalanche advisory for this part of the Sierra Nevada. 

The avalanche hazard is presently low, but beware of ice, loose wet snow and/or rockfall when the sun hits those solar aspects especially during the heat of the day. Ice axe and crampons are recommended for travel in the alpine zone and traction devices on lower elevation shaded trails.

Snowline to the east of Tioga Pass is at the 9,000 foot mark or Warren Fork. The road near Ellery Lake dam is also wind scoured for approximately ¼ mile.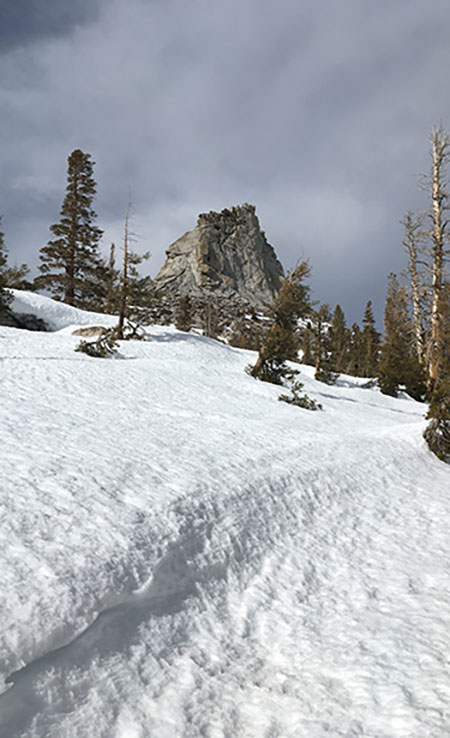 Snow Travel Tip
Surprise, surprise… It's supposed to be a bit windy this week. With temperatures dropping along with the wind chill factor, it's nice to throw a balaclava or neck gaiter and a pair of goggles back into the pack. Occasionally, we have seen days where there can be ground blizzards with clear blue skies. And frostbite or nip can be a hazard along with poor visibility. During such conditions, batten down the hatches in camp and make sure everything is secured when opening your pack. It's always a good idea to carry an extra pair of waterproof gloves in case the others get wet. A nice dry pair of wool socks can also fit the bill in a pinch especially if you get wet crossing the streams that are starting to open up.
Wildlife
Although we've only seen or heard one every few winters, a solitary pine grosbeak could be heard "squeaking" from the high branches of the western white pine and hemlock forest along the Cathedral Lakes trail area this week. Ever since I saw and heard the pine grosbeak up close for the first time while riding the Alberta Ski lift at Wolf Creek Ski Area in Colorado, I cannot separate its call from the sound of the nearby squeaky sheave train that day of which, to me, it sounded exactly like. Perhaps the pine grosbeaks enjoyed dining in the canopy thinking its kin was nearby. Check out "flight calls (California & Rocky Mts)"  Pine Grosbeak Sounds, All About Birds, Cornell Lab of Ornithology
Questions
The wilderness is open! But, especially during this pandemic where local resources may be limited, we implore you to be self-sufficient and not put others at risk. Please #RecreateResponsibly by planning and preparing thoroughly for your outdoor activities in the park.

Read through the following two pages before embarking on any day or overnight snow travel within this park: 
You may contact us with any additional winter Tuolumne Meadows related questions.  

Think snow!
Laura and Rob Pilewski - Tuolumne Meadows winter rangers