New snow: 2 inches
Total settled snow depth: 10 inches (at 8,600 feet)
High temperature: 56°F (February 8)
Low temperature: 5°F (February 14)
Ski Conditions and Weather

Last week held some of the best (and let's hope not the last) ski touring of the season. Where there was snow on south-facing slopes, the meager corn harvest was on. On north facing slopes, the short days of winter have kept the powder cold and dry. To get to the high elevations, however, one has to contend with the ice flows that have formed on most of the trail corridors (wear ice cleats if you're hiking at mid elevations).

Now that the windstorm has passed through, crampons and ice axes are advised in the alpine zone. We received two inches of new snow in Tuolumne Meadows, and approximately eight inches at Tioga Pass thanks to the upslope Mono Lake effect. With the forecasted colder temperatures, expect some challenging ski conditions in places. But, also expect some powder stashes on north, north-east facing aspects!

For those skiing the road corridor, conditions have also changed quite a bit from last week as the Tioga Road was snow free east of Tioga Pass prior to what fell or was blown by the wind the past few days.  Between Tioga Pass and Tuolumne Meadows the road is snow covered until 9,000 feet and then there are a few small patches of bare pavement. The same goes for a section east of Tenaya Lake and in the vicinity of Olmsted Point. The Snow Creek Trail to Tioga Road is mostly snow free as well. The snow conditions on the road vary with aspect from powder, to breakable crust to fast spring-like snow. Touring in Tuolumne Meadows is lovely.
Avalanche and Snowpack Conditions

Please refer to the Eastern Sierra Avalanche Center (ESAC) for the avalanche advisory for this part of the Sierra Nevada.

The avalanche hazard at the time of this writing has increased temporarily on leeward slopes where there may be sensitive pockets of wind slabs. "Slide for life conditions" will exist on many of the alpine slopes this week given the forecast.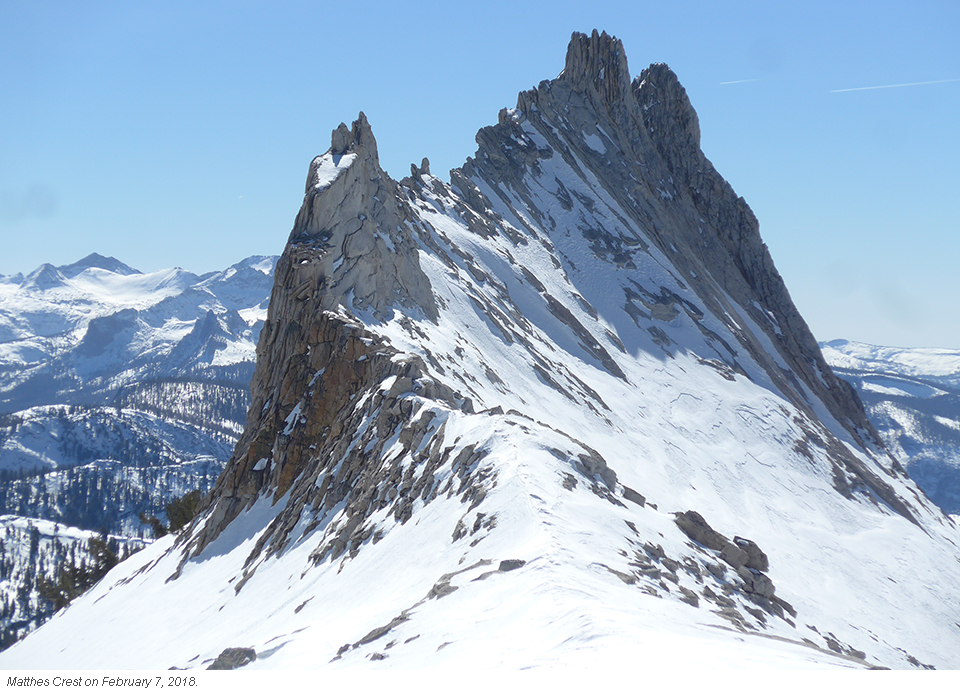 Wildlife

A pine grosbeak was heard in upper Budd Creek this week. Although we don't seem to pause enough to see or hear them more often, their call is quite distinctive. During this warm spell, we have already been hearing the mating songs of the mountain chickadee and brown creeper for a couple of weeks as well.
Questions

The Tuolumne Meadows Ski Hut is open. There is firewood and 8 bunks that are available on a first-come, first-served basis. There is no phone service in Tuolumne Meadows at this time. We can be contacted regarding winter travel to Tuolumne Meadows via email, but we may be delayed in responding if we are on patrol. Contact the wilderness office at 209/372-0740 with any questions or concerns. Come prepared, and please make good decisions while traveling in the wilderness this winter.

Happy Washington's Birthday Weekend!
Laura and Rob Pilewski - Tuolumne Winter Rangers