New snow: 43 inches
Total settled snow depth: 93 inches (at 8,600 feet)
High temperature: 35°F (February 13)
Low temperature: -16°F (February 11)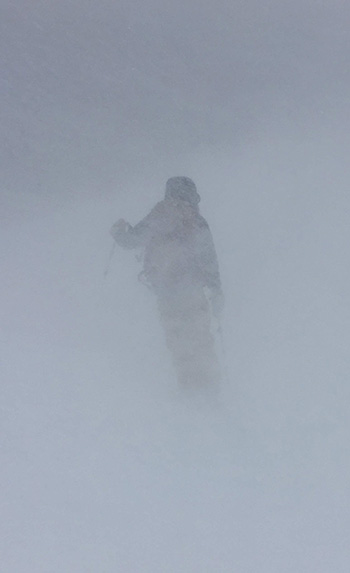 Ski Conditions and Weather
It was nice to see the sun for a bit this week. The break in the weather gave us an opportunity to get caught up on building maintenance and roof clearing in our ongoing effort to try and salvage some of the structures here in Tuolumne. There was a storm that brought 32 inches of low density snow to the area over the past weekend. Low temperatures were south of zero degrees Fahrenheit for five of the seven days. Trail breaking became easier with each passing day and the powder skiing conditions were excellent. Slopes in the alpine were certainly more wind effected than in the trees. 
Presently, there is an AR "atmospheric river" event that is bringing heavy precipitation to the Sierra. Currently there is intermittent rain/snow up to 9,000 feet with this much warmer storm.  This will likely put many inches of additional water on a deep, cold, and dry snowpack. As they say if you don't like these ski conditions, give it a few minutes and it will change. The next five days look to bring a bit of all types of winter weather to the range of light. 
Avalanche and Snowpack Conditions
Please refer to the Eastern Sierra Avalanche Center (ESAC) for the avalanche advisory for this part of the Sierra Nevada.

In winters like this one, by the time we type anything about avalanche conditions and you read it, they have already changed. That said, this week, aside from the wind loaded areas up high, our snow pack had become quite stable after these two most recent storms. The upper 50 inches consisted primarily of one giant low density storm and is quite homogenous. Although we added another 43 inches of new snow, the settled snow depth did not increase. In fact, this settlement was so pronounced, that on some steep slopes large creep cracks that looked like crevasses had formed.

High winds, high density snow and rain falling on this low density snow will contribute to an increase in avalanche hazard over the short term.  However, over the long term, this will probably contribute to a more stable snowpack.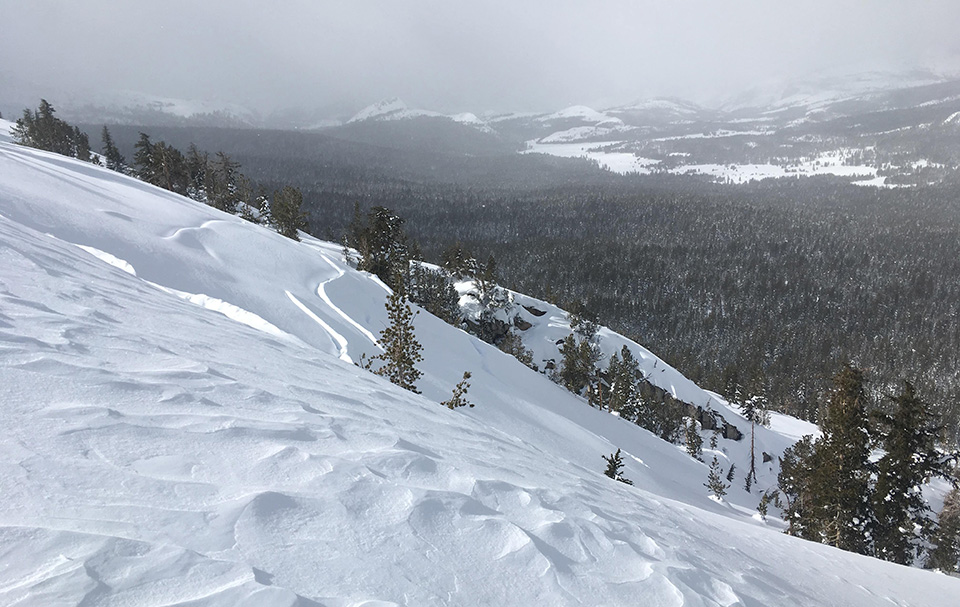 Wildlife
The usual winter avian residents appeared to be enjoying the break in the weather this week: mountain chickadees, brown creepers, Clark's nutcrackers, a white-breasted nuthatch, and a hairy woodpecker. Once again, the golden crowned kinglets were also seen and heard along the trail to Twin Bridges. How they survive during this exceptionally cold and inclement weather is incredible. Although they are one of the more abundant bird species of the Sierra Nevada, they have either slipped under our radar in previous seasons or are more common here this winter. 
General Information
The Tuolumne Meadows Ski Hut is open. There is firewood and 8 bunks that are available on a first-come, first-served basis.

There is no phone service in Tuolumne Meadows. We can be contacted regarding winter travel to Tuolumne Meadows via email, but we may be delayed in responding if we are on patrol.

For those visiting the Tuolumne Ski Hut from the east (only) permits are self-issued at the ski hut. For those entering from other areas, visit: https://www.nps.gov/yose/planyourvisit/wildpermits.htm or you may contact the wilderness office at 209/372-0740.

Come prepared, and please make good decisions while travelling in the wilderness!

Happy Skiing!
Laura and Rob Pilewski - Tuolumne Meadows Winter Rangers