New snow: 15 inches
Total settled snow depth: 32 inches (at 8,600 feet)
High temperature: 46°F (December 20)
Low temperature: 1°F (December 1)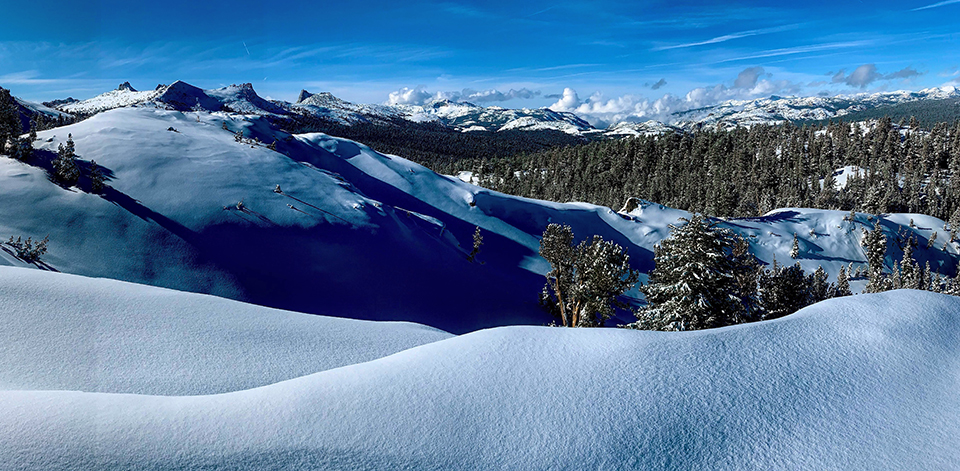 Ski Conditions and Weather
The Tuolumne Meadows winter rangers got what they wanted for Christmas once again; a nice cold storm hit the central Sierra Nevada this week and dropped 15 inches of low density snow in the Tuolumne Meadows area and upwards of two feet on north aspects above 9,000 feet. Ski conditions are excellent and much improved over the pine needle, littered old snow surface that existed prior to the storm. Snow coverage is good on all aspects although it may be scoured down to the melt-freeze crust in certain areas of the alpine zone.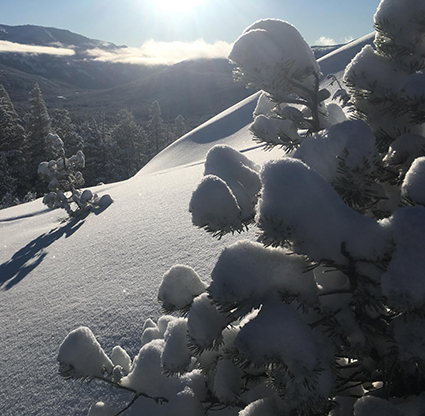 Avalanche and Snowpack Conditions
Please refer to the Eastern Sierra Avalanche Center (ESAC) for the avalanche advisory for this part of the Sierra Nevada.

The one to two feet of low density snow that fell in the Tuolumne Meadows high country did not appear to cause much instability immediately following the storm. Presently, however, the winds have been loading northeast slopes and those same winds are predicted to shift directions yet again. So, real time assessment of wind slab formation and subsequent avalanche hazard will be necessary for safe travel. Realize too, that these newly formed wind slabs stressed by the weight of a skier/boarder could end up triggering an avalanche that could step down into weaker persistent layers within the snow pack. Lastly, although the light, powdery snow looks inviting, be aware of the obstacles that may lurk beneath the surface.
Wildlife
We returned to the Tioga Pass area again this week to assess snow conditions and shuttle in some more supplies for the season. As we neared the ridge of Gaylor Peak on a windy but somewhat warm day, we were surprised to see a set of fresh bear tracks…so fresh, in fact,  that the bear who had just made them was still nearby! It had just emerged from its shallow den and was no doubt equally as surprised to see us. After shaking the cobwebs off, it reluctantly decided to head up and over the saddle struggling through the powdery snow. Although it looked like quite the effort, it made good time and soon disappeared into the wind driven snow.
General Information
The Tuolumne Meadows Ski Hut is open. There is firewood and 10 bunks that are available on a first-come, first-served basis.

For those visiting the Tuolumne Ski Hut from the east (only) permits are self-issued at the Ski Hut.  For those entering from other areas, please see Yosemite's website: https://www.nps.gov/yose/planyourvisit/wildpermits.htm (#3: Do I need a wilderness permit during winter?) or you may contact the wilderness office at 209/372-0740. 

There is no phone service in Tuolumne Meadows. We can be contacted regarding winter travel to Tuolumne Meadows via email, but we may be delayed in responding if we are on patrol.  

Come prepared, and please make good decisions while traveling in the wilderness!

Happy Holidays!
Rob and Laura Pilewski – Tuolumne Meadows Winter Rangers