New snow: 27 inches
Total settled snow depth: 37 inches (at 8,600 feet)
High temperature: 41 degrees F (December 18)
Low temperature: - 7 degrees F (December 16)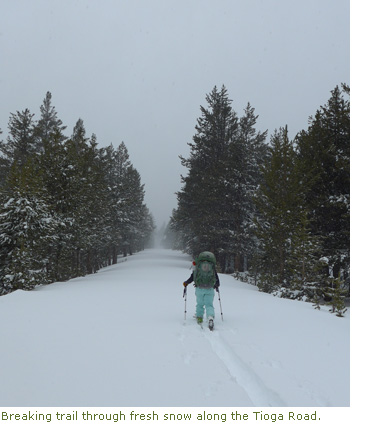 Ski Conditions and Weather
Ho! Ho! Ho! It has finally snowed! Although nowhere near drought-breaking, it is certainly enough to boost holiday spirits in California. Since we are in between forecasted storm cycles, ski conditions are pretty dynamic. At present, trail-breaking is deep and inverted. If you have plans of traveling anywhere in the backcountry, be flexible and prepared. Blizzard-like conditions and poor visibility can be expected. Navigational skills are a must in the winter.
Snow Creek Cabin Status
Due to snow conditions, Wilderness staff  was unable to reach Snow Creek Cabin last week. The cabin will be opened to the public following the next storm system. Stay tuned….
Avalanche and Snowpack Conditions
For the avalanche advisory for this area of the Sierra Nevada go to http://www.esavalanche.org for the Eastern Sierra Avalanche Center.
The snowpack that preceded these storms appeared continental in nature with depth hoar and mid-snowpack faceting. Prior to and during the storm, temperatures have warmed some, allowing that snowpack to settle a bit. However, with heavy new snow loads, one should be highly suspect of avalanche potential on anything steep enough to slide mid elevation and above tree line. High winds have accompanied the storms this week and continue to transport snow.  Wind slabs and wind loaded slopes should be avoided.
Wildlife
Right before this storm cycle, porcupine tracks were spotted in two locations. These forest dwelling critters are difficult to see most of the year, but during the December breeding season, they give away their secret hideouts by leaving evidence behind in the snow. Please report any porcupine sightings year round, as they are a species of interest and their numbers may be dwindling in the Sierra.
Questions
The Tuolumne Meadows Ski Hut is open! There is an ample supply of firewood and 10 bunks that are available on a first-come, first-served basis. There is power but no public phone service in Tuolumne Meadows this winter. We can be contacted via email, but we may be delayed in responding if we are on patrol. Contact the wilderness office at 209/372-0740 with any questions or concerns. Come prepared; don't count on electricity or phone service at the ski hut.
Happy Winter Solstice!
Laura and Rob Pilewski
Tuolumne Winter Rangers