New snow
: 1.5 inches
Total settled snow depth: 7 inches as of December 22
Skiing Conditions and Weather: It has been a dry start to the 2013-2014 winter. Our weather data is incomplete due to our late arrival at Tuolumne Meadows. Currently the snow depth is 7 to 14 inches, depending on aspect and elevation. That being said, the ski conditions on the Tioga Road and in Tuolumne Meadows are pretty darn good. The Tioga Road is virtually 100% snow covered in Yosemite National Park. There is some bare pavement on the Lee Vining grade from Tioga Pass to the gate at the bottom of Lee Vining Canyon. If approaching from the east, a bicycle would be a good idea until there is more snow. 
Avalanche and Snowpack Conditions: For the latest avalanche advisory for this area go to www.esavalanche.org for the Eastern Sierra Avalanche Center and click on advisory. The ESAC site is updated several times a week and more often during weather events. The avalanche hazard in the Tuolumne area is low. The higher elevations are a bit trickier as there were high winds the past few days and new snow available for transport. There may be wind slabs overriding weak faceted snow that could be problematic. The north facing slopes have the highest snow depths. The snow is mostly supportable, but the underlying layers are quite fragile. There was much collapsing and propagation cracks observed on north facing slopes this week. This will be something to be attentive to if it ever does snow again. 
Wildlife: With this shallow snow pack and spikes in temperature, Black bears haven't gone to sleep for the season. Their tracks have been spotted in four different places between Tuolumne Meadows and Tioga Pass. Pine marten, short- and long-tailed weasel, and Douglas squirrel tracks are the most common. One lone set of porcupine tracks waddled across Dana Meadow. Red crossbill, Clark's nutcracker, mountain chickadee, and golden-crowned kinglets are heard frequently. The resident Townsend's solitaire greets us from the south-facing juniper hillside below Lembert Dome most mornings. 
Questions: The Tuolumne Meadows Ski Hut is open. There is an ample supply of firewood and 10 bunks that are available on a first come, first served basis. You can call the Tuolumne Meadows Ranger Station at 209/372-0203. If you leave a message we will get back to you the first chance we get. Power and phones are frequently out of service. Contact the wilderness office at 209/372-0740 with any questions or concerns if you are unable to reach the ranger station. Come prepared; don't count on electricity or phone service at the ski hut. Happy holidays! Laura and Rob Pilewski Tuolumne Meadows Winter Rangers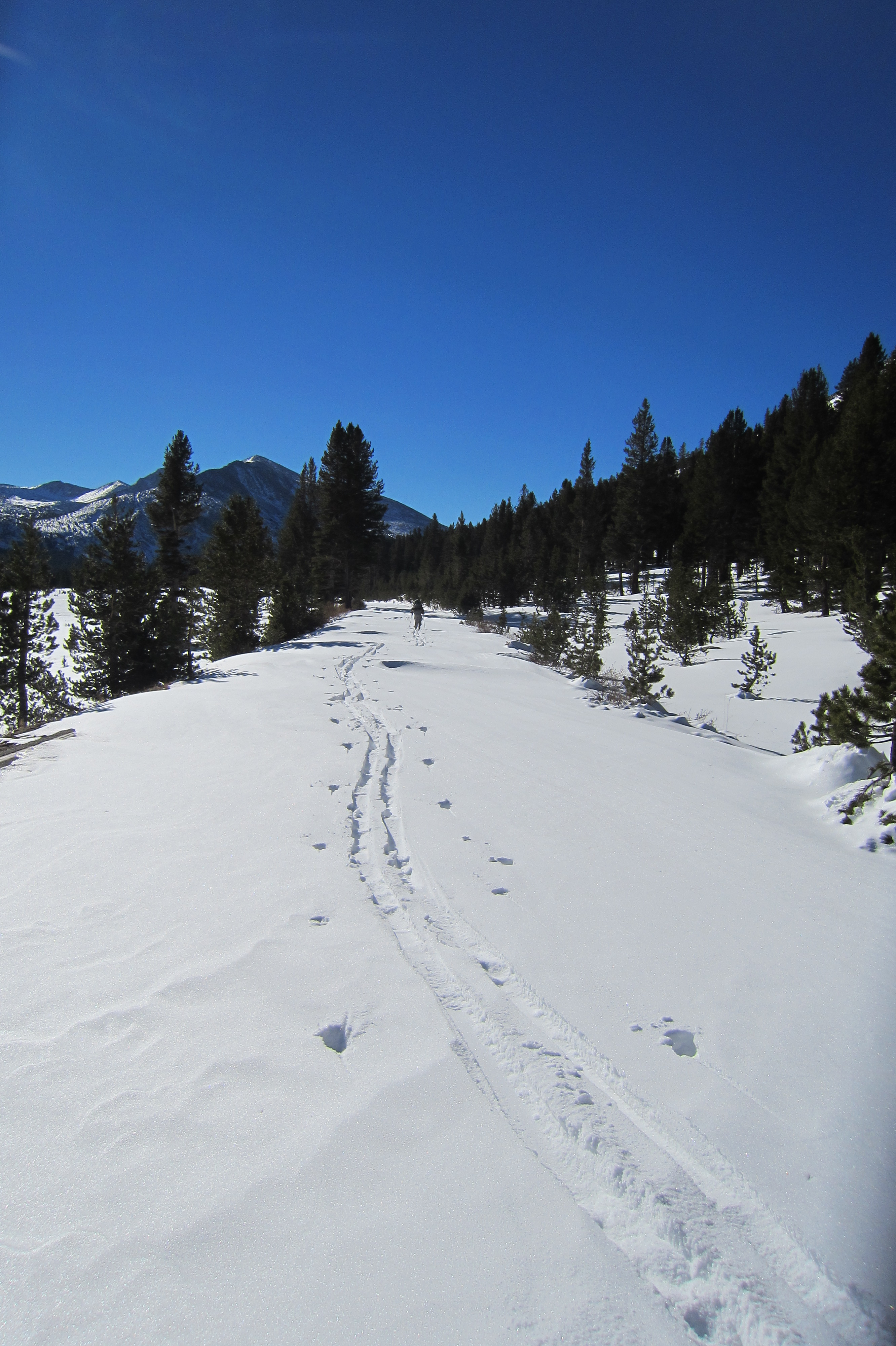 Skiing on the Tioga Road near Dana Meadows, December 14, 2013