New snow: 6 inches
Total settled snow depth: 26 inches (at 8,600 feet)
High temperature: 49°F (December 13)
Low temperature:  6°F (December 15)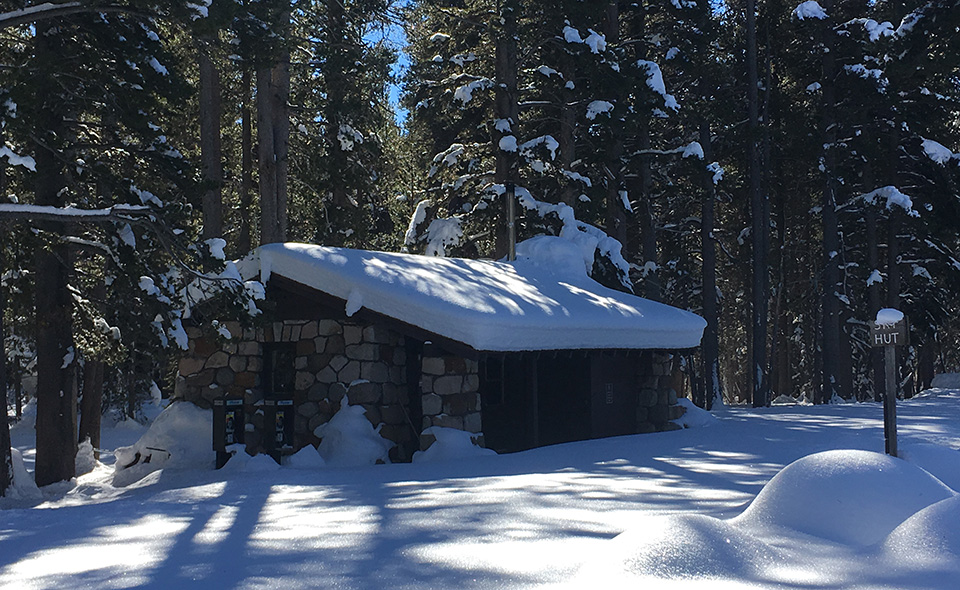 Ski Conditions and Weather
We arrived to Tuolumne Meadows on December 12.  At that time the snowline stretched to the gate in Lee Vining Canyon and the road was a patchwork of dry pavement and snow up to the Warren Fork (9000 feet). From the Warren Fork to Tuolumne Meadows and points west along the road is 100% snow covered with depths ranging from two to four feet. The Tioga Road is now closed for the season and open to non-motorized (i.e. ski, split-board, snowshoe, pedestrian) traffic only between the gate near Crane Flat east to Tioga Pass in Yosemite Park. The Tioga Road corridor and surrounding high country is now managed as wilderness and opportunities for solitude and a wilderness experience abound. Now the only whining one can hear is that of the Clark's nutcracker. 

The first snows of winter were late in coming this season. But the storms that hit the high Sierra in late November were wet and left a lovely blanket of white covering the landscape down to approximately 7000 feet. When we arrived, the Tuolumne Meadows snow stake read 27 inches and there was 4.75 inches of snow water equivalent in the precipitation gauge. Just what the doctor ordered….big wet storms laying down a fine, dense, ski base on bare ground! Ski conditions are excellent for this time of year and the touring and turning opportunities are limitless. The best snow coverage is in drainages and on leeward slopes. Many of the high alpine ridges were scoured during the recent wind events. As always, snow conditions are very dynamic and visitors should come prepared for the gamut of possible conditions. Yosemite park rangers expect visitors to exercise an increased state of self-reliance when visiting the park during the winter.
Avalanche and Snowpack Conditions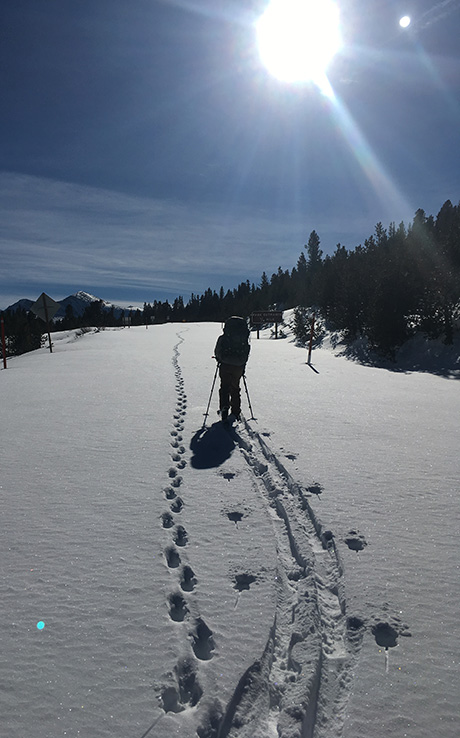 Please refer to the Eastern Sierra Avalanche Center (ESAC) for the avalanche advisory for this part of the Sierra Nevada.

Presently the avalanche hazard in the Tuolumne Meadows area is low. With a shallow snowpack and cold clear nights we are seeing faceted snow developing near the surface and deeper in the snowpack. We will need to keep an eye on this as the winter progresses. There were several wind events over the past week that caused isolated wind slabs to form. Visitors should be attentive to changing avalanche hazards whenever there is transportable snow and strong enough winds to form wind slabs.
Wildlife
Bear tracks greeted us on our ski into Tuolumne Meadows just as we noticed them upon our departure last spring. As the days get shorter, they should be bedding down in their dens (we hope!). The winter rangers, however, do not hibernate! We join the tracks of the other winter residents such as the pine marten and long and short-tailed weasels that were seen most everywhere we went this week.
General Information
The Tuolumne Meadows Ski Hut is open. There is firewood and 8 bunks that are available on a first-come, first-served basis.

There is no phone service in Tuolumne Meadows. We can be contacted regarding winter travel to Tuolumne Meadows via email, but we may be delayed in responding if we are on patrol.

For those visiting the Tuolumne Ski Hut from the east (only) permits are self-issued at the ski hut.  For those entering from other areas, please see: https://www.nps.gov/yose/planyourvisit/wildpermits.htm. or you may contact the wilderness office at 209/372-0740.

Come prepared, and please make good decisions while travelling in the wilderness!

Happy winter solstice!
Laura and Rob Pilewski - Tuolumne Meadows Winter Rangers