New snow: Trace
Total settled snow depth: 28 inches (at 8,600 feet)
High temperature: 43°F (December 12)
Low temperature:  -8°F (December 16)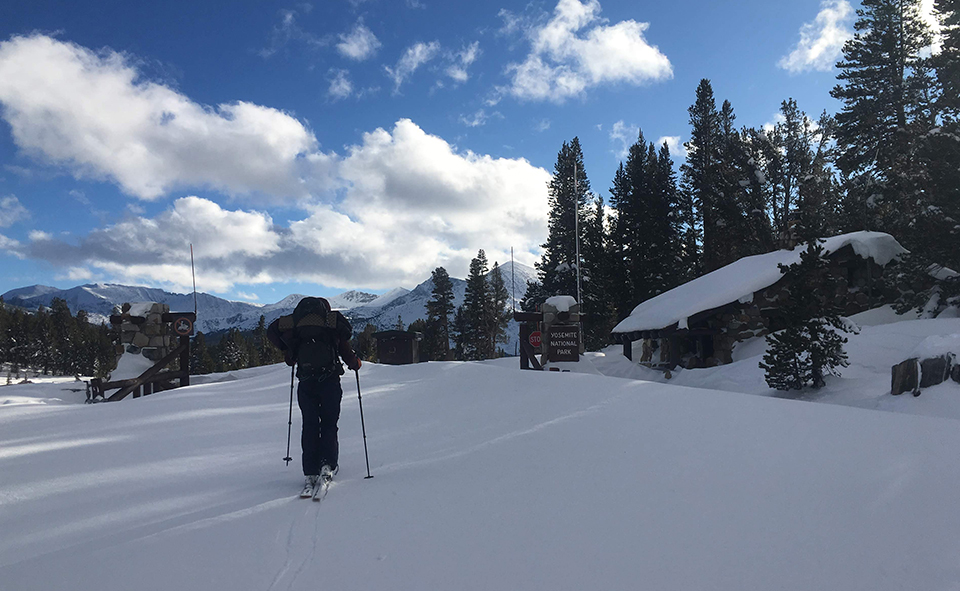 Ski Conditions and Weather
This is the first post of the 2019-2020 winter season. We skied up Hwy. 120 from Lee Vining on December 14 and entered the park via Tioga Pass and the Tioga Road. Snow cover was thin with patchy bare pavement from the gate in Lee Vining Canyon to the 9,000 foot elevation. Ski conditions were excellent from the Warren Fork (9,000 feet) to Tuolumne Meadows. Snow depths averaged from 36 inches+ at Tioga Pass to around 30 inches at Tuolumne Meadows. These are some of the best early season conditions we have seen in our eight winters here. We are delighted to be working in Tuolumne Meadows again this winter!

Winter storms arrived to the central Sierra Nevada in late November and have laid down a healthy blanket of white. The alpine snowpack is very wind affected as winds during the storms were strong out of the southwest, and then switched to the northeast afterwards. The snowpack and ski conditions are less wind affected below tree line making for fine touring conditions.  Prior to the low density snow that fell over the weekend there was a warm spell that caused melting at the snow surface which has subsequently refrozen. This melt freeze crust can be found in most places below 11,000 feet. It is exposed where the wind has scoured the new snow off and buried beneath the new snow in most places.   
Avalanche and Snowpack Conditions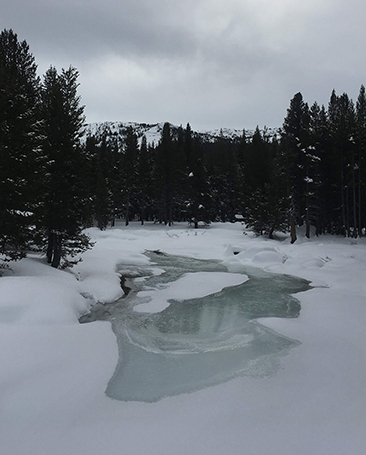 Please refer to the 
Eastern Sierra Avalanche Center
 (ESAC) for the avalanche advisory for this part of the Sierra Nevada.
The bountiful amounts of new snow that fell on bare ground in November could help to mitigate the potential for deeper snowpack instabilities this season. That will depend on how the winter progresses from here of course. If the three feet of snow that lies on the ground now does not get deeper and we continue to have clear and cold nights we could start to see depth hoar development. This is just another reason to hope for more snow! Although at present, it is more likely that facets will develop around the melt freeze crust that is much closer to the snow surface. This will need to be monitored as a potential weak layer once loaded.
The avalanche hazard is low below tree line and in the Tuolumne Meadows area presently. In the higher elevations, wind slabs have been forming on different aspects due to variable wind directions and the "fetch" of new snow available for transport. Visitors should get updated avalanche and weather forecasts prior to setting off for the high country on extended trips.
Wildlife
On our first wilderness patrol of the season along the shoulder of Mt. Dana we were greeted by the chirps of the evening grosbeak. This flock of six was a first sighting for us up here in our eight seasons, but apparently like other grosbeaks, their distribution or range can vary dramatically from year to year based upon food availability and other factors, not unlike skiers who tend to flock to where there is good powder.
General Information
The Tuolumne Meadows Ski Hut is open. There is firewood and 10 bunks that are available on a first-come, first-served basis.

For those visiting the Tuolumne Ski Hut from the east (only) permits are self-issued at the Ski Hut.  For those entering from other areas, please see Yosemite's website: https://www.nps.gov/yose/planyourvisit/wildpermits.htm (#3: Do I need a wilderness permit during winter?) or you may contact the wilderness office at 209/372-0740. 

There is no phone service in Tuolumne Meadows. We can be contacted regarding winter travel to Tuolumne Meadows via email, but we may be delayed in responding if we are on patrol.  

Come prepared, and please make good decisions while traveling in the wilderness!
Happy Winter Solstice!
Rob and Laura Pilewski - Tuolumne Meadows Winter Rangers