New snow: 16 inches
Total settled snow depth: 26 inches (at 8,600 feet)
High temperature: 55 degrees F (December 8, 2015)
Low temperature: -6 degrees F (December 15, 2015)
Ski Conditions and Weather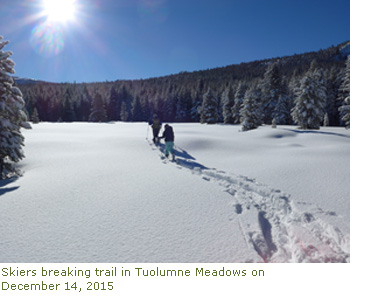 This is our first post of the 2015-16 winter season.  We arrived to the Yosemite high country on December 11th after skiing up LeeVining Canyon from the locked gate at the bottom. The snow line stretched all the way to the gate at that time but will fluctuate with temperatures and snow conditions. Snow depth increases with altitude and above 9,000 feet there is 2-4 feet of snow on the ground and good coverage. The snow depth and ski conditions are greater now than they were at any time last winter. Cold temperatures this week will maintain the good ski conditions so get out there and enjoy some snow sliding!! 
Avalanche and Snowpack Conditions
For the avalanche advisory for this area of the Sierra Nevada go to www.esavalanche.org for the Eastern Sierra Avalanche Center.
The snowpack in the central sierra resembles more of a continental climate than the maritime climate which is more typical of this region. Cold temperatures and low snow depths over the past month have caused depth hoar (weak, unconsolidated snow crystals found at or near the ground) to form, primarily on north and east aspects. "Whoomphing", or the collapsing of the snowpack on this layer, was observed on most aspects over the past 4 days.  On December 11th a natural avalanche was observed near timberline on an east aspect.  Weak faceted snow crystals have also developed in the middle of the snowpack and are sandwiched between crust layers on east and south aspects. There are enough red flags out there to avoid steep terrain, especially above treeline where wind slabs and new snow loads are overlying these weak layers. Extra caution should be practiced by backcountry travelers until these snow conditions become more stable.

Wildlife
The deep, soft snow is making traveling difficult for the forest critters. Douglas Squirrel and Pine Marten tracks were observed this week and the resident Bushy Tailed Wood Rat has been busy rearranging things in our wood shed during our absence. Now that we have broken trail through the deep snow the coyotes will come out and make use of the easier travel in their search for winter sustenance.
Questions
The Tuolumne Meadows Ski Hut is open! There is an ample supply of firewood and 10 bunks that are available on a first come, first served basis. There is power but no public phone service in Tuolumne Meadows this winter. We can be contacted via email, but we may be delayed in responding if we are on patrol. Contact the wilderness office at 209/372-0740 with any questions or concerns. Come prepared; don't count on electricity or phone service at the ski hut.
Happy Skiing!
Laura and Rob Pilewski
Tuolumne Winter Rangers