Weather: December 04  through  December 10
High temperature: 45°F (December 4th)
Low temperature: 10°F (December 7th )
New Snow: 10 inches                                       
Total settled snow depth: 19 inches as of December 10th

Skiing  Conditions and Weather:  This is the first weekly update for the winter of 2012-2013. We arrived at Tuolumne Meadows after skiing up the Tioga Road from Lee Vining Canyon on December 3rd. The series of wet storms that came thru last week were warm so there was rain that fell below 9,000 feet, which accounts for a shallower snowpack below this elevation. The snow depth above 9,000 feet is 3 to 5 feet deep, and the snowpack between 8,000-9,000 feet is 1 to 3 feet deep. Coverage is good for skiing above 8,000 feet but  due to the rain event and refreezing of the snow surface, the skiing can be challenging at the lower elevations. Above 9,000 feet there is good skiing to be found, especially on north aspects.   
       
Avalanche and Snowpack Conditions: For the latest avalanche advisory for this area go to www.esavalanche.org for the Eastern Sierra Avalanche Center and click on advisory. The ESAC site is updated several times a week and more often during weather events.
We are in the process of  getting aquainted with the snowpack in this part of the Sierra since our return on December 3rd.  We dug a snowpit on an east aspect at 11,000 feet and found several melt freeze crusts. The depth was 130 cm and the snow near the ground looked to be gaining strength.We have not observed signs of instability on our daily patrols, so the snow that fell last week appears to have settled nicely on the old snow. We observed several avalanches on our ski in immediately following the last storm (that ended December 2nd) on the east side of the Sierra Crest. These avalanches were above 11,000 feet and most likely wind slabs deposited by the high winds that accompanied that storm.

Wildlife:  The critters of Tuolumne Meadows have kept a low profile this week. Douglas squirrels are still preparing their winter stores and busy on the forest floor. Brown Creepers and the ubiquitous Clark's Nutcrackers are observed daily.
Questions:  The Tuolumne Meadows Ski Hut is open for the season.  There is an ample supply of firewood and 10 bunks that are available on a first-come, first-served basis.You can call the Tuolumne Meadows Ranger Station at 209/372-0450. If you leave a message we will get back to you first chance we get. Power and phones are frequently out of service, in which case you can call the wilderness permit line at 209/372-0740 with any questions or concerns. Come prepared; don't count on electricity or phone service at the ski hut. 
Let it Snow!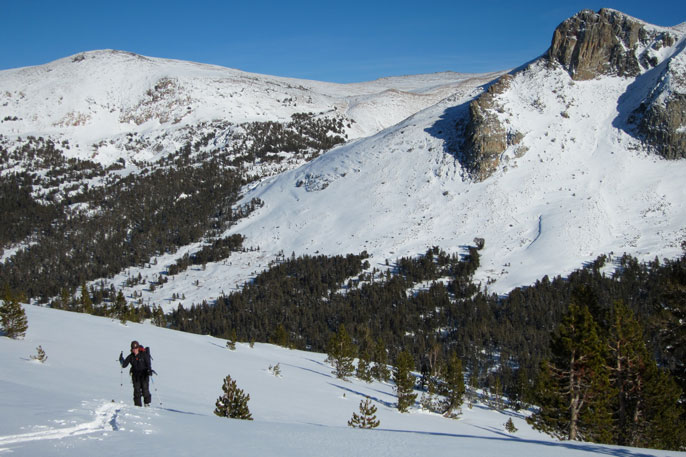 View from Gaylor Peak (near Tioga Pass).