New snow: 
3 inches
Total settled snow depth:
96 inches (at 8,600 feet)
High temperature:
54°F (March 1)
Low temperature:
16°F (March 1)  
Ski Conditions and Weather
We had a busy week of conducting the five area snow surveys. Travel conditions were mostly good and the surveys provided some interesting data. There are still several prominent dense ice layers in the snowpack which made pushing the federal sampling tube to the ground quite challenging at times. Snow Flat still had snow as deep as 191 inches. In spite of the dryer than average March, the surveys at Dana and Rafferty Meadows showed the most snow water equivalent (SWE) in the history of the April 1 surveys. These two courses date back as far as 1927 and 1948 respectively.  
Otherwise, spring skiing at the middle elevations has been great this week. There is some good corn snow out there as long as the good overnight freeze continues. As the sun arcs through the sky, snow softens up on east aspects first, followed by south and then west. ..unless, it's cloudy of course. It looks like a change in the pattern for the upcoming weekend as snow is in the forecast for the Sierra Nevada high country. Perhaps winter is not over yet…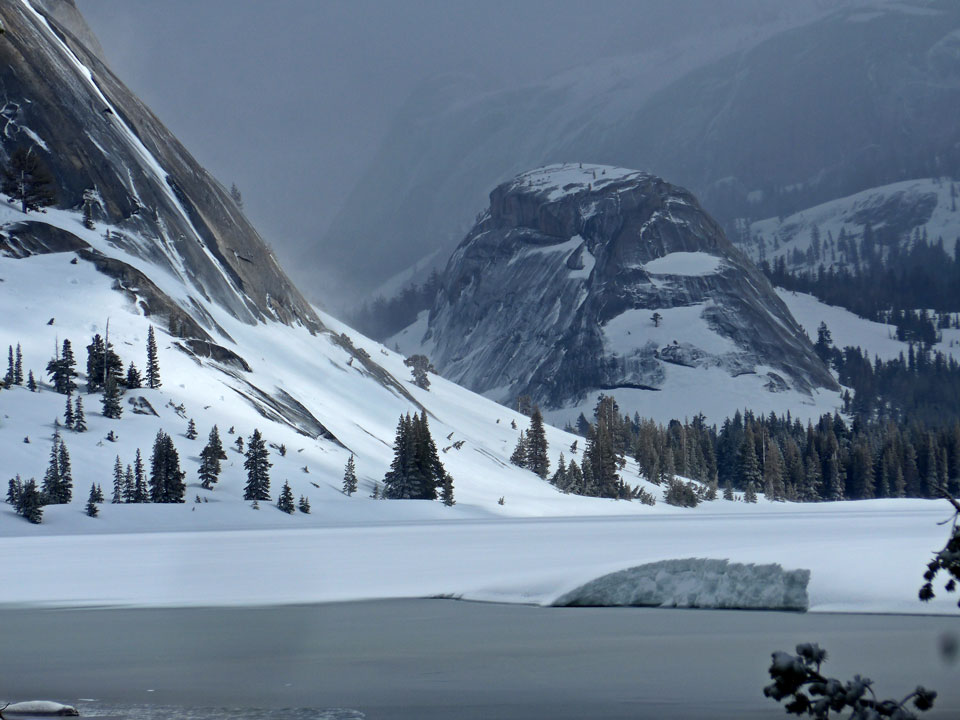 Avalanche and Snowpack Condition
Please refer to the 
Eastern Sierra Avalanche Center
 for the avalanche advisory for this part of the Sierra Nevada.  
Winter conditions still exist in the alpine zone. Although small pockets of windslab could be triggered, the biggest danger is the "slide for life" scenario on the firm snow surfaces.
On solar aspects, one should be aware of possible wet slides depending on time of day and temperatures.  
Anyone entering via Lee Vining Canyon should be prepared with an ice axe and crampons and good route selection skills. Just because the snow is soft coming in, it may not be when heading out. The road corridor above the Warren Fork is not recommended at this time due to a prolonged steep traverse above cliffs. All of these conditions are very dynamic this time of year and may become easier or more difficult depending on the weather.  
Caution is advised traveling over lakes and waterways at mid elevations as the ice and snow bridges are rapidly melting.  
Wildlife
Alright, we saw more than one lone bird this week. In reality, the diversity of species increases by the day up here. The violet-green swallows have returned, darting through the air. Dark-eyed juncos and Steller's Jays are moving upwards as are the bears. We saw bear tracks at the outlet of Tenaya Lake this week so campers be bear aware! After a winter like this, we bet they are hungry. We sure are. Corn anyone?  
Questions
The Tuolumne Meadows Ski Hut is open. There is firewood and 10 bunks that are available on a first-come, first-served basis. 
Power has been intermittent and there is NO phone service in Tuolumne Meadows this winter.
 We can be contacted via 
email
, but we may be delayed in responding if we are on patrol. Contact the wilderness office at 209/372-0740 with any questions or concerns. Come prepared, and please make good decisions while travelling in the wilderness this winter.  
Happy Skiing!
Laura and Rob Pilewski - Tuolumne Winter Rangers