New snow:
None
Total settled snow depth:
30 inches (at 8,600 feet)
High temperature:
54°F (April 1)
Low temperature:
19°F (April 2)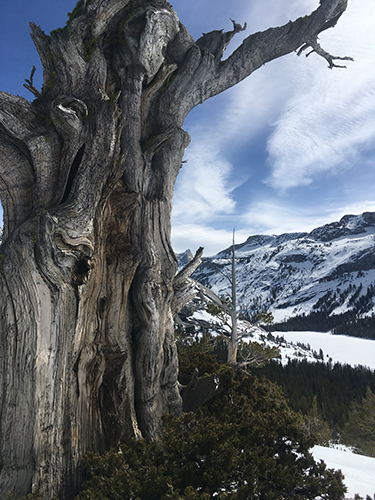 Ski Conditions and Weather
This week was dominated by spring weather and ski conditions. High temperatures were in the 50°F's each day with lows below freezing overnight. This is the perfect recipe for corn snow to develop at the snow surface.  It did not take long to make this transition from winter to spring snow after a cold and snowy March. Presently all aspects below 10,000 feet, the Tioga Road, Tuolumne Meadows, and area drainages are good spring ski conditions starting late morning and going into the late afternoon. Above 10,000 feet it is a mixed bag of wind affected dry snow, wind board, wet powder, and hard melt-freeze crusts.  Conditions will be changing yet again as an approaching "atmospheric river" weather event will impact the area Thursday night through Saturday. This looks like a warm and wet storm with very high (over 10,000 feet) snow levels.  Wilderness travelers should use extra caution and expect dramatically changing conditions until this weather system passes on Sunday. 
Caltrans has started clearing avalanche debris from the east side of the Tioga Road in several locations below 9000 feet. Presumably, they will be making their way towards Tioga Pass during the next several weeks. Visitors approaching Tuolumne Meadows from Lee Vining should anticipate bare pavement up to around the Warren Fork and creeping higher as the snow removal efforts continue. Please stay clear of all machinery while on this stretch of road.


Avalanche and Snowpack Conditions
Please refer to the 
Eastern Sierra Avalanche Center
 (ESAC) for the avalanche advisory for this part of the Sierra Nevada.
The avalanche hazard in the Tuolumne Meadows area is presently low. The warm temperatures and overnight freezes have stabilized the snowpack at all aspects and elevations. Wet slides are still possible during the heat of the day on steep granite domes and around rock bands.  Conditions will be changing with the approaching wet weather.  Wilderness travelers should get the latest avalanche forecast from the Eastern Sierra Avalanche Center prior to starting their trip.  
Wildlife
Birding season has begun in the high country! The American robin, mountain bluebird, song sparrow, northern flicker, hairy woodpecker, red-breasted sapsucker, mountain chickadee, dark-eyed junco, red crossbill, Cassin's finch, western meadowlark, red-winged blackbird, red-breasted nuthatch, white-breasted nuthatch, brown creeper, great horned owl, Townsend's solitaire, Steller's jay, and Clark's nutcracker were all seen or heard in the greater Tuolumne Meadows area. Additionally, northern pygmy owl and sooty grouse were both heard in the Snow Creek drainage.
General Information
The Tuolumne Meadows Ski Hut is open. There is firewood and 8 bunks that are available on a first-come, first-served basis. There is no phone service in Tuolumne Meadows at this time. We can be contacted regarding winter travel to Tuolumne Meadows via 
email
, but we may be delayed in responding if we are on patrol. For permit information: 
https://www.nps.gov/yose/planyourvisit/wildpermits.htm
. or you may contact the wilderness office at 209/372-0740. Come prepared, and please make good decisions while traveling in the wilderness this spring!
Happy Spring Skiing!
Laura and Rob Pilewski - Tuolumne Winter Rangers