New snow:
3 inches
Total settled snow depth:
 91 inches (at 8,600 feet)
High temperature:
56°F (April 21)
Low temperature:
 12°F (April 19)  
Season Totals November 1 - April 26
Total Snowfall:
  493 inches
Total Water:
 51.13 inches*
*The most ever recorded in Tuolumne Meadows 
Ski Conditions and Weather
This is our final post of the winter of 2016-2017 and what an awesome winter it was! We had a chance to reflect on the heavy snows of winter when we did the monthly snow surveys at Snow Flat and Lake Tenaya this week. These snow courses are west of Tuolumne Meadows and they measured average depths of 166 inches and 122 inches respectively; that is still a lot of snow on the ground for late April folks. The water reservoir that is the Sierra Nevada will now start to replenish some of the deficits that have accrued over the last five years of drought in California.  Hopefully we have learned the importance of water conservation during this time and will continue the wise use of this precious resource. As we stood on Mt. Hoffmann two days ago looking down at Yosemite Valley we could not help but smile at the sight of the mighty Illilouette Falls, which was barely a trickle two years ago at this time. The earth gives us so much to celebrate.  
Although the birds are singing and the flowers are blooming at the lower elevations, wilderness travelers dreaming of trips to the high country need to wrap their heads around the fact that there is still over 100 inches of snow on the ground. Road crews have started clearing snow from the Tioga Road, but this will be a dangerous and time consuming job this spring. Please be patient.   
Those planning treks in the Sierra Nevada this summer should anticipate many hazards. High water crossings, snow bridges, hard snow on mountain passes, are just a few of the hazards visitors will encounter. Please do not put others at risk when visiting the wilderness this summer and make smart decisions.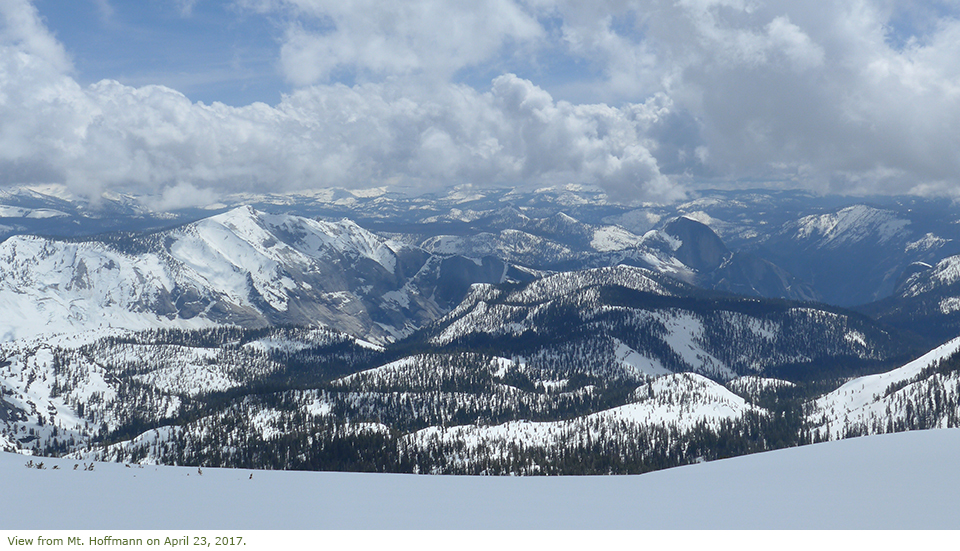 Avalanche and Snowpack Conditions
Please refer to the 
Eastern Sierra Avalanche Center
 for the avalanche advisory for this part of the Sierra Nevada.  
This week we observed the most widespread avalanche cycle of the season in the Tuolumne Meadows area. Though not large in depth or width, these wet loose, and wet slab avalanches contained enough heavy snow to be destructive. This avalanche activity was the result of last weeks' new snow warming and then sliding on the old hard snow surface. Some of these avalanches stepped down to layers deeper within the snowpack. Wilderness travelers should be wary of avalanche potential during the heat of the day, or when there is not an overnight freeze, or when collapsing is felt in the snowpack.  
Conditions on the Tioga Road are still hazardous on the eastside of Tioga Pass between the Warren Fork and the Green Bridge. There is a steep side-hill above cliffs in this section, the most hazardous section being about 200 yards long. Visitors entering Yosemite from the east should be prepared with good route finding skills and the appropriate gear to safely travel on steep, potentially hard snow.  Remember, forecasts aren't always accurate and can make travel different than expected.  
Caution is advised traveling over lakes and waterways at mid elevations as the ice and snow bridges are rapidly melting.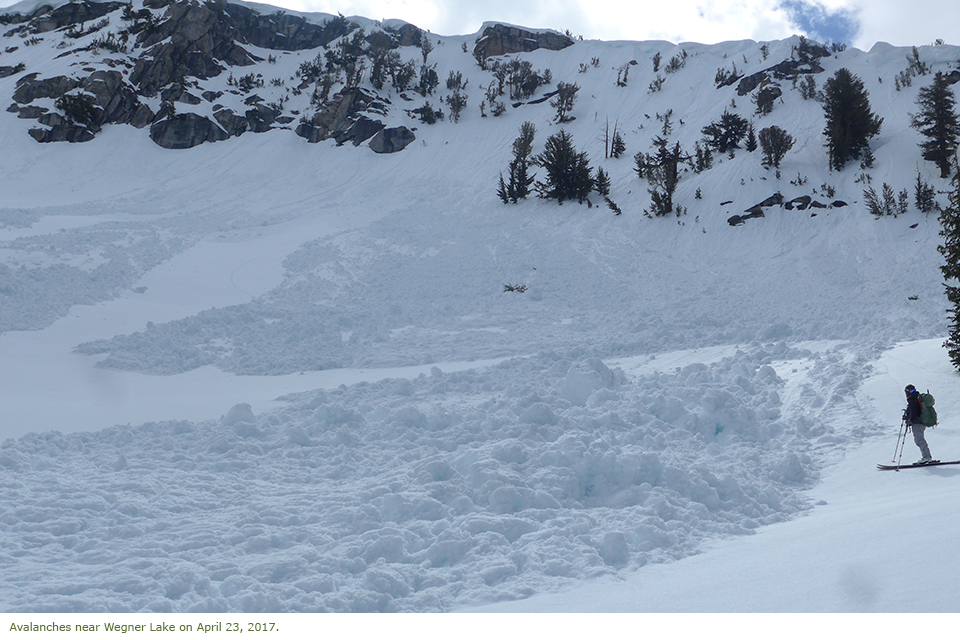 Wildlife
Spring is finally in the air. Most of the summer bird residents have returned to Tuolumne Meadows. The chorus of songs in the mornings is magical. The Cassin's finch and yellow-rumped warbler have been greeting the day for a couple of weeks now. The great horned owl now lulls us to sleep under a starry sky. When we wake up outside of Yosemite next week, will we be thinking to ourselves, did the winter of 2016-2017 really happen? Indeed, it did!  
Questions
The Tuolumne Meadows Ski Hut is open. There is firewood and 10 bunks that are available on a first-come, first-served basis. 
Power has been intermittent and there is NO phone service in Tuolumne Meadows this winter.
 We can be contacted via 
email
, but we may be delayed in responding if we are on patrol. Contact the wilderness office at 209/372-0740 with any questions or concerns. Come prepared, and please make good decisions while travelling in the wilderness this spring.  
Celebrate Earth Day every day!
Laura and Rob Pilewski - Tuolumne Winter Rangers