New snow: 
22 inches
Total settled snow depth:
 100 inches (at 8,600 feet)
High temperature:
49°F (April 16)
Low temperature:
 -1°F (April 14)  
Season Totals November 1-April 18
Total Snowfall: 
491 inches
Total Water:
 51.02 inches*
*The most in recorded history  
Ski Conditions and Weather
It was another wet week in the central Sierra Nevada. The latest round of moisture was mostly rain here in Tuolumne Meadows, so although the new snow amounts were low, almost two inches of water was added to the already saturated and deep snowpack. Above the snow line (9,000 feet) between one and two feet of new snow has fallen. Visitors should expect difficult, and initially hazardous, travel conditions at the higher elevations until the snow settles and has a chance to go through several melt freeze cycles.  This will occur more rapidly at the middle elevations as long as there are good freezes overnight.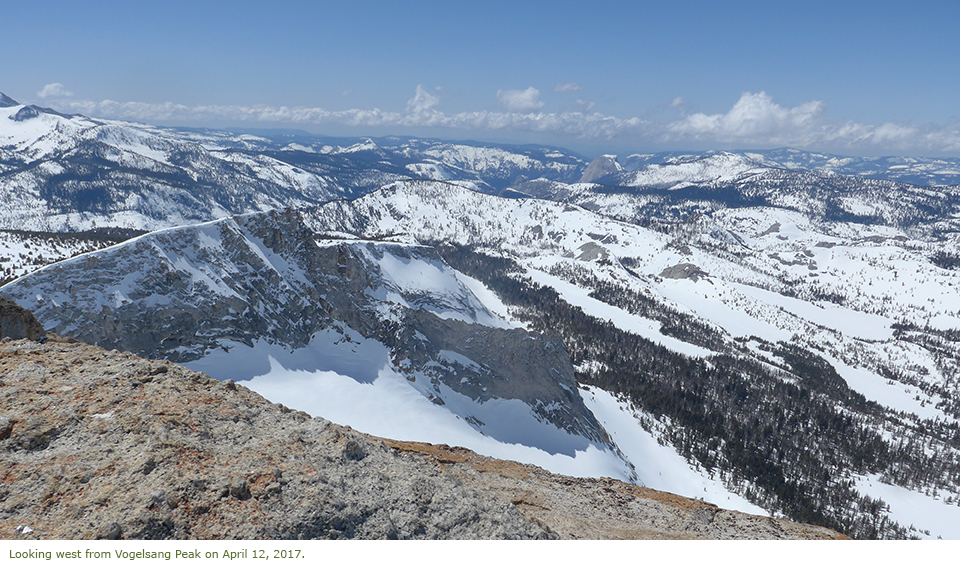 Avalanche and Snowpack Conditions
Please refer to the 
Eastern Sierra Avalanche Center
 for the avalanche advisory for this part of the Sierra Nevada.  
Initial avalanche concerns will be from storm slabs and wind slabs at the higher elevations. The most recent storm was warm and wet which should allow the new snow to bond well to the old snow surface.  
Wilderness travelers should pay attention to overnight temperatures when venturing into the mountains this time of year. On any night when there is not a good freeze of the snow surface, the avalanche hazard from wet slides will increase. This typically means that the skiing and travel conditions will be pretty marginal as well.  
Conditions on the Tioga Road are still hazardous on the east side of Tioga Pass between the Warren Fork and the Green Bridge. There is a steep side-hill above cliffs in this section, the most hazardous section being about 200 yards long. Visitors entering Yosemite from the east should be prepared with good route finding skills and the appropriate gear to safely travel on steep, potentially hard snow. Remember, forecasts aren't always accurate and can make travel different than expected. Some visitors have been taking an alternate route from the Poole Power Plant directly up Lee Vining Canyon. This route comes out on the Tioga Road just below the Ellery Dam and avoids the steep side-hill section. This route is certainly not without its own hazards. 
Caution is advised traveling over lakes and waterways at mid elevations as the ice and snow bridges are rapidly melting.  
Wildlife
Before the snow and rain returned to Tuolumne Meadows, there was a short teaser of sunshine. Brewer's blackbirds, mountain bluebirds, and red-naped sapsuckers all returned to re-stake their claim to the most prime mountain real estate: Soda Springs. The painted-lady butterflies have also been braving the winds, traveling from east to west. Hang in there buddies! Winter is not over.  
Questions
The Tuolumne Meadows Ski Hut is open. There is firewood and 10 bunks that are available on a first-come, first-served basis. 
Power has been intermittent and there is NO phone service in Tuolumne Meadows this winter.
 We can be contacted via 
email
, but we may be delayed in responding if we are on patrol. Contact the wilderness office at 209/372-0740 with any questions or concerns. Come prepared, and please make good decisions while travelling in the wilderness this spring.  
Happy Skiing!
Laura and Rob Pilewski - Tuolumne Winter Rangers