New snow: 2 inches
Total settled snow depth: 78 inches (at 8,600 feet)
High temperature: 50°F (April 8)
Low temperature: 9°F (April 10)
Ski Conditions and Weather

This week saw a few weak weather disturbances move through the area with some sunny warm days in between. There were a few nights that saw only a light overnight freeze that caused the upper snowpack to become wet and collapsible during the heat of the day. That made for frustrating and slow travel conditions especially for those who didn't get an early start. Wilderness travelers should consider how overnight temperatures affect the snowpack at this time of year. Presently the snowpack is still in a transitional phase and not quite set up for consistent spring touring.  The more melt freeze cycles the snow surface goes through and the more time the snow has to freeze overnight, the better and safer the ski conditions.

Currently, good corn snow can be found on south aspects up to 11,000 feet and on east aspects a bit lower in elevation. High north winds blew over the central Sierra Nevada the past few days.  Visitors should expect wind affected snow on all aspects at the higher elevations.

Snow removal has begun on Hwy. 120 east of the park boundary. As of this writing the road is bare up to 9,100 feet. Above Ellery Lake Dam to Tioga Pass there is deep, uniform snow coverage. This will be changing over the next few weeks as Caltrans continues to work toward the park boundary. Visitors traveling through this area should be very cautious around snow removal machinery and make sure that the operators see you before attempting to pass/go around. Lee Vining Canyon is still an option to get to Tioga Pass, but the south aspects are showing more bare ground daily and the snow conditions are very dynamic based on current weather.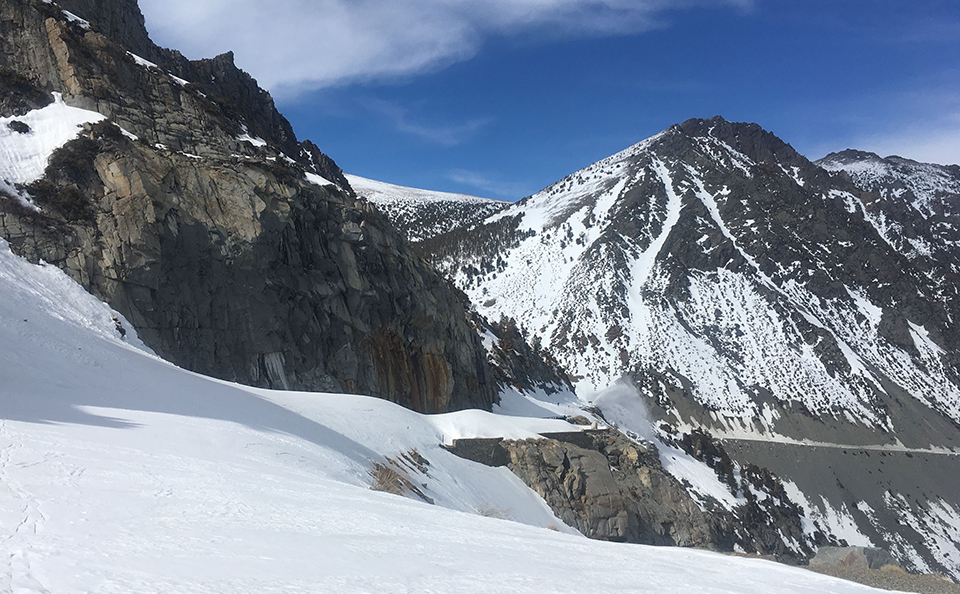 Avalanche and Snowpack Conditions

Please refer to the Eastern Sierra Avalanche Center (ESAC) for the avalanche advisory for this part of the Sierra Nevada.
 
We observed several wet slides in Lee Vining Canyon this week. Though relatively small in size and slow moving, this type of avalanche can have real consequences and should not be taken lightly. These occurred the two days when the snow barely reached freezing overnight and temperatures approached the 50s°F. Travelers should assess terrain, aspect, and temperatures accordingly this time of year as the forecast is not always accurate.

Otherwise, the snowpack is moving towards a more stable and isothermic state. This does not mean that there is "no" hazard, but rather that the attention shifts to different types (wet loose/ wet slab) of avalanche hazard. Wind slab avalanches are still possible when the winds deposit loose snow onto this smooth hard snowpack which can make for a good bed surface.
 
Wildlife

Despite the unsettled and, at times, cold weather, the birds were out greeting the day. American robins, Williamson's sapsuckers, Cassin's finch and yellow-rumped warblers have added to the existing chorus of the winter residents and are increasing in number every day.
General Information

The Tuolumne Meadows Ski Hut is open. There is firewood and 8 bunks that are available on a first-come, first-served basis.

There is no phone service in Tuolumne Meadows. We can be contacted regarding winter travel to Tuolumne Meadows via email, but we may be delayed in responding if we are on patrol.

For those visiting the Tuolumne Meadows Ski Hut from the east (only) permits are self-issued at the ski hut. For those entering from other areas, visit: https://www.nps.gov/yose/planyourvisit/wildpermits.htm or you may contact the wilderness office at 209/372-0740.

Come prepared, and please make good decisions while traveling in the wilderness!

Think corn!
Laura and Rob Pilewski - Tuolumne Winter Rangers