New snow:  6 inches
Total settled snow depth: 28 inches (at 8,600 feet)
High temperature: 46°F (March 31)
Low temperature: 3°F (March 30)
Ski Conditions and Weather
Although the park remains closed, we are still out and about performing the April 1 snow surveys. The unsettled weather this week provided for one of the most scenic commutes we have ever had. With the warmer temperatures, the convective clouds billowed around the tops of the mountains as intermittent snow squalls left six inches in their wake. The peace these moments bring can last a lifetime. At one point we looked up to a windless grey sky where flakes as big as feathers drifted down. The only reminder that it was not a dream was their sound as they touched down upon our nylon jackets.

Like most storms this winter, those moments didn't last long. Now the skies have cleared once again and the winds are having their way with all of those delicate snowflakes.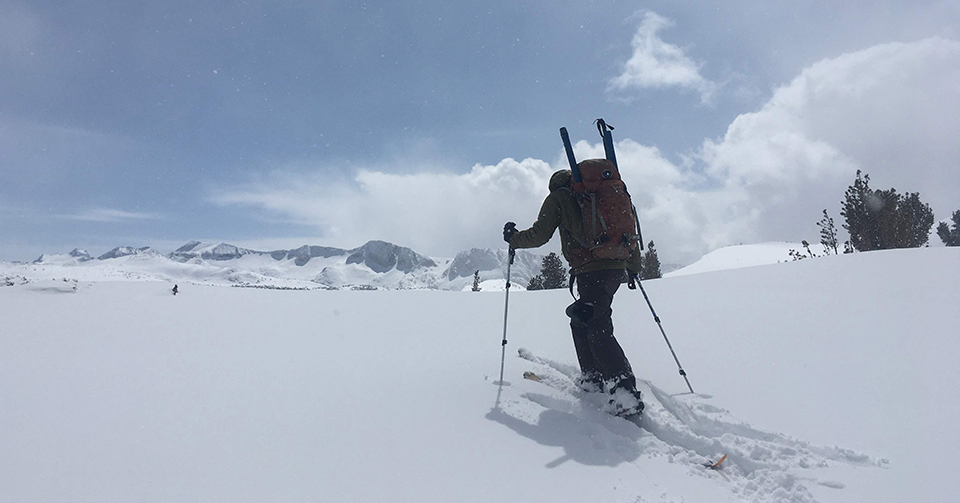 Avalanche and Snowpack Conditions
Although the park is closed, please refer to the Eastern Sierra Avalanche Center (ESAC) for the avalanche advisory for this surrounding areas in the Sierra Nevada.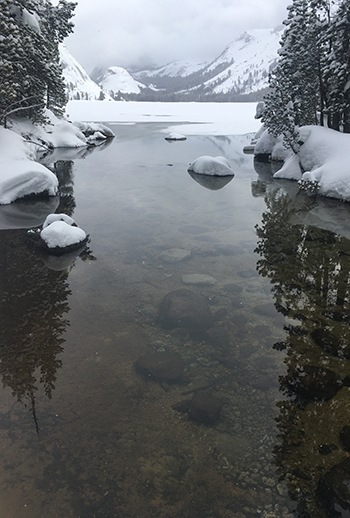 Wildlife
Another week in the wilderness has come and gone. It is a strange contrast to know that as the country goes into a hibernation of sorts, the bears are emerging from their dens. The American robin has returned hoping to find the first worm although there isn't much bare ground up here yet. Other bird species seen around this week include Cassin's finch, dark-eyed juncos, pine siskin, red-breasted nuthatch, brown creeper, hairy woodpecker, red-breasted sapsucker and northern flicker. The red crossbills were gathered around the Soda Spring this morning along with a few Brewer's blackbirds. Watching and listening to the sights and sounds of nature are our favorite "#sounds of comfort."
General Information
The Tuolumne Meadows Ski Hut is closed.

Remember we all can enjoy the great outdoors safely without putting one another at risk. Please respect the requests of all agencies and do your part by not diverting any valuable resources from where they are really needed. Thanks to each and every person lending a hand across the world during this pandemic.