New snow: Trace
Total settled snow depth: 0 inches as of April 1 (at 8,600 feet)
High temperature: 62°F, March 29
Low temperature: 14°F, March 31

Winter Weather Summary:  November 2014-March 2015
Total snowfall:
58 inches (average: 261 inches)
Total water content:
6.72 inches (average: 19.52 inches)
Average high temperature:
46°F (normal: 42°F)
Average low temperature:
19°F (normal: 12°F)
April 1 Dana Meadow snow survey results:
11.5 inches deep; 4.2 inches of water (which is 13% of the 88-year average)
Skiing/Snowshoeing Conditions and Weather:
The above weather summary is for the Tuolumne Meadows weather station at an elevation of 8,680 feet. Precipitation averages date back to 1980, and temperatures to approximately 1990. These numbers tell the sad story of possibly the warmest and driest winter in recorded history, and this comes on top of the previous three years of drought in California.
Recreation conditions have not changed much since last week's post. The east side of Tioga Pass is now snow free enough to bike from the locked gate in Lee Vining Canyon to Tioga Pass. From Tioga Pass westward, it is still a patchwork of snow and pavement to Tenaya Lake. Skis are not recommended for travel along the road corridor due to the lack of consistent snow. However, there is still too much snow above 9,000 feet to simply hike. Snowshoes are the equipment of choice to access the trails around Tuolumne Meadows. Ice axes and crampons are advised for high mountain travel. And, as stated last week, please realize trails are not obvious in places and navigational skills are a must. Come prepared for any type of weather.
The best ski opportunities exist north of Tioga Pass around Bennettville and Saddlebag Lake, though travelers should anticipate having to carry skis for stretches in these places as well.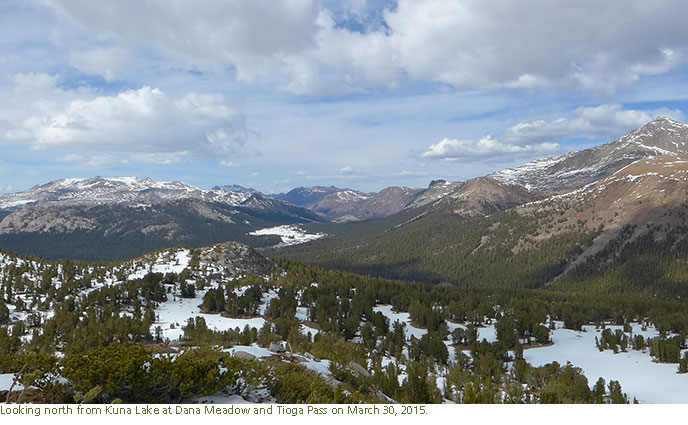 Avalanche and Snowpack Conditions:
For the avalanche advisory for this area of the Sierra Nevada go to www.esavalanche.org for the Eastern Sierra Avalanche Center. The avalanche danger in the Tuolumne Meadows area and along on the Tioga Road including Lee Vining Canyon is low.  
Wildlife:
Flocks of gray-crowned rosy finches graced our presence in the high country this week. Red crossbills appear to be already feeding their young on Tioga Pass. And, the hairy woodpeckers are finding the best whitebark pine snags at the entrance station in order to greet the incoming park visitors. 

Questions: The Tuolumne Meadows Ski Hut is open! There is an ample supply of firewood and 10 bunks that are available on a first come, first served basis. There is power but no public phone service in Tuolumne this winter.  We can be contacted via email, but we may be delayed in responding if we are on patrol. Contact the wilderness office at 209/372-0740 with any questions or concerns.  Come prepared; don't count on electricity or phone service at the ski hut.