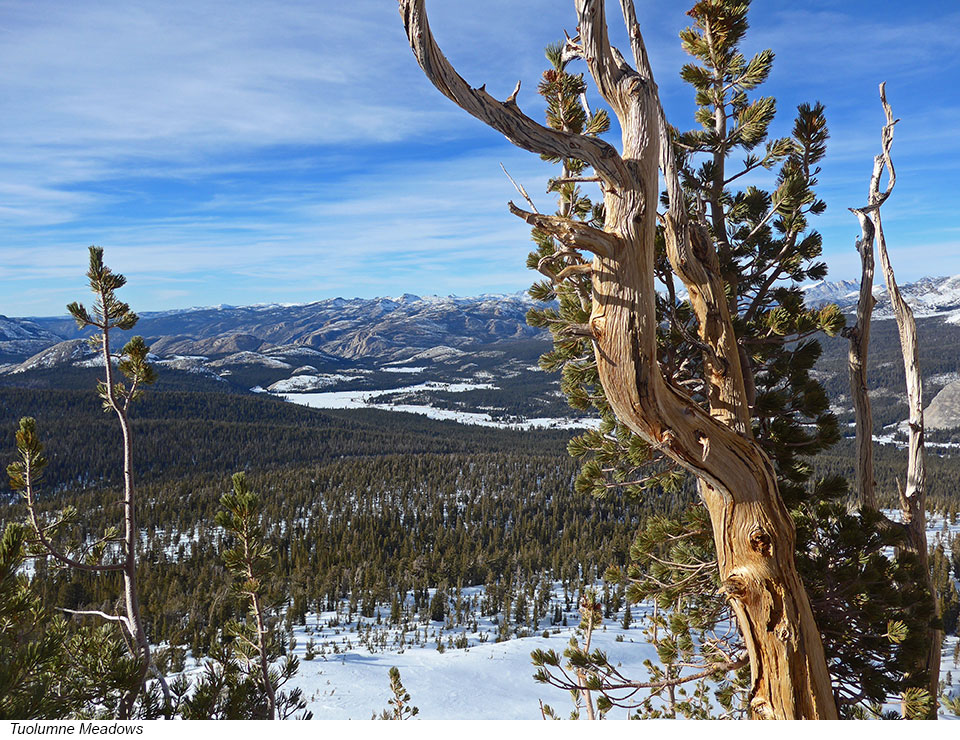 New snow: None
Total settled snow depth: 9 inches (at 8,600 feet)
High temperature: 56°F (February 2)
Low temperature: 16°F (January 31)
Ski Conditions and Weather: The daily high temperature for the past nine days has been over 50°F. The snow has gone through many melt-freeze cycles on all but the most sheltered north aspects at the higher elevations. Bare ground continues to be more prevalent in the Tuolumne Meadows area with each passing warm and dry day. The Tioga Road is still mostly snow covered from the park boundary at Tioga Pass to Tuolumne Meadows. On the east side, the road is patchy snow above 9000 feet, and then mostly snow covered from Ellery Lake to the pass.
The ski conditions are still pretty darn good. The touring is fast on firm corn snow for the early part of the day, and becoming wet and slower in the afternoon. There are decent turns to be had on higher elevation slopes, but one has to be creative on route selection. The best skiing in the area is the drainages and surrounding slopes of the Cathedral Range above 9,000 feet.
Avalanche and Snowpack Conditions: For the avalanche advisory for this area of the Sierra Nevada go to www.esavalanche.org for the Eastern Sierra Avalanche Center.
The avalanche hazard in the Tuolumne area is currently low. With these warm temperatures wet slides and rock fall are possible. This week we observed some wet/loose avalanche activity on sunny aspects. These were small and did not contain a whole lot of snow.
Wildlife: Interestingly enough, a flock of Canada geese was seen flying in formation from west to east this week. We're not sure what this means… At least they weren't flying north!
Questions: The Tuolumne Meadows Ski Hut is open. There is firewood and eight bunks that are available on a first-come, first-served basis. There is no phone service in Tuolumne Meadows at this time. We can be contacted via email at Laura_Pilewski@nps.gov, but we may be delayed in responding if we are on patrol. Contact the wilderness office at 209/372-0740 with any questions or concerns. Come prepared, and please make good decisions while travelling in the wilderness this winter!
Don't forget the sunscreen!
Laura and Rob Pilewski
Tuolumne Winter Rangers