Start date:
8/13/17 2:30 p.m.
Size:
2,407 acres
Containment:
7%
Cause:
Unknown
Incident Personnel:
512
Fuels:
Mixed conifer, oak and brush  
Crews made progress constructing handline on the west flank of the fire north of Wawona Dome. Burning operations may continue today if conditions are favorable to secure the protection of the Wawona community and the Mariposa Sequoia Grove. Heavy inversions grounded aircraft until late afternoon yesterday. Flights will continue today when conditions warrant.  
There will be a community meeting at the Wawona Community Center at 6pm on Saturday August 19th.  
Strategic objectives remain the same: utilize air and ground resources to hold the western and southern flanks while monitoring the northern and eastern edges. Minimal Impact Suppression Tactics are being used in the Yosemite Wilderness to manage the area of the fire, using natural barriers such as rocks or streams, trails, and other minimal disturbance methods to contain the fire.  
Smoke will continue to affect the Wawona area, particularly in the evenings and mornings. Community members who are sensitive to smoke should consult their physician and may want remain indoors or leave the area in periods of heavy smoke. Residents can monitor the air quality links below for current information.  
A warming and drying trend will be present across the region through the first part of the weekend. A subtle cooling trend will begin Sunday into the first part of next week. Thunderstorms will be possible over the Sierra Nevada each afternoon and evening into the weekend.  
The voluntary evacuation is still in place for the Wawona community.  
There are currently 512 personnel assigned to the fire: 12 hand crews, 7 helicopters, 11 engines, 4 air tankers.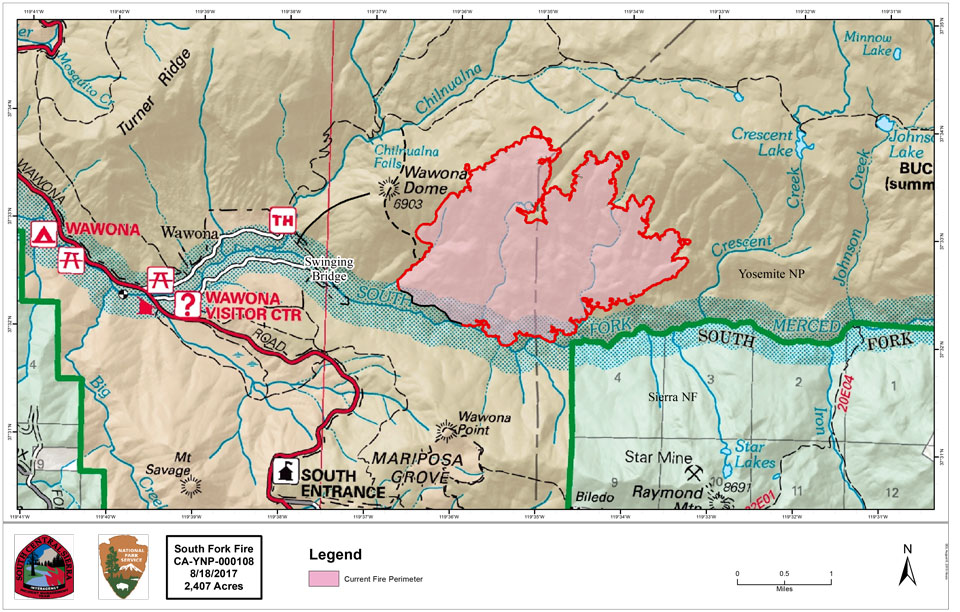 Additional Information
Rapid Notify is a community alert system for rapid event notifications. Register by visiting http://www.rapidnotify.com/customer/Yosemite.html or https://alert.rapidnotify.com/.
Nixle is a public-safety notification system. Sign up for emergency alerts by texting 95389 to 888-777 or
visit their website at www.nixle.com
Fire Information: Yose_Fire_Info@nps.gov
Yosemite National Park Fire Information website: http://www.nps.gov/yose/blogs/fireinfo.htm
Facebook: https://www.facebook.com/YosemiteFire/
Twitter, search @YosemiteFire : http://www.twitter.com/YosemiteFire
Air Quality: https://www.nps.gov/yose/learn/nature/aqmonitoring.htm or https://airnow.gov/index.cfm?action=airnow.local_city&mapcenter=0&cityid=533