Location: N 37°32 '15" x W 119° 35'54" - approximately 5100 ft elevation
Discovered: 8/13/17 2:30 p.m.
Size: 1613 acres        Containment: 0%
Cause: Unknown     
Fuels: Ponderosa pine transitioning to White fir
Strategy: Suppression
County: Mariposa
The South Fork fire is burning 1.0 mile east of the community of Wawona upstream of Swinging Bridge in the South Fork of the Merced River drainage.  The fire is burning in the wilderness but is being managed for protection objectives due to its close proximity to the community of Wawona.    
The fire was discovered at 
2:30 p.m.
 on August 13, 2017. Tactics in use include helicopter bucket work, retardant drops and tanker drops mainly on the left flank of the fire.  
Strategic objectives are containment of the west flank and keeping the fire north of the river for protection of the community of Wawona. Air resources, hand crews and type 3 engines are all being utilized.  
The fire is burning in dense mixed conifer forest with areas of heavy tree mortality.  Most of the projected fire growth is expected on the north and northeast flanks of the fire which is burning into the wilderness and away from the community. However, the fire also continues to back down the South Fork drainage.    
Smoke is expected to be heavy in the fire area and adjacent communities and is likely to be very dense in Wawona in the evenings and mornings. Visibility may be impacted along Wawona Road (Hwy 41 extension) south to Fish Camp, Glacier Point Road, Yosemite Valley, Hwy 140 from El Portal to Mariposa, and Tioga Pass to the Mono Lake area.  
Portable and stationary particulate monitors are placed in areas that are most likely to see impacts of smoke during certain hours of the day. The local air quality districts use the data from these monitors to issue air quality alerts and notices. Fire Managers are working with the local Air Quality Districts and will be monitoring smoke impacts to the community of Wawona, park and local communities. Community members who are sensitive to smoke may want to close their windows and doors and monitor the air quality links below.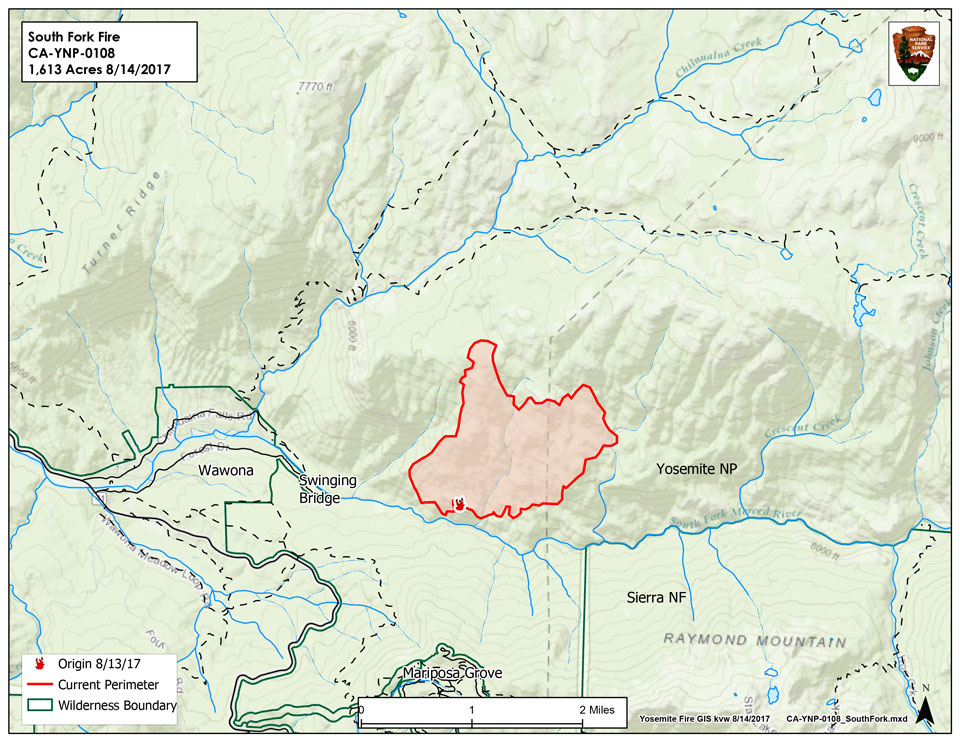 For additional information: