On the afternoon of June 7, Yosemite Emergency 
Communications
 Center received a 911 call reporting that there 
was 
a subject located in the inner gorge of Yosemite Falls with a broken leg. The injured subject was a 24-year-old female who, along with three other friends,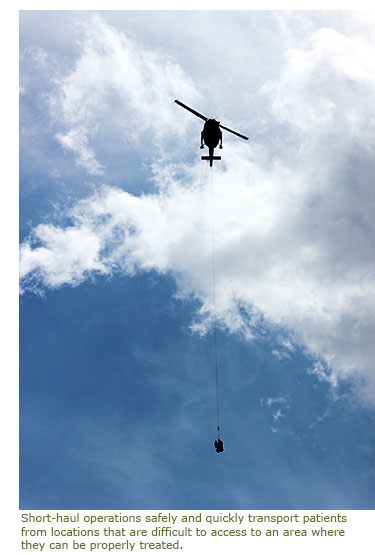 accessed the inner gorge via the Sunnyside Bench rock scramble. At some point, she separated from her friends and took a 10- to 20-foot slide down wet granite resulting in an upper leg injury that prevented her from walking or moving.
Yosemite Search and Rescue (YOSAR) was 
notified of the accident and began its response. A ranger-parkmedic made a hasty ascent to the injured patient and began treatment. Due to the difficulties of accessing the patient, the decision was made to short haul her from the scene using park helicopter 551. At the same time, a second rescue team began making its way to the scene in case the short-haul operation was unsuccessful. The short-haul operation proved successful and the patient was delivered to the Ahwahnee Meadow, where a medical flight helicopter was waiting to take her to definitive care.
An excellent lesson to be learned from this accident is to never underestimate the potential for danger in a place like Yosemite. You don't have to be miles into the backcountry for things to go wrong in a hurry. In this case, the injured subject was less than a quarter mile in a direct line from the Valley floor (and the YOSAR office). However, due to the nature of her location, a traditional carryout operation would have been extremely time consuming and dangerous for the rescuers and the patient. 
Anytime you leave the developed areas of the Valley floor; whether for a hike, a technical climb, or a rock scramble, always be aware of your surroundings and be prepared for unforeseen challenges. Make sure to wear appropriate clothing and footwear and be prepared to turn around if you encounter terrain outside your comfort level.