On July 18, a 22 year-old male backpacker who appeared to be experiencing acute mountain sickness was flown out by helicopter from just below Isberg Pass. The subject had been living for the previous month in Tuolumne Meadows, at approximately 8,600' elevation, and has been a cross-country runner since high school. He is fit, athletic, full of energy, and normally has a healthy appetite. Two days before his evacuation from the backcountry, on July 16, the subject went for a run in Tuolumne Meadows and noticed he didn't feel completely normal on his run. He also wasn't getting as much sleep as usual.

The subject and his backpacking partner, both park employees, set off on an eight-day work trip the morning of July 17, loaded down with all the supplies required for an extended stay in the backcountry. The subject was hiking a bit slower than usual as he traveled over Vogelsang Pass (10,750' elevation) and dropped down to the valley below. He felt lethargic and not fully awake; however, he convinced himself he was just having an "off" day and ignored the signs that he wasn't feeling quite right. After setting up camp at approximately 9,500' elevation, the subject rested in his tent for a couple of hours and felt better, but went to bed relatively early after mentioning he didn't have much of an appetite and eating a smaller than normal dinner.

By noon the next day, as the subject ascended the second set of steep switchbacks for the day, he noted that catching his breath was proving increasingly difficult and his vision was a bit off, with areas in his field of vision out of focus. The subject and his backpacking companion pulled out a book on first aid and determined that he was experiencing a mild form of altitude sickness (in medical terminology, acute mountain sickness, or AMS). Because the rest of their day's travel would be mostly flat, and rationalizing that perhaps the subject's symptoms could in part be attributed to his extra heavy pack and his sleep deprivation, the two backpackers decided to continue hiking.

Had the pair decided to stop hiking at this point or at any time earlier in the trip, or even better, had they postponed their trip when the subject noticed he didn't feel well on his run the day before their departure, the situation may not have escalated into the medical emergency that it became. Many hiking illnesses that Yosemite Search and Rescue responds to each year could be prevented (or the severity of those medical conditions greatly diminished) by the following: (1) prepare adequately the day before the hike-everything from drinking plenty of water and eating well to getting a full night's sleep; (2) hike with a heightened sense of awareness of your own physical well-being, keeping in mind that your body is most likely being pushed beyond its normal physical exertion; and (3) if you notice you don't feel well, immediately stop hiking, rest, and head back to the trailhead.

After five hours of very slow progress, just below Isberg Pass and only a few hundred meters from their planned campsite, the subject-very much out of character-told his backpacking partner he needed to take a break. The subject was panting and could not catch his breath. He sank down to the ground and, with labored breathing, assumed a tripod position (sitting, feet flat on the ground, knees bent, and supporting his upper body weight with his arms on his knees). He told his partner his fingers were going numb, and soon after reported that he couldn't feel his legs. In a display of quick thinking, the subject's partner, who has no medical training, instructed the subject to continue talking to her and verbalizing all symptoms as they changed or progressed. The partner simultaneously went to search for a spot with clear radio reception. As the subject ticked off new symptoms-nausea, headache, and his tongue going numb-the partner called the Yosemite Emergency Communication Center (ECC) using her park radio. While waiting for a response from the ECC, the two backpackers checked their topographic maps for descent routes, knowing that reaching a lower elevation quickly might alleviate the subject's symptoms. Meanwhile, in consultation with the park's medical control, the incident commander in charge of responding to the radio call decided the subject should be evacuated immediately from the backcountry and requested that the park helicopter, with a medic on board, fly to the subject's location. Approximately 1.5 hours after the subject had initially stopped to take a break, the helicopter landed nearby. The subject was able to walk himself to the helicopter; he climbed on board and was flown to the park's helibase at Crane Flat (elevation 6,600'). The subject's vital signs soon improved to within normal limits, and the subject decided to forego further medical care that evening. Although he felt better, the subject's appetite was still near nonexistent. He ate a tiny portion of pasta for dinner, and went to bed, spending the night in Yosemite Valley at 4,000' elevation.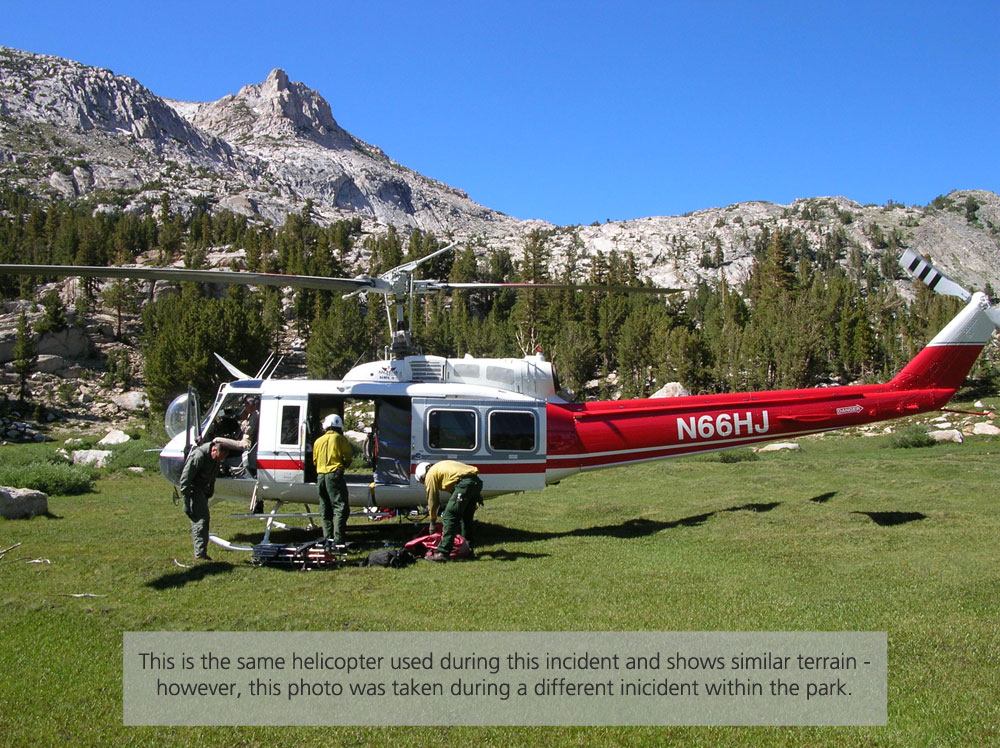 The next morning, the subject awoke once again feeling nauseous with a headache and no appetite. He sought medical attention at the Yosemite Medical Clinic (open seven days a week, 9 am to 7 pm, during the summer). The clinic's medical providers determined that the subject had a previously undiagnosed upper respiratory infection that was exacerbated by high altitude, as well as by exhaustion and fatigue from several nights of poor sleep. The subject was given orders to rest and was released. Six days after he initially started feeling not quite right-during his run the day before the start of his backcountry trip-the subject was back to his normal, healthy self.
Although acute mountain sickness (AMS) turned out not to be the exact diagnosis for the subject's illness in this case, any physical activity at high altitude (8,000 feet/2,400 meters and higher) saps energy quickly.  Many people are able to acclimate to the higher elevations-and reduced oxygen-of Yosemite without noticeable signs of illness, but those who don't may suffer from altitude-related ailments, ranging in severity from mildly discomforting to life threatening.  Staying hydrated, eating snacks frequently, and keeping physical activity light during the first 24-48 hours at higher elevations can help in adjusting to high altitude.  Fitness does not override the effects of high altitude on the body, and anyone who has experienced AMS previously is at a higher risk of a reoccurrence of the condition.

The most common altitude illness is also the mildest: AMS is characterized by a throbbing headache coupled with loss of appetite, fatigue or lassitude, shortness of breath, or insomnia.  When symptoms of AMS develop, the best treatment is to stop the ascent, drink water, eat snacks, take medication for the headache, and rest.  If the condition of the AMS patient does not improve, the group should descend at least 2,000 feet in elevation; someone suffering from AMS should never be left alone.