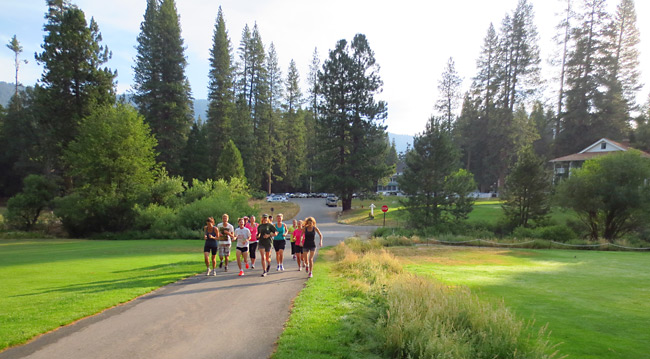 As I lace up my running shoes, the early morning air is crisp and clean with an aroma of pine and wet grass; it is the beginning of my day unfolding.  The Wawona Meadow Loop is a 3.5-mile dirt road that encompasses one of few lower montane Sierra Nevada meadows: terrain gently rolling through ponderosa pine, incense-cedar, and California black oak woodland.  Mountain dogwoods tightly crowd and overhang the path along one section I have dubbed "Dogwood Alley." The dramatic blossoms in spring and the peach and rose-hued leaves in autumn lure me back to run this particular scenic loop regularly.  Even in winter, the thin snow crunches underfoot and utter silence offers a cold meditative run for me in the low angle light of solstice.  
On the far end of the meadow there is a small riparian habitat that sometimes shelters unique and beautiful animal species.  I feel lucky when I hear and observe the raucous behavior of the pileated woodpecker and the lilting summer song of the elusive olive-sided flycatcher.  Seasonally, the meadow offers up wave after wave of brightly colored wildflowers:  azalea, baby blue-eyes, poppy, clarkia, lupine, madia, pinedrop, lessingia… the names roll off my tongue as if I am naming off familiar friends.  The beauty and serenity beckon, I am grateful for and ever curious of the natural world around me as I pass through this landscape.
The National Park Service is offering, on limited summer days, a "Run with a Ranger" program through the Wawona Meadow.  Lace up your running shoes and join an exploration of this beautiful and precious resource. 
Check at the Wawona Visitor Center to find out which days the Run with a Ranger program will be offered.