Raven
Corvus corax
   
Early August

Ravens are often found on or near roadways. The common raven is a large black bird that is conspicuous and regularly encountered in Yosemite National Park. Interestingly, they had never been reported within the Park before 1950. Ravens are very good at utilizing human-altered landscapes. One way they do this is by following roads into new areas, scavenging the road kill along the way. 

---
Paintbrush
Castilleja sp.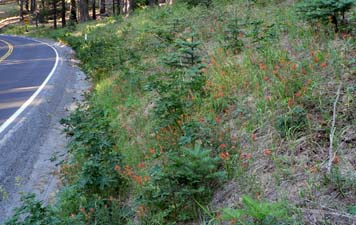 August
The Big Oak Flat Road (Highway 120) - From the Big Oak Flat Entrance to Yosemite Valley

Flashes of orange and red that you pass are likely a variety of paintbrush (Castilleja sp.). Approximately 21 species of paintbrush are found in the Sierra, but they are often hard to identify to species because of wide variation and hybridization. If you see paintbrush on the trail, keep a look out for hummingbirds which are attracted to the bright red flowers.  

---
Sierra Lessingia
Lessingia leptoclada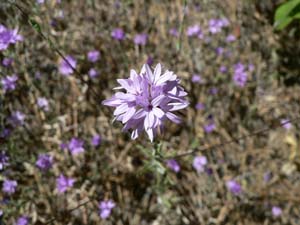 Early August
Big Oak Flat Road (Highway 120) - From the Big Oak Flat Entrance to Yosemite Valley
The light purple-pink flowers growing along the road between the Merced Grove Trailhead parking and Crane Flat are Sierra Lessingia. These plants have small flower clusters at the top of wire-thin stems, small leaves, and are usually less than three feet tall. Sierra Lessingia is endemic to California, meaning that it only grows in this state and nowhere else. 
---
Goldenrod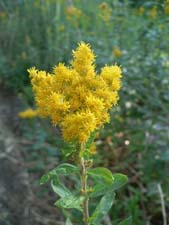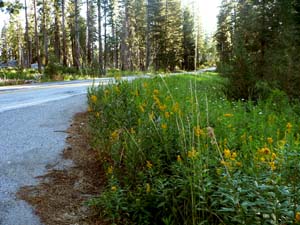 August
Tioga Road (Highway 120) - From Crane Flat to Olmsted Point
Goldenrod is starting to bloom along the Tioga Road. The small yellow flowers appear in dense clumps toward the top of stalks less than four feet tall. This pretty flower will bloom into the early fall, providing many meadows and roadsides with a golden touch.
---
Cascade Fire
Solidago sp.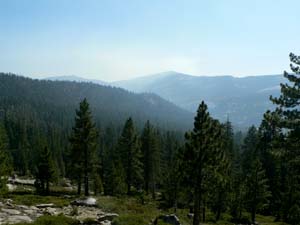 August
Tioga Road (Highway 120) - From Crane Flat to Olmsted Point

As the typical summertime weather continued to be hot and dry this week, smoke from the Cascade Fire was easily seen from the Tioga Road between Yosemite Creek and Porcupine Flat. Natural, lightning caused fires, when not posing a significant risk to human health, historical resources or important infrastructure, are often allowed to burn within the park because they promote a healthy and resilient ecosystem. At all but the higher elevations, fire has historically been an important part of Yosemite. For thousands of years, the summer air in the Yosemite area has had a smoky tint because fire is as much a part of Yosemite as waterfalls and granite monoliths. 

---
California Cone Flower
Rudbeckia californica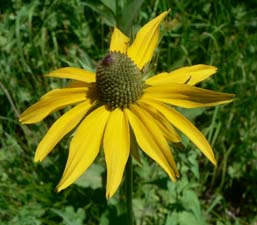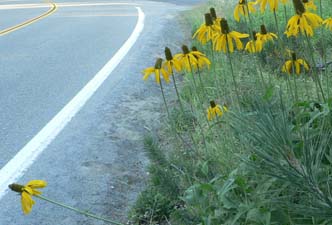 July 2012
Big Oak Flat Road (Highway 120) between Yosemite Valley and Crane Flat
California Cone Flowers (
Rudbeckia californica
) are bright yellow and rather large members of the Aster Family that can be seen on three foot stalks in wooded areas along the roadside. These should not be confused with the smaller, bright yellow flowers that can be seen along the open section near Foresta. These flowers are Common Madia (
Madia elegans
) and have a red spot in the center.