On the afternoon of October 22, 2012, Mark* came to the Yosemite Valley Search and Rescue (SAR) office to report that his climbing partner, Peter,* was stranded approximately 250 feet from the top of El Capitan on the Muir Wall climbing route.
Mark told the following story: On the previous morning, their seventh day on the route, a friend warned them by cell phone that a three-day storm with rain and snow was due that night.They decided to make a push for the summit to beat the weather, and after climbing all day they reached the top of pitch 30 (of 33) at sunset. In an attempt to finish quickly, Mark combined pitches 31 and 32 in a continuous lead by headlamp. During his lead, the haul line became stuck in a crack below him, preventing him from bringing up the haul bags containing their survival gear and additional ropes. Mark decided to anchor his lead line so that Peter, back at pitch 30, could follow the pitches and free the stuck haul line. Although communication was difficult because of the wind, Mark suggested to Peter that since only pitch 33 remained, they should finish climbing, leave the bags, and hike down to the Valley to escape the storm. They could return in good weather and retrieve their equipment. Peter did not want to leave the gear--which included storm shelters and warm sleeping bags--and expressed that he was going to sleep where he was. Mark had no more rope to continue climbing, but pitch 33 was short and very easy, so he scrambled out by himself, unroped. Then he hiked to the Valley via the Yosemite Falls Trail, arriving at Camp 4 at 2 am on October 22. About 30 minutes later, the storm arrived with heavy rain and, by morning, the summit of El Capitan was coated in snow. Although he had intended to hike back to the summit that day to assist Peter, Mark had no ropes to descend the now-snow-covered pitch 33, and he was unconfident of his skills in this new situation. However, without a rope on that last pitch, Peter would be unable to get off the climb. Mark was unable to reach Peter by either cell phone or family band radio (they had both), so he sought advice from rangers. 
Peter was well-equipped for a storm but this was his first big wall, and since he was not responding to cell or radio calls, rangers took the precaution of assuming that he was in trouble. A hasty team of three NPS SAR team members ascended the East Ledges to the summit of El Capitan with minimal gear in order to reach him. If possible, rangers would fly additional rescuers to the summit to assist, but conditions did not allow for a safe flight. The hasty team reached the summit in late afternoon and carried out the rescue alone.  One rescuer (the attendant) was lowered to Peter by the other two rescuers. He found that Peter had had trouble setting up his shelter during the night, had been continuously exposed to the storm, and was now very cold and wet--too cold, in fact, to ascend a rope on his own. After securing Peter to the rescue ropes, the attendant climbed back to the summit. The three rescuers then hauled Peter to the summit, leaving the party's climbing gear behind. The four of them hastily packed the rescue gear and descended the East Ledges. They were all cold and wet by the time they reached the Valley around 10 pm. Peter slept that night in Camp 4 and left for home the next day.  When the weather improved, Mark returned to the summit and retrieved the party's gear.
We have not yet been able to complete our interviews with Mark and Peter, so a thorough analysis would be premature at this point, however we are reasonably confident of the following lessons:
If you and your partner have family band radios and/or cell phones and must separate from each other, be sure to turn them on or have a plan as to how you will communicate with each other.

Peter told his rescuers that he did not set up his storm fly until it started snowing, hours after Mark left, and too late to avoid hypothermia. It's always wise to set up your shelter before a storm arrives in case of unexpected problems. Once you become hypothermic, both coordination and alertness decline, which makes setting up shelter and performing other tasks even more difficult.

Although Mark had climbed a couple of shorter walls, this was the first Grade VI and first El Cap route for both climbers. They were moving slowly, which is not in itself a problem, but October is storm season and therefore not the best time of year to be learning basic logistics skills on a huge and complex route. When planning for a complex climb or other adventure, it's important to be adequately prepared and experienced to be able to deal with complications.

* Pseudonyms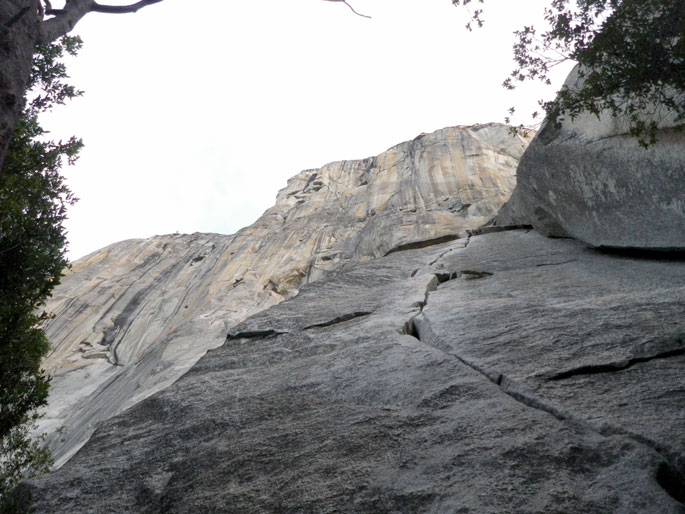 The Muir Wall route, showing the first pitch, called Moby Dick. Photo by Luke Holloway.
(A news release describing this rescue is also available.)