A walk to Lukens Lake from White Wolf these days presents you with a panorama of colors that only deepen with your continued observation. Don't be distracted by the meadows bubbling with Jeffrey's Shooting Stars leaning and bending in every direction or the towering Mountain Bluebells (Mertensia ciliata) overtaking certain sections of the trail. Take a closer look on your hands and knees at the 4 different species (and colors) of little violets blooming or the herds of pink elephants (Elephant's Head - Pedicularis groenlandica) gathering higher up above the ground in a few special places. Don't miss the Green Rein Orchids (Platanthera sparsiflora) as you bound along the trail towards the glowing Sierra Butterweed (Senecio scorzonella).
These photographs taken between June 9 and June 26, 2013 show a selection of colors lurking on the trail to Lukens Lake over the past few weeks...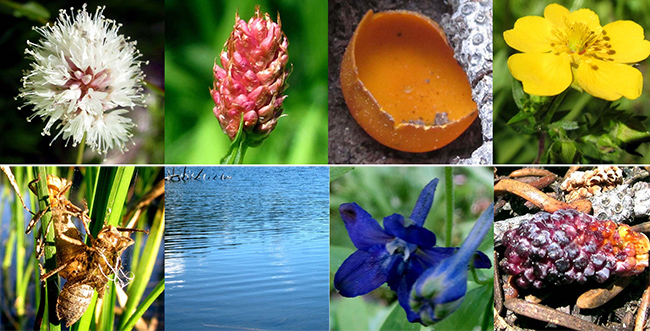 (from top-left to bottom-right)
Western Bistort (Polygonum bistortoides) in full bloom
Western Bistort before it fully opens. Red coloring in high elevation plants early in the season often comes from the presence of anthocyanins (the same pigment that makes apples red). Anthocyanins are able to convert incident light rays into heat to warm plant tissues and help flowers get a head-start during a short growing season.
Orange Peel Fungus (Caloscypha fulgens)
Drummond's Cinquefoil (Potentilla drummondii) - a member of the Rose family
Dragonfly nymph "shells" on sedges along the edge of Lukens Lake - notice the gaping hole where an adult dragonfly crawled out of its "child's" body a few days before this photo was taken!
Small Larkspur (Delphinium depauperatum)
The male cone of a California Red Fir (Abies magnifica) tree