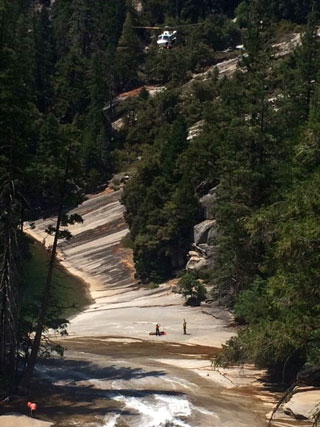 When the Merced RIver water level drops midsummer, Emerald Pool, just upstream from Vernal Fall, becomes an attractive swimming hole. Likewise, just upriver from Emerald Pool, a sloping granite area known as the Silver Apron becomes a tempting natural water slide. The water flowing into Emerald Pool comes from recently melted snow; even strong swimmers tire easily after periods of exposure to the cold water. The moderate water level of midsummer also masks a pair of hazards at the confluence of the Silver Apron and Emerald Pool: a strong undercurrent and sharp rocks. These hidden hazards almost claimed the life of a Yosemite hiker on Saturday, July 14, 2018.
That afternoon, the Yosemite Emergency Communications Center received a 911 call for a 16-year-old subject whose foot had become entrapped in boulders after he slid down the Silver Apron into the Emerald Pool. Unable to free his foot, the subject was fighting to keep his mouth and nose above the surface of the turbulent water. Bystanders mounted a rescue and, after several tries and approximately 10 to 15 minutes, successfully dislodged the subject's foot and pulled him to shore. By that time, the subject was exhausted and cold.
"When I arrived on scene, the subject was pale and his lips were cyanotic [bluish]," explained the first rescuer to reach the subject. "As I took a set of vitals I was worried he would rapidly go into decompensated shock, but after obtaining a set of vitals, his lips slowly became pink and his skin pallor improved." Several other Yosemite Search and Rescue responders rushed up the trail to provide medical care, and two members of the Yosemite Helicopter Rescue Team (HRT) rappelled out of Helicopter 551, the park's contract helicopter. Working with the ground team, the HRT members packaged the subject into a litter in preparation for the subject to be extracted via helicopter hoist. California Highway Patrol's H-40 helicopter performed the hoist, a rescue technique in which a helicopter, hovering over the scene, lowers a retractable cable with a hook to awaiting rescuers. The rescuers attach the hook to the litter containing the subject. The helicopter retracts the cable, raising the litter to the helicopter, and then flies to a landing zone with the litter attached to the outside of the helicopter. In this case, the subject was flown to Ahwahnee Meadow, in Yosemite Valley, where he was transferred to an awaiting ambulance. At that time, his condition appeared to have improved.
During a 36-hour period one week prior to this incident, three separate hikers sought medical treatment at the Yosemite Medical Clinic for lower extremity injuries caused by sliding down the Silver Apron. To prevent these types of incidents, the Merced River is closed to bathing and swimming from Vernal Fall to the top of the Silver Apron, including Emerald Pool. The swift current, frigid water temperatures, and hidden hazards and entrapments all pose significant danger to hikers who venture into these areas. Once a hiker is in the water in need of help, there is little chance a successful rescue can be carried out in a timely manner. Also keep in mind that the river flow can vary hour by hour, and from day to day, as a result of rain or changing rates of snowmelt: what may appear safe at one time may not be safe at another. For these reasons, it's best not to approach or enter the Merced River between Happy Isles and Little Yosemite Valley. Stay safe by staying on the trail, and wait to go wading or swimming until your hike is over and you're back in the relatively flat area of Yosemite Valley.

Read other accounts of injuries or rescues at Silver Apron and Emerald Pool: