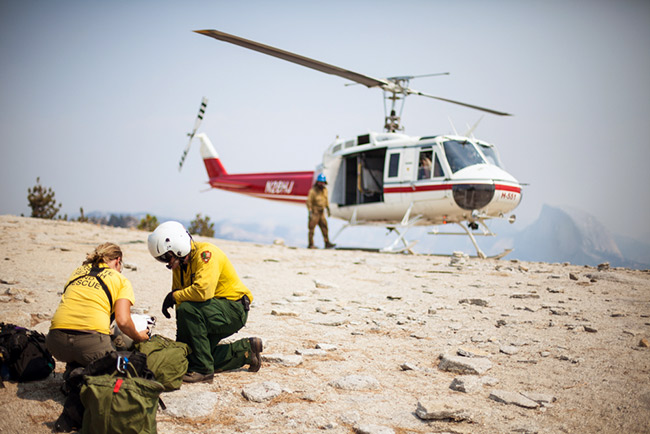 Above: YOSAR and Yosemite Helitack members arriving at the summit of El Capitan.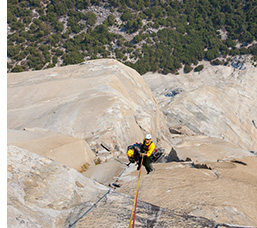 On Tuesday morning, September 10, 2013, the Yosemite Emergency Communications Center received a 911-call from a climber on El Capitan. The caller stated that a party of three climbers was on the 21st pitch of the Nose (just below the Great Roof) when the leader fell over 50 feet and struck his belayer. With initial reports of a possible open arm fracture and head injury, rangers began preparing for a technical rescue on top of El Capitan.
Helicopter 551, Yosemite's fire and rescue helicopter, flew a team of 14 YOSAR members to the top of the Nose, where they rigged a rope rescue system and lowered two rangers approximately 1000 feet down to the injured climbers. Meanwhile, an afternoon thunderstorm approached from the east end of the Yosemite Valley. High winds complicated lowering operations and communication between teams was challenging, but the injured lead climber was successfully packaged in a litter and lowered, along with one ranger, to the base of El Capitan, where he received medical care.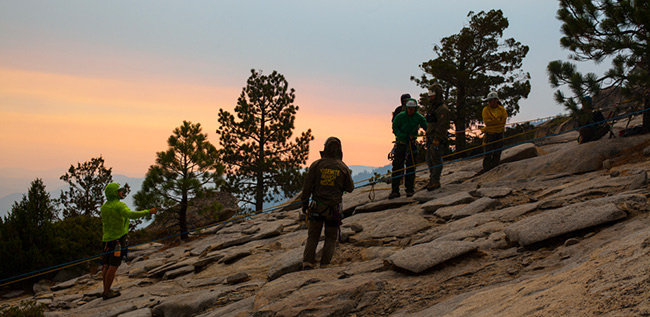 Above: Lowering operations on the summit of El Capitan.
Once the first rescuer and injured climber reached the ground, the team at the summit of El Capitan pulled the ends of the ropes back up to the second rescuer still on the wall. The team then lowered the second rescuer, the injured belayer, and the third climber to the ground. Rescuers and climbers fought erratic wind gusts as they were being lowered down the 3000-foot rock face, but made it to the base before the rainstorm arrived. The team at the summit waited for the storm to pass before pulling up the ropes and demobilizing. However, smoke from the nearby Rim Fire precluded helicopter operations after 7 pm and several YOSAR team members were forced to bivouac overnight on top of El Capitan.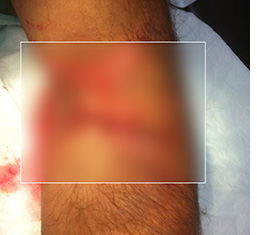 Rescuers later learned the following about the accident: the leader, age 43, weighted a piece of protection, which then pulled from the rock and caused him to fall. His last several pieces of protection also ripped out of the rock, but a bolt above the anchor (and an attentive belayer) arrested his fall of approximately 65 feet. He sustained rope burns, bruised ribs, and a deep muscle laceration to his arm from a carabiner. His belayer, age 37, suffered a circumferential rope burn to his wrist. The two were treated at the Yosemite Medical Clinic and released that evening. The climbers reported that between the three of them, they have nearly seventy years of climbing experience.
Rescue photos: Cheyne Lempe / NPS