On Monday, September 3, 2012, the Yosemite Emergency Communications Center (ECC) received a 911 report of two seriously injured hikers (one male and one female) just above Chilnualna Fall, a waterfall approximately four and a half miles from the nearest road, in the park's Wawona District. Reportedly, the two individuals were scrambling off-trail when they slipped, slid approximately 30-35 feet down a smooth granite slab, and then fell vertically 15-20 feet onto large uneven rocks. The female landed between two boulders and her companion landed on top of her. The reporting party stated that the female was unconscious and the male was complaining of severe lower back and pelvic pain.
Scrambling off-trail is one of the leading causes of serious injury and death in Yosemite. When deciding to venture off-trail, hikers must evaluate the terrain they are entering, as well as their own skills and equipment. It is especially important to be aware of the natural hazards in any waterway. At this time of year, water levels in Yosemite's rivers and creeks have dropped significantly (or, many cases, there is no water at all), giving the appearance that the waterways pose less danger than earlier in the season. However, streamside granite slabs and rocks, polished smooth during high-water periods, are slippery whether wet or dry. With one slip of a foot, and regardless of the strength of the water current, scramblers can take serious, life-threatening falls.
Because of the remote location of the subjects and the apparent severity of their injuries, the incident command team ordered an immediate response by the park's helicopter rescue team (HRT). The park helicopter picked up members of the HRT in Yosemite Valley and flew to Wawona. The helicopter crew located the injured subjects from the air and the helicopter was able to land nearby. After working their way down to the scene by ground, the four HRT members confirmed that both patients were in need of immediate evacuation. The patients were packaged in litters and then individually short-hauled* directly from the accident scene to Wawona Meadow, where they were transferred to two separate medical evacuation helicopters and flown to hospitals in the Central Valley. As of September 15, both patients remain in critical condition.
*In short-haul, the litter is attached to a rope suspended from the hovering helicopter. The helicopter picks up the litter, flies to its destination, and sets the litter down gently into the hands of a receiving medical team. Short-haul eliminates the need for a hazardous and time-consuming ground evacuation, and it allows a complicated rescue to be accomplished quickly by a small team.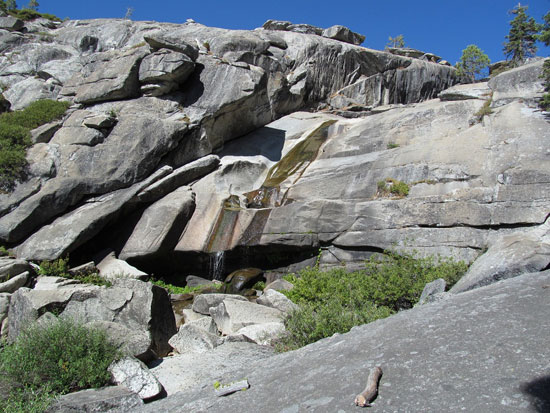 The subjects began their slide halfway down the visible water flow, and then fell off the vertical ledge to the rocks below. NPS photo by ranger Shawn Strobel.