On Monday afternoon, August 19, 2013, the Yosemite Emergency Communications Center received a 911 call from a hiker on the Upper Yosemite Fall Trail. The caller stated that his brother, a 62 year-old male, had collapsed on the trail below Columbia Rock (approximately one mile from the trailhead). It was a warm, sunny day, with high temperatures predicted at 95°F. The two had been hiking since 6:30am and were returning to the Valley from the top of Yosemite Falls when the subject became dizzy, short of breath, and unable to walk or speak. Yosemite Search & Rescue (YOSAR) dispatched a hasty team—a paramedic and two other team members—to gain further information and provide medical care.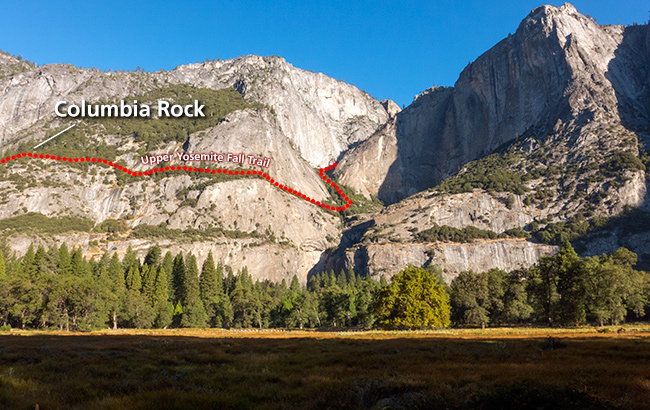 While the hasty team hiked up the trail, the 911-caller reported that his brother's condition was deteriorating. He had become unconscious, had a rapid pulse, and was no longer sweating. Park rangers quickly organized a carryout team. Once the initial team arrived on scene they found the hiker lying on his back and shaking uncontrollably, with hot, dry skin and a body temperature exceeding 104°F. Rescuers realized he was in critical condition and began cooling him down with IV fluids and cold packs. He appeared to be suffering from heat stroke.
The carryout team carried the hiker down to the trailhead in a wheeled litter and, because of his serious condition, decided to evacuate him to a hospital by a medical helicopter. However, when the helicopter landed in Ahwahnee Meadow, the pilot determined that they could not take off with the additional weight of the patient due to a situation known in aviation as "hot and high." Hot temperatures combined with high elevation results in air that is less dense: essentially, there are not enough molecules for the helicopter's rotors to "push" against while lifting from the ground. As a result, an ambulance transported the patient and helicopter crewmembers to a lower-elevation landing zone in El Portal (15 miles away), where the helicopter met them and safely took off with the weight of everyone on board. The subject was flown to an area hospital, diagnosed with exertional heat stroke, and discharged several days later. He is expected to make a full recovery.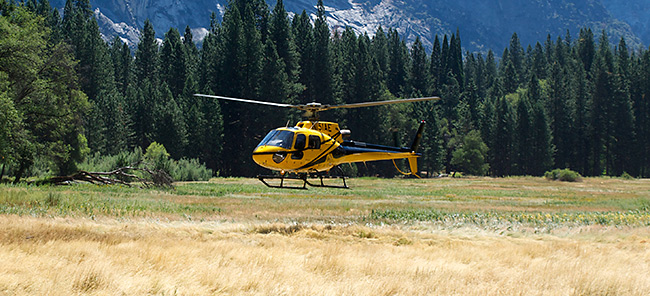 Heat illnesses occur regularly in Yosemite National Park during warm weather, but most cases result in heat exhaustion, which can generally be treated with fluids, salty snacks, and rest in a cooler location. Heat stroke, however, is a less common but life-threatening emergency that requires immediate medical intervention. The two most reliable indicators of the condition are high body temperature (usually over 104°F, though this varies) and altered level of consciousness, but other classic symptoms include nausea, rapid heart rate, hot and red skin, lack of sweat, and seizures. Without treatment, a person suffering from heat stroke will quickly go into shock, suffer multi-organ failure, and die.
Could this emergency have been prevented? The hiker tried to do everything right: he drank water, brought plenty of snacks, wore a hat, and took breaks every 30 minutes in the shade. He started hiking up the trail early in the morning, completing most of the trip before the hottest part of the day. By the time he became ill, he was hiking downhill on a more shaded portion of the trail. So what went wrong? Rescuers learned that he was taking a medication that made him more prone to heat illness, and that medicine combined with any existing dehydration could have caused his body to drastically overheat. "The first thing that comes to mind," he said a few weeks later, "is that I probably should have brought more than two liters of water, and should have made myself drink more at times when I wasn't at all thirsty." Many hikers underestimate the amount of water to bring, particularly on hot days or on trails with a lot of sun exposure. On this note, he added, "I also was not aware of the baking effect of the sun as it radiates off the granite, even in early afternoon, turning the trail into a virtual rotisserie at some points."
If you are going to hike in Yosemite during warm weather, remember to plan ahead. Research your intended route and consider starting early to avoid the afternoon sun. Bring extra water and food, drink water, and plenty of it, before you feel thirsty, wear breathable clothing, and find ways that work for you to mitigate the heat: wearing a hat and/or damp bandana and taking frequent breaks in the shade are good strategies. Remember that simply removing your pack and shoes while resting helps to dissipate body heat. Most important, recognize your limits and turn around before you reach the point that you cannot self-rescue. "I was amazed how quickly it hit," the hiker who suffered heat stroke said. "One moment feeling wobbly legs and lightheaded, the next in a dream state in a small room that turned out to be the ambulance."