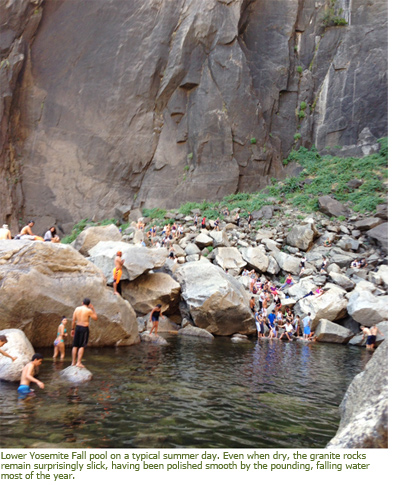 Last week in Yosemite Valley, on four consecutive days, the Yosemite Emergency Communications Center (ECC) received 911 calls for visitors who had fallen and were injured while venturing off trail near the Lower Yosemite Fall Footbridge. The first incident happened on Sunday, August 3: a 45-year-old male was upstream from the footbridge, standing on a rock, when his foot slipped out from under him and he slid down the face of the rock to the ground. As he slid, he struck his head on the rock, and was bleeding behind his left ear. On Monday, August 4, a 19-year-old female, while scrambling on a slick boulder at the base of Lower Yosemite Fall, slipped and took a five-foot sliding fall off the boulder; unable to walk, the subject was extricated by a Yosemite Search and Rescue (YOSAR) carryout team. She suffered a trimalleolar fracture (an ankle fractured in three places), requiring surgical repair and will have an extensive period of recovery. On Tuesday, August 5, a 14-year-old female lost her grip while scrambling on a boulder, slid headfirst down the rock, and injured her left wrist while trying to slow her fall. Although, at the scene of the accident, the subject was nearly certain she had fractured her wrist, no fracture was noted on the x-ray, and she was diagnosed with a severe sprain. Finally, on Wednesday, August 5, a 45-year-old male slipped and fell while scrambling on uneven terrain not far upstream from the footbridge, spraining his ankle.   
After the above-mentioned accidents, yet another occurred on Sunday, August 10. A 26-year-old male was scrambling on the rocks between the footbridge and the base of the waterfall when he slipped and fell, sustaining a large scalp laceration which required repair at the Yosemite Medical Clinic. Additionally, earlier this summer, in June, there were
two serious accidents in the same area, near the pool at the base of Lower Yosemite Fall.
Although it is not illegal to scramble up to the pool, it is strongly discouraged due to the risk of injury and also for the risk to responders of these incidents. While you may see many people doing this during your visit, please remember how truly dangerous it can be and make smart choices.
Even though it is tempting to leave the trail and scramble to the bases of Yosemite's waterfalls, especially as water levels drop, the boulders at the base of waterfalls are always treacherous. Even when dry, the granite rocks remain surprisingly slick, having been polished smooth by the pounding, falling water most of the year. When rescuers respond to these accidents, even though they are wearing footwear with sticky rubber soles and are experienced in navigating through this type of terrain, they find themselves proceeding with extreme caution. Enjoy Yosemite's waterfalls from the safety of the trail, and if you want to cool off in a waterway, choose a spot along one of Yosemite's rivers where there is easy access (a sandy beach, for example), and where the river is flowing slowly and the water appears calm. Of course, all natural waterways have hidden dangers: strong, unpredictable currents; unseen drop-offs along the river bottoms; and submerged logs and rocks.
All children need close supervision by an adult who can swim. If you are an adult who doesn't know how to swim, do not enter the water!