Yosemite is a place of big dreams. The giant rocks, enormous waterfalls, and vast meadows are a breeding ground for the imagination. They have been for years. Yosemite fostered the national park idea, encouraged new thinking on ecology and preservation, and ushered in glacial concepts on geology. It also started some pretty huge ideas on how to have fun in the coldest season of the year.
In the winter months at Yosemite, all is not as quiet as one might assume. Sure, the droves of sun-burnt visitors are gone and the hum of massive tour buses has found itself somewhere much farther south, but the park still has the same adventurous energy of its warmer days. And there still are plenty of eager visitors, their cheeks pink with cold rather than sun. Winter sports in Yosemite National Park were largely the result of one man's big idea. They were also the center of another man's big dream. These two men were Don Tresidder and Walt Disney, respectively. Though at different times and in different ways, both men envisioned a Yosemite that was not only a summer-time travel destination, but that was a true winter wonderland.

Wild winters in Yosemite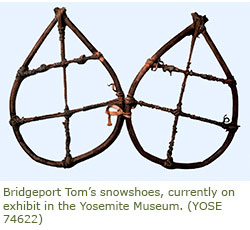 Yosemite winters were fiercely avoided in the 1850s and 60s as pioneers began to settle throughout the Sierra. Most would abandon their homes when cold weather moved in and would migrate to warmer climates in the lower foothills. Only the rare, highly-adventurous and heavily-layered pioneers would venture into Yosemite Valley. Of course, Yosemite Indians had been braving these conditions for years and the Yosemite Museum has a pair of Mono Lake Paiute snowshoes dating back to the late 19th century that show it (YOSE 74622). But for the most part, it wasn't until 1916—the year the National Park Service was created—that the winter sports popular in the east began to take hold in Yosemite Valley. It began modestly and creatively with an 800 foot snow slide near Curry Village built by park employees. "Ash Can Alley," as the run became known, saw trash can lids, hotel trays and all sorts of impromptu sleds slide down its face. But bringing large numbers of people to the park in the winter season was difficult with dangerous roads and limited access. As an answer to this trouble, Highway 140, also known as the All-Weather Highway and the El Portal Road, was completed in 1926 and gave the park convenient all-year access, dramatically changing winters in Yosemite.

Snowballing plans
Don Tresidder, the first president of the Yosemite Park & Curry Company, wanted some more drama. In fact, both Tresidder and Walt Disney had grand plans for making the park a huge winter destination. Tresidder formed the Yosemite Winter Club in 1928, which still runs today, "to encourage and develop all forms of winter sports [and] to advertise and exploit the great advantages, beauties, and healthy benefits of winter in the California Sierra to all the lovers of outdoor life." He directed and oversaw the building of toboggan runs west of Camp Curry, dog sled rides, sleighing, and skijoring (skiing behind a horse with a tow rope) on open meadows, and flooded the parking lot of Camp Curry to make an ice skating rink. There, visitors, employees, and locals enjoyed hockey, figure skating, and curling. A small ski jump was even built in the area near the present-day stables. In 1933, a chairlift was built at Badger Pass near Yosemite West, which became a popular ski resort. Even still, Tresidder wanted more.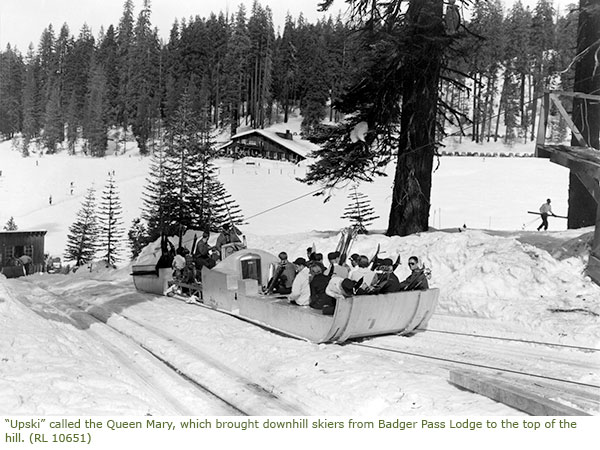 Walt Disney shared these ambitions. He, like Tresidder, loved Yosemite and loved winter sports. On December 16, 1965, Disney was awarded a contract for Mineral King, an area in Sequoia National Park with three ski bowls on 15,000 acres at an elevation of 7,200 feet. In his plans he designed a family-friendly ski resort for the area that would accommodate 7,200 guests with two hotels, 10 restaurants, a chapel, pool, and ice skating rink. His Disney Imagineers, including Marc Davis, designed elaborate entertainment for children on the evenings, like an audio-animatronic show about bears singing in a band—what would later become the Country Bear Jamboree at Disney Parks. Both Disney and Tresidder used their expansive imaginations to serve the needs of their guests and dreamed big things for Yosemite winters. They also shared a foreign influence and an international motivation.

Help from the Swiss
Not surprisingly, both Tresidder and Disney got their inspiration from Switzerland. Tresidder visited the country with his wife for the 1928 Olympics and wanted to make Yosemite the "Switzerland of the West." In the 1950s, while filming "Third Man on the Mountain," Walt Disney visited Zermatt, Switzerland and was inspired to replicate the resort experience in the California Sierra. The European ski havens served as a model for visitor amenities and aesthetic charm to both Tresidder and Disney. The Matterhorn ride still runs at Disneyland in California today, based on the distinctive Swiss peak of that name. 

Olympic hopefuls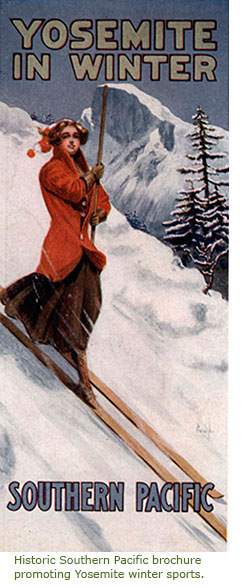 But Switzerland wasn't their only motivation. Both men were fascinated by the magic of hosting the Olympics and hoped to replicate that enchantment. Tresidder campaigned intensely for Yosemite to host the 1932 Winter Olympic Games. It was the first Winter Games to be held in the United States and Tresidder thought that Yosemite's notoriety as a travel destination with first-class lodging and a newly-built ice rink made the park an excellent contender. However, since it lacked other venues for the majority of the sports, Yosemite lost the bid to Lake Placid, New York. Even though it didn't host the Olympics, Yosemite gained from the publicity and business boomed in the winter. The west coast speed skating tryouts for the 1932 Olympics were held at the Curry Camp rink. Disney had even more success with the Olympic Games. Disney Company was asked to be the concessionaire of the 1960 Olympics in Squaw Valley, California. Using this experience, Walt Disney imagined bringing this atmosphere to Mineral King, as a sort of ongoing Olympic village.

Snow always melts
But beyond their dreams, their similarities fade. Tresidder was successful in realizing most of his aspirations for the park. The first slalom race in California was held at Badger Pass in 1933, the resort which saw 10,000 skiers in just its first season. Badger Pass is still running and is a hugely popular destination, one of only three ski resorts in national parks in the country. In contrast, Disney never realized his vision and passed away unexpectedly in 1965. He had hired John Curry of Yosemite's Curry Village to run the hotels at both Mineral King and Disney World in Orlando, who teamed up with other executives of the Disney Company to continue in the efforts to build Mineral King. However, in the 1970s, the Sierra Club protested its creation in court, arguing over the enormous environmental damage it could cause. Finally, in 1977, Disney dropped its plans for the resort.
Regardless of their successes or failures, our dreams are bolstered and magnified by this incredible landscape. Yosemite inspires dreams, ideas, and grand visions. They're exciting and thrilling. They're visions of how we can better share this place with the people around us, how we can better ourselves in challenging climates and terrains, how we can best enjoy this magnificent wonder.