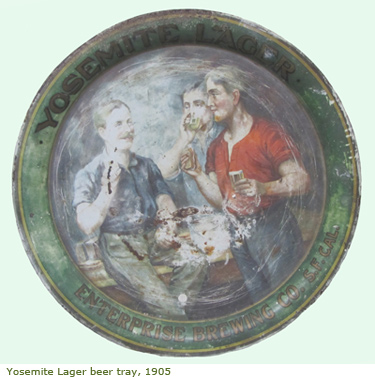 Everyone has a secret passion. Some people carve wood, some are jazz connoisseurs, and some are more…unique…as a friend said to me the other day, "I'm sorry. I just love windmills." A popular passion that tends to rev up this time of year is beer. People love not just drinking beer, but distilling its rich history, tapping into its enormous archive of ephemera. For, as long as there has been beer, there's been creative advertising to sell it. The Yosemite Museum has a piece of such material history, a 1905 beer tray that advertises Yosemite Lager, a pre-Prohibition beer made not in Yosemite, but in San Francisco (YOSE 43610). 
Yosemite Lager was produced by the Enterprise Brewing Co., which ran from 1873 until Prohibition in 1920. Around the time of the company's establishment, beer trays started becoming a popular form of advertisement for breweries small and large. The trays, used to carry beer bottles and glasses from bar to table, could be elaborately decorated with a custom design or with a stock image that the brewery's name added. This tray shows a scene of three men enjoying sandwiches and drinks with the "Enterprise Brewing Co., SF CA" written across the bottom and "Yosemite Lager" across the top. It is the most common kind of pre-Prohibition tray: circular with a 12-13 inch diameter and made of lithograph tin. Today, antique beer trays are collected for their visual appeal and rustic beauty, often selling for hundreds or thousands of dollars. 
What makes the tray in the Yosemite collection priceless is its simultaneous relation and utter disconnection to the park. The beer was neither brewed nor harvested, flavored nor even christened by anything from Yosemite. It was made and sold in the Bay, 4 hours by car and 200 miles away. The illustration on the tray could be anywhere in America, Europe or the globe. And yet, the brand uses the pride, allure, and grandeur of the California landmark to represent itself. And, in a different form of advertising other than the beer tray, the company capitalized on the well-known qualities of Yosemite Park to subliminally valorize their product. 
Lager—fresh pressed… 
This other form of advertising came not under a pint, but in print. Enterprise Brewing Co. ran numerous advertisements in Bay Area newspapers like the
San Francisco Call
. While the beer tray didn't show any images of Yosemite, the ads couldn't show enough. Almost every Yosemite Beer ad is layered atop a drawing of a Yosemite landmark: Half Dome, Yosemite Falls, Bridalveil Falls, or El Capitan. Here too, we find rhetoric we normally hear describing the crystal clear lake waters or hearty camping experience of Yosemite used instead to promote the drink. We can easily imagine the "soft, mellow, invigorating purity and perfect wholesomeness" of a hike through Tuolumne Meadows. It's hard to forget the "cool, refreshing, invigorating quality" of being so close to Yosemite Falls or of diving into the Merced River. And yet, these descriptions are of Yosemite beer, not the park. Indeed the "light, mellow, and genuinely healthful qualities" seem more suited to a stroll through the Valley than an alcoholic beverage. The advertisements emphasize an experience that is wholesome, mellow, purely enjoyable, and made of quality ingredients. Adding the Yosemite stamp legitimized and enhanced these claims. Consumers, however subconsciously, could equate their fresh and pure associations of Yosemite with this beer. The strong, formidable granite lends strength and quality to the brew. The wholesome family experience that Yosemite is known for is now associated with the honest trustworthiness one can have in Yosemite Lager. And though this beer may have had all the fresh flavors and character it advertised, the company couldn't survive as long as the park has.
Using Yosemite associations to sell products has a long history. This peach can produced by the Selma Canning Company circa 1915 features a brand name and image based on the Yosemite landscape as well as California poppies to help sell their product (YOSE 229428).