Perhaps because Los Angeles is farther away from Yosemite than San Francisco and other northern or central California cities, its legacy in the development of Yosemite National Park may be less obvious. However, several Los Angeles engineering and architectural firms were involved in the design of buildings, bridges, and other iconic features of the Yosemite National Park.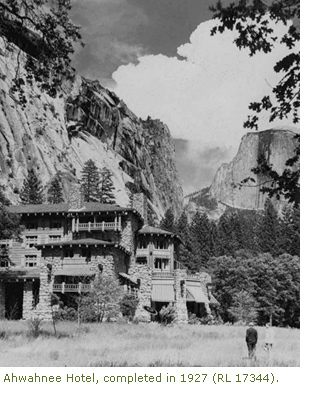 From 1923-1925 the entire landscape architecture division of the National Park Service was centered in the Los Angeles offices of Underwood and Company. It was there that National Park Service Landscape Engineer Daniel P. Hull and Architect Gilbert Stanley Underwood designed The Ahwahnee, now famous, as well as projects for other national parks. 
Architect Charles T. Gutleben, who had residences and offices in Los Angeles as well as San Francisco, also developed designs for the Half Dome cables. His company was also involved in many other Yosemite projects including the construction of the Ranger Club, Yosemite Museum, Administration Building, Le Conte Memorial Lodge, and many of the historic Valley bridges. 
Correspondence, plans, and drawings related to many of these projects can be found in records of the Yosemite Engineering and Maintenance Division as well as Yosemite Old Central Files.