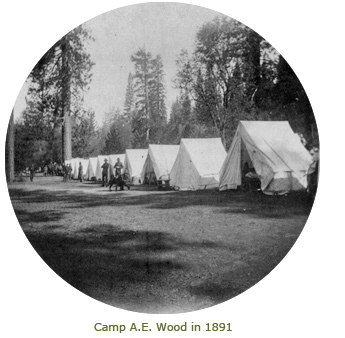 The Wawona campground is a beloved vacation destination for many visitors because of its peaceful atmosphere and proximity to the river—a perfect spot to spend a leisurely day by the swimming hole before enjoying an evening around the fire with friends and family back at camp. However, if you could travel back in time to visit Wawona over one hundred years ago, you would encounter a very different scene. You would be jolted awake in the morning by the sound of a bugle playing reveille, and instead of seeing a hodgepodge of tents and RVs, you would see only tidy rows of uniform white tent-cabins. In place of cars, you would find only very well-trained horses. For, if you were visiting the Wawona campground between 1891 and 1906, you would be standing in the middle of a military camp.   
In 1890 Yosemite National Park was created. But it would be another 26 years before the National Park Service was established. In the meantime, it fell to the army to protect the brand new national park. Each summer, beginning in 1891, some 200 Cavalrymen rode out from the Presidio in San Francisco to patrol Yosemite, in order to "prevent timber cutting, sheep herding, trespassing or spoliation in particular." When they weren't out patrolling the high country, these soldiers on horseback were billeted in Wawona, at the spot that would become the Wawona campground many years later. During its time as a military camp, the future Wawona campground was known first as Camp Wawona and then as Camp AE Wood, after the first acting superintendent of Yosemite National Park, Captain Abram Epperson Wood.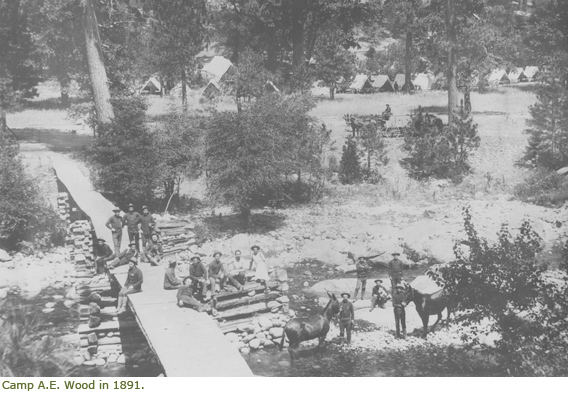 Camp AE Wood was home not only to the Cavalrymen who protected the young park, but also to the very first marked nature trail in the national park system. In 1904 acting superintendent Major John Bigelow, Jr. created an arboretum next to the camp, complete with a footbridge, a path, benches, and signs identifying plants and trees by their Latin names. Three men were tasked with the construction and upkeep of the arboretum;all three were buffalo soldiers, members of an African American troop of the Cavalry.
Today there are few physical remains of the arboretum or Camp AE Wood, but their legacies are alive and well. The tradition of the Cavalry lives on in the hundreds of park rangers who work to protect Yosemite's resources today, and the educational spirit pioneered by the arboretum can be seen in the many interpretive signs that help visitors learn about their surroundings as they explore the park. And of course, the Wawona Campground owes its existence to the military camp that came before it. So the next time you enjoy a vacation in the Wawona campground, you can thank the Cavalrymen who helped shape the park and make Wawona what it is today!