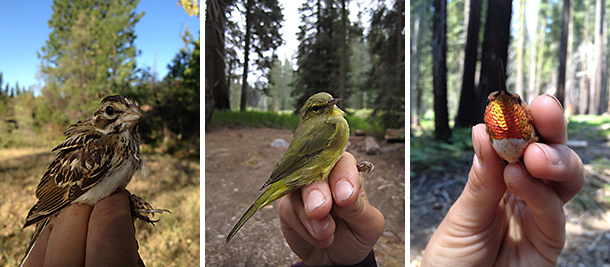 Left to right: Lark Sparrow, Orange-crowned Warbler, Rufous Hummingbird
It's been a hot, busy summer so far during this year's field season of bird banding in Yosemite. Banding occurs at six stations clustered on the west slope of Yosemite, which are each operated once every ten days as part of the Monitoring Avian Productivity and Survivorship (MAPS) program. Data are collected at over 300 MAPS stations across the U.S. and Canada every summer between May and August, and scientists and land managers use these data to look at demographic trends in songbird populations both locally and continent-wide.
In Yosemite, winters with low snowpack appear to produce summers with high rates of productivity, meaning that a lot of baby birds are born. This summer is no exception - with snowpack at 31% of average last winter (based on May 1st measurements, in the Tuolumne River watershed), we've seen predictably high numbers of juvenile birds. Compared to last year, we've also seen peak numbers of juveniles earlier in the season. In 2012, we started to see "explosions" of juvenile birds during Period 7 (June 30-July 9). This year, we captured large numbers of juveniles beginning in Period 5 (June 10-19), a full 20 days earlier! We've also seen many days with higher numbers of birds captured, including one day at Gin Flat where we banded 148 birds - a full 100 birds more than our busiest day there last year.
Another interesting trend we've noticed is that orange-crowned warblers arrived earlier this summer. These drab warblers breed at elevations lower than Yosemite's boundaries and then move upslope to spend the remainder of the summer enjoying Yosemite's natural resources. This year, our first orange-crowned warblers arrived from the foothills about two weeks earlier than last year.
One notable capture during Period 6 was a juvenile lark sparrow at Big Meadow on June 20. Lark Sparrows had never been recorded during MAPS data collection at any of the Yosemite sites previously.
While most birds in Yosemite are still focused on the breeding season, one exception is the conspicuous rufous hummingbird. These diminutive birds sport striking coppery-orange plumage as adult males, and are passing through the Sierra Nevada on their southbound migration. Our first rufous hummingbird capture was on July 1, and captures continued to be numerous through Period 8.  
2013

Period 3:
May 21-30

Period 4:
May 31-Jun 9

Period 5:
Jun 10-19

Period 6:
Jun 20-29

Period 7:
Jun 30-Jul 9

Period 8:
Jul 10-19

Location

N

R

N

R

N

R

N

R

N

R

N

R

Big Meadow

16

1

13

6

18

3

14

3

13

2

27

3

Lower Hodgdon

15

7

21

11

27

10

58

12

64

17

38

17

Upper Hodgdon

6

10

21

14

10

16

51

20

39

11

24

9

Crane Flat

19

6

44

18

26

9

85

15

92

16

69

10

Gin Flat

n/a

n/a

27

4

15

6

62

7

86

5

128

12

White Wolf

n/a

n/a

4

5

8

5

10

5

66

3

29

3

Totals

56

24

130

58

104

49

280

62

360

54

315

54
N=Newly Banded Birds,  R=Recaptured Birds