On May 16, a mother and daughter were hiking to Inspiration Point when they sought a shortcut, lost the trail for over two hours, and became "cliffed out." The steady rain and cold temperatures already made for a miserable day before their misadventure began. While hiking in the rain is generally not a problem, nor is it discouraged if one is properly dressed (i.e., waterproof and breathable outerwear and warm clothing underneath). However, the hikers were not dressed for precipitation and chilly temperatures. In any case, they eventually reached steep terrain, which made continuing downhill impossible.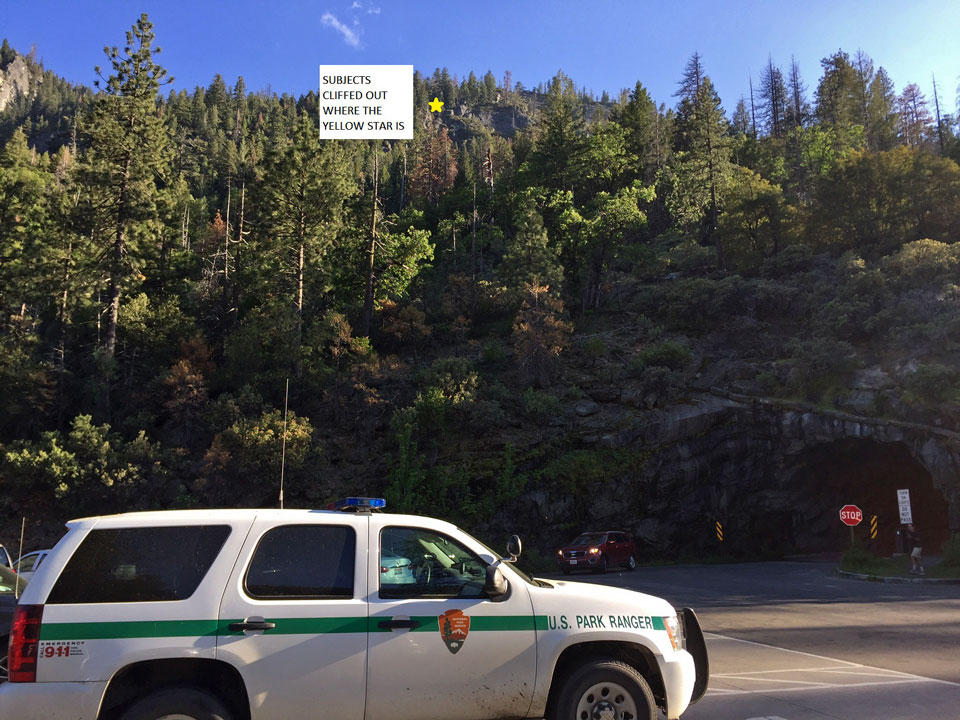 At 5:45 p.m., lost and running out of options, the hikers phoned 911 and reached the Yosemite Emergency Communications Center, which initiated a search and rescue (SAR). The first responding ranger established direct cell phone contact with the lost hikers and obtained their coordinates (location). The hikers could see the ranger's emergency vehicle lights at Tunnel View and rangers could see the hikers with the aid of their binoculars.  
The ranger directed the hikers to head up hill until they reached the Pohono Trail but the hike was steep and wooded and the ranger lost sight of the hikers as they headed up. The ranger instructed the hikers on how to send coordinates or "pings" through their smartphone map applications but they were not able to figure this out, which made it necessary to call 911 every 20 minutes for progress tracking to ensure they were maintaining the proper heading. (911 lines are able to obtain coordinates from
some
cell carriers, in
some
instances with accuracy, when there is coverage and while this is an important search tool, never rely on cell phones in the backcountry.)  
After 30 minutes of slow progress and with darkness approaching, additional SAR resources were ordered. Darkness arrived before SAR resources arrived, so the ranger instructed the hikers to remain in place after getting them to level ground about 200 yards from the trail. When the SAR team got closer, the ranger directed the hikers to blow their whistle until the SAR team located them.  
At 9:20 p.m., the SAR team connected with the hikers; although cold and wet, the hikers were in good spirits. The SAR team gave them heat packs to warm the hikers and then walked them back to the parking lot.  
What went wrong?
Leaving the trail is a common mistake many visitors make. In this case, it was an attempted shortcut. Yosemite is defined by dangerous terrain and unless one is well acquainted with backcountry travel, including a good topo map and compass (GPS optional) do not leave the trail. If we cannot persuade you to stay on the trail for your own safety, can we convince you to stick to the trail to preserve Yosemite's fragile flora by not trampling it?
As mentioned earlier, the hikers lacked protection from the elements. Hypothermia is a very real possibility and hikers should always prepare for the worst extremes for the present season. You do not have to wear everything you bring, but do carry appropriate clothing in your pack.
Neither hiker carried a light source. Headlamps are powerful, inexpensive, and lightweight. Most hikers do not intend to remain out after dark, but hikers do not intend on becoming lost either. Hiking in the dark anywhere without a light is hazardous; in Yosemite's steep terrain, this can be deadly.
Know your equipment and be able to exploit your smartphone's features. Although there was cell coverage in this area, in many parts of the park, even in many frontcountry areas, this is not the case. Your cell phone might be a tool, but never depend on it.
Be able to navigate. The hikers did not carry a map or compass. Always, always, always be able to backtrack your original route. Do not try to force a solution. Hiking "down" as your solution is unproven hikers' lore and many Yosemite hikers have learned this the hard way, some at the cost of their lives.
What went right?
Once cliffed out, the hikers stayed in place and called 911 for help. This might seem obvious, but some hikers in similar circumstances have unsuccessfully attempted to descend steep terrain. While we appreciate self-sufficiency, we'd much rather help you before your situation worsens or becomes more complicated.
The hikers remained in contact with rangers through their fully charged cell phone.
They had food and water.
Perhaps their most important tool was their whistle. Without that whistle, another lightweight inexpensive device, locating them would have been a lot more challenging and kept them in the woods further into the rainy night.
Being prepared with the 10 essentials and knowledge of your terrain and weather is vital for having an enjoyable hike.