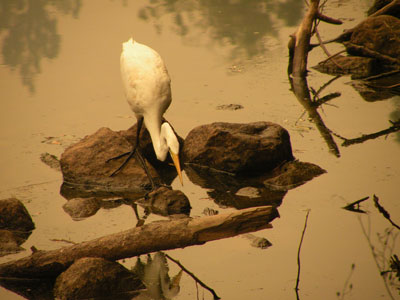 Despite the fact that the granite walls of the Yosemite Valley were hidden behind a shroud of smoke, there was still much to see. On the smoky Saturday morning of August 31, I ran into two birders along the boardwalk through Cook's Meadow. A conversation quickly began about recent bird sightings in the park, and I shared that a fellow ranger a few days prior had spotted a great egret (Ardea alba) along the Merced River. When the visitors and I finished our conversation and parted ways, I was not more than 20 feet away when I heard my name called out. I turned around just in time to see a flash of white over the river. The three of us immediately re-grouped and set off to find the origin of the flash of white.

Indeed, it was the great egret. We watched in silence, in awe, as the egret stood still, peering into the water. After several minutes of focused attention, the egret stabbed its beak into the water, successfully catching a meal.
Although common elsewhere, only eight sightings of great egret are known in Yosemite, including this one: two from Lake Eleanor, three from Yosemite Valley, and three from Tuolumne Meadows. The first recorded sighting was August 7, 1943 at Swinging Bridge in Yosemite Valley. Prior to this current sighting, the most recent was August 16, 2002 near Tuolumne Meadows Campground.
The great egret looks similar to the snowy egret (
Egretta thula
), both having white plumage, except that the great egret has a yellow bill and black feet whereas the snowy egret has a black bill and yellow feet. Both these birds were nearly hunted to extinction in the late nineteenth century, sought after for their billowy plumes to decorate women's hats. In 1886, Frank Chapman, ornithologist for the American Museum of Natural History, went on two walks along the streets of Manhattan. During those strolls, he counted 174 individual birds spanning 40 species, all perched upon the hats of passing women. In the late 1890s, state-organized Audubon Societies were founded to fight the feather trade, and their efforts led to the passage of the Lacey Act of 1900, which prohibited interstate shipment of wild species killed in violation of state laws. Today you can find the great egret as the symbol of the National Audubon Society.
Many people come to Yosemite looking for the majestic views and an epic hike, but instead find something other than what they were looking for. On that Saturday amongst the shroud of smoke, we found a bird uncommon to Yosemite with quite a story to tell.
Learn more about
birds in Yosemite
and download a copy of
Yosemite Bird Species Checklist
[318 kb PDF].