At 8 am on December 28, 2016, two trail runners—James and Christine (not their real names)—started up the John Muir Trail from Happy Isles. They didn't have a particular goal, route, or schedule in mind, but they did have small packs with headlamps and light jackets. Both were experienced with mountaineering, ice climbing, and backcountry snow sports. They went around a trail-closure gate at a junction one mile past the trailhead and traveled up the Mist Trail, an icy staircase with a cliff on the uphill side and a steep, 100-foot drop into the Merced River on the other. After exiting the closed area, the pair reached the top of Vernal Fall, then Nevada Fall, and continued on. They eventually made their way eight miles up the trail to the base of Half Dome, where twin steel cables start their 400-foot ascent to the summit.
In summer, the Half Dome cables are lifted to about waist height by metal posts called stanchions, which are placed in boreholes in the granite. Horizontal planks are held in place by the stanchions and provide the only reliable footholds, as the steep granite path has been polished slick by 97 years of hiker traffic. In winter, the poles and planks are removed to avoid damage from snow and ice. The cables remain anchored at each end, but they lie on icy rock, so gripping them is more difficult and there are no footholds. On either side of the route, the rock surface slopes steeply down for several hundred feet. Since 2006, five hikers have died falling from the cables after slipping. Prior to 2006, there was one fall from the cables (it's unclear if it caused by a slip or a medical issue).  
On the trail, James and Christine met a solo hiker heading for the cable route. He had set out with the intention of hiking Half Dome, and accordingly carried traction devices for his feet and a tether to tie into the cables. At the base, the cables were exposed, but for most of the way they were completely covered by up to two feet of unconsolidated snow. With the route concealed, the hikers would have to climb wherever the slope appeared to be safest, and without the aid of the cables.  Furthermore, an impassible-looking spot was visible partway to the summit. The solo hiker took a few steps and then decided to retreat.  
Christine, who had climbed the cables in summer, suggested they turn around, but James wanted to summit. They started up, kicking out steps in the snow and digging in with gloved hands. When she reached the impassable-looking spot, Christine again tried to dissuade James from continuing, and she chose to turn around. After borrowing her cell phone, he continued on and reached the top, but he was only halfway to safety; he still had to descend.  
James took a new route down, to the right of his upward path. From the top it had looked easier, but as he descended, the slope increased. He tried to make his way back to familiar terrain on the left, but was forced to continue down the untested right.  
Without warning, James slipped and began sliding toward the steepest line. After about 20 feet, a snow-filled depression stopped his slide. The snow saved his life, but, with a single foothold and no handholds, he was unable to move. Christine, now at the base of the cables, was close enough to see and hear him. They discussed their options and realized that there was no way for her to rescue him without putting herself in danger.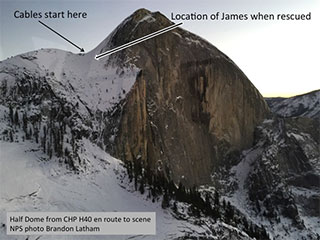 At 3 pm, James called 911. Down in Yosemite Valley, a rescue was mobilized and California Highway Patrol helicopter H40 was requested from Fresno. Meanwhile, James shifted his weight, causing him to slip again. This time he slid 200 feet before stopping in another snow patch. (See photo). He miraculously avoided injury, but was cold. he attempted to traverse to safety but after a few steps, realized that there was ice under the snow, creating treacherous conditions, so he stayed put.
H40 reached the park at 4:30 pm, leaving only enough time to locate James and land two rescuers near the base of the cables before darkness prevented further flying. With crampons, the two rescuers climbed the exposed part of the cables until they were directly above James. In darkness and sub-freezing temperatures, they set up anchors on the cables, allowing one rescuer to be lowered to him. Once tied to a safety rope, and with the assistance of the lowered rescuer, James was able to make his way up to secure terrain. All four then hiked back to the Valley, arriving at 10 pm.  
Lessons Learned
Ascending Half Dome in winter conditions requires mountaineering skills and equipment, plus emergency supplies. It is not a trail run or a simple day hike.
 
Have a plan and know the risks. Where do you want to go? What's the best route? How long will it take? What are the hazards? Did you check the weather? Are you carrying appropriate equipment in case of an accident, a delay, or an unplanned overnight stay? Can you self-rescue? If your preferred trail is closed, is there a better way or an alternate goal? Have you told anyone your itinerary? At any time during your hike, are you or your partners having second thoughts about continuing based on unexpected conditions? If so, maybe it's time to reevaluate the risk and be willing to turn around.
 
Are you carrying the Ten Essentials, including a headlamp with extra batteries, extra food and water, warm clothing, and in this case, traction devices for the icy trail? Runners and hikers often minimize the weight of their gear, which means the rescuers must carry emergency supplies up to them.  You should not expect someone else to bail you out.
 
The decision to call for a rescue instead of having Christine try to help James was a good one. Christine could have suffered James' fate or worse.
 
Rescuers often expose themselves to risk in order to save a stricken visitor, but they will not act if it is too dangerous. For example, flight operations in Yosemite after dark are prohibited due to the hazardous terrain. If James had called a half hour later, if he had dropped the phone when he fell (forcing Christine to hike out for help), or if H40 had been otherwise delayed until dark, he would have had to wait hours while a rescue team hiked up from Yosemite Valley. At sundown it was 39°F in the Valley and much colder at the scene, 4,800 feet higher. Hypothermia would have been a serious concern.
 
Cell phones can be helpful, but they are not 100% reliable. Dead zones exist even in Yosemite Valley, and phones are worthless without a charge. While it's important not to rely on cell phones, they can nevertheless be lifesavers, so consider one for each person in case members of the party become separated.
 
James and Christine had considerably more experience than the average Half Dome hiker, which underscores the point that experienced travelers can, and often do, get into trouble. Those used to dangerous terrain may become comfortable and less risk averse in such settings.
 
"Summit fever" is frequently a factor in hiking and climbing accidents. Having made it close to the top, many will continue despite their better judgment. Focusing too much on one's goal can lead to downplaying risks and sticking to dangerous priorities.
 
Obey trail closures. The Mist Trail is usually closed in winter due to icy conditions, as well as ice and rock falling onto the trail from above. Entering closed areas is prohibited, and visitors who do so put themselves at unnecessary risk.