Saturday afternoon, July 9, a 19 year old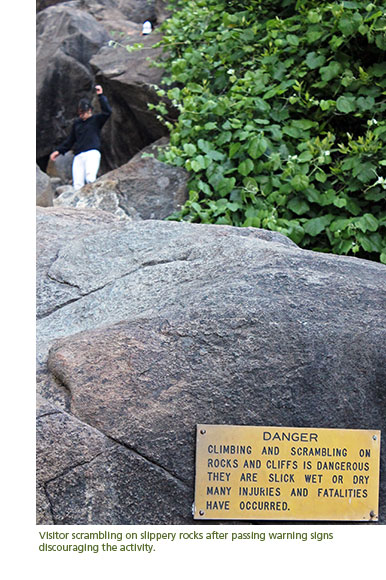 female takes a short hike up the Bridalveil Fall trail and then enters the boulder field beyond the pavement, passing three "danger" signs to engage in some impromptu scrambling. She is joining the dozens of other scramblers who have also passed the danger signs. The glacially polished granite is slippery when dry; it's worse when wet, which it is from steady waterfall spray. Our hiker slips on the granite, falls about five feet, and strikes her head. She immediately loses consciousness and continence and goes into seizures.
At 1:10 pm, Yosemite Communications receives a 911 call reporting an injured hiker in the boulder field. Park emergency medical services rangers proceed to the scene followed by a Yosemite Search and Rescue (YOSAR) litter team.  By the time emergency personnel arrive, the hiker is regaining some level of consciousness, but it is clear she is going to have to be evacuated out of the granite boulders.
Although the injured hiker is only about 100 feet beyond the trail, the YOSAR team finds carrying her a treacherous process due to poor footing. The hiker is transferred to an awaiting park ambulance without incident and is then transported to a hospital in Fresno for a higher level of care.
Lessons learned:
Danger signs are not there to ruin our fun. They are often posted in places with a large accumulation of past accidents. The boulder fields at Bridalveil and Lower Yosemite Fall have a history of many injuries, sometimes life-altering. Although others were engaging in the same activity, it not good judgment to perceive popularity as an endorsement for your safety. It is better to understand this as evidence that human behavior is contagious.
If while regaining consciousness, you notice your rescuers are all wearing climbing helmets, special shoes for the slippery granite, and other protective equipment – and you are not – that's a hint that you were ill-prepared for your activity.
Scrambling is a technical activity and one should inform oneself and prepare accordingly before engaging in scrambling. If your decision to scramble over granite boulders is spontaneous, you have not done any pre-planning and your activity is probably not a wise choice.
The common denominator in many outdoor mishaps, regardless of the activity, is little to no planning and just doing what you see others doing. This can lead to serious consequences. Outdoor activities abound at Yosemite and are here for you to enjoy.  However, if you fail to plan and prepare on the front end, there is often a painful price to pay on the back end.