More than century ago, bird populations were declining at an alarming rate. Birds were being hunted to extinction to be used for food (like the passenger pigeon) or for fashionable ladies hats (like egrets). The steepest declines were in the late 19th century. During that time, a common holiday tradition was to participate in "side hunts." These hunts would be competitions between two sides to see which team could bring in the most game. In response to the decline of bird populations, groups began forming that would become organized as the National Audubon Society. Ornithologist Frank Chapman, one of the early officers of the National Audubon Society, suggested the idea of counting birds at Christmas instead of hunting them. The first ever Christmas Bird Count (CBC) was conducted in December of 1900 at 25 locations. 
113 years later there are over 2,300 locations that participate each year, including Yosemite. Yosemite has been active in the CBC since 1932. As Sarah Stock, NPS wildlife biologist and coordinator of the Yosemite CBC, puts it "Yosemite's CBC has become a treasured holiday tradition, a reunion with birding friends, and a way to play a small part in a big conservation picture." The observations collected by the citizen scientists that participate in the count are compiled in a national database that can provide valuable information about the long term shifts in population and range of some birds. 
This year on December 15, 2013, 63 participants divided up into 9 groups, each one with the goal of counting as many species and individual birds as possible in their particular area. Each group had at least one designated leader, a birding expert, who was responsible for the accuracy of the data. All day, the groups searched their respective areas, covering a 15-mile radius circle that included El Portal, Foresta, Yosemite Valley, and Chinquapin/Yosemite West. This year, a total of 2,754 individual birds comprising 69 species were recorded! 
The fantastic day of birding started and ended the same, with the soft persistent hoots of a Northern saw-whet owl. The record number of participants had some great birding moments and highlights, including 11 raptor species (of which 4 were owls), two Western scrub-jays above 5,000 feet elevation, and 355 golden-crowned kinglets (including 242 in western Yosemite Valley alone)! The "birds of the day" included a merlin north of Foresta, a Western screech-owl and a Myrtle's yellow-rumped warbler in El Portal, two Williamson's sapsuckers, and a brilliant look at a pileated woodpecker (below) in Yosemite Valley. For a complete list of the birds counted this year, see the table below which is in phylogenic order.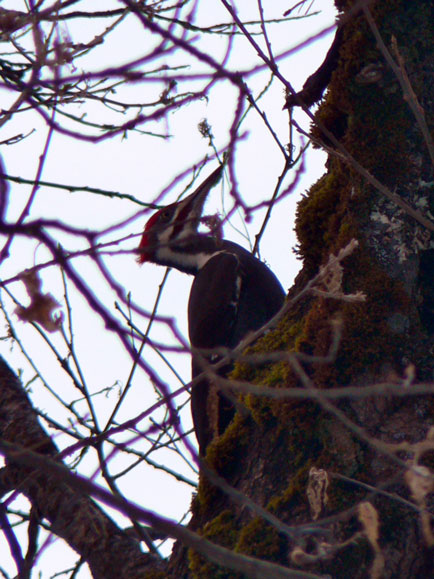 2013 Christmas Bird Count
| | |
| --- | --- |
| Species | Number Counted  |
| Mallard | 21 |
| Common Merganser | 2 |
| Great Blue Heron | 2 |
| Sharp-shinned Hawk | 2 |
| Cooper' Hawk | 3 |
|  Red-shouldered Hawk | 4 |
| Red-tailed Hawk | 14 |
| Golden Eagle | 2 |
| American Kestrel | 2 |
| Merlin | 1 |
| California Quail | 29 |
| Mountain Quail | 6 |
| Band-tailed Pigeon | 118 |
| Mourning Dove | 6 |
| Western Screech-Owl | 1 |
| Great Horned Owl | 1 |
| Northern Pygmy-Owl | 2 |
| Northern Saw-whet Owl | 2 |
| Anna's Hummingbird | 6 |
| Belted Kingfisher | 4 |
| Acorn Woodpecker | 289 |
| Williamson's Sapsucker | 2 |
| Red-breasted Sapsucker | 16 |
| Nuttall's Woodpecker | 17 |
| Downy Woodpecker | 10 |
| Hairy Woodpecker | 12 |
| White-headed Woodpecker | 11 |
| Northern Flicker (Red-shafted) | 42 |
| Pileated Woodpecker | 1 |
| Black Phoebe | 11 |
| Hutton's Vireo | 172 |
| Steller's Jay | 108 |
| Western Scrub-Jay | 91 |
| Common Raven | 22 |
| Mountain Chickadee | 3 |
| Chestnut-backed Chickadee | 41 |
| Oak Titmouse | 141 |
| Bushtit | 26 |
| Red-breasted Nuthatch | 3 |
| White-breasted Nuthatch | 27 |
| Brown Creeper | 10 |
| Canyon Wren | 3 |
| Pacific Wren | 5 |
| American Dipper | 4 |
| Golden-crowned Kinglet | 355 |
| Ruby-crowned Kinglet | 177 |
| Western Bluebird | 94 |
| Townsend's Solitaire | 5 |
| Hermit Thrush | 27 |
| American Robin | 156 |
| Varied Thrush | 12 |
| Wrentit | 40 |
| California Thrasher | 1 |
| European Starling | 29 |
| Cedar Waxwing | 51 |
| Yellow-rumped Warbler (Audubon's) | 36 |
| Yellow-rumped Warbler (Myrtle's) | 1 |
| Spotted Towhee | 80 |
| California Towhee | 37 |
| Fox Sparrow | 3 |
| Song Sparrow | 2 |
| Golden-crowned Sparrow | 158 |
| White-crowned Sparrow | 34 |
| Oregon Dark-eyed Junco | 140 |
| Slate-colored Dark-eyed Junco | 5 |
| Purple Finch | 2 |
| Cassin's Finch | 1 |
| Pine Siskin | 1 |
| Lesser Goldfinch | 5 |
| House Sparrow | 1 |
| Unknown Duck | 2 |
| Unknown Haw | 1 |
| Unknown Raptor | 1 |
| Total observed individuals |  2754 |
| Total observed species | 69 |