Public Use Cabins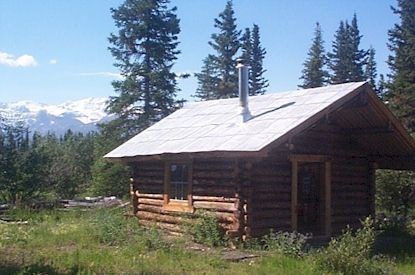 There are multiple designated public-use cabins located within Wrangell-St. Elias. Most of these cabins were old mining, trapping, or hunting cabins that are located on public lands or donated to the park and are now managed by the National Park Service.
Important Things to Consider:
ALL CABINS ARE VERY RUSTIC.
All cabins are in remote locations.
Most cabins are accessible only by flying into remote airstrips.
Cabins are available on a first-come, first-served basis, except the four requiring reservations.
There are four cabins that require reservations: Viking Lodge, Caribou Creek, Nugget Creek and Esker Stream.
Cabins are not regularly maintained.
There is NO running water or plumbing.
Each cabin has very basic furnishings including wooden bunks, table/chairs, and a wood-burning stove (except that the Esker Stream Cabin has an oil-burning stove).
There is a rustic pit-toilet outhouse at each cabin. There is NO running water or plumbing. Bring your own toilet paper in case the squirrels took it from the outhouse.
The park does not stock: firewood, water, dishes, supplies, sleeping pads, bedding or other amenities such as toilet paper for the outhouse pit-toilet.
Please consider bringing your own firewood. There may not be dead and downed wood readily available. It is prohibited to cut down live trees or plants for firewood.
If you plan to stay in one of the first-come, first-served cabins, you should bring camping gear in case the cabin is already occupied.
During the summer and especially during hunting season, the cabins are extremely popular, so be prepared for the cabin to be occupied. It is not appropriate to ask to share a cabin with occupants who are already there.
Regulations:
You must pack out all garbage and leftover food. Please do not leave food in the cabin, in order to protect bears from finding the food.
Do not remove or relocate any artifacts or deface any historic buildings.
Please clean when you leave. In fact, please leave cabins cleaner than when you arrived.
Do not cut live branches or trees for firewood.
The maximum use of a cabin per person is 7 nights in a 30 day period, unless you have written permission from the superintendent.
For cabin reservations of Viking Lodge, Caribou Creek, or Nugget Creek please email wrst_info@nps.gov

CABIN RESERVATIONS can be made six months in advance of the requested reservation dates. If you need to change your reservation dates on an existing cabin confirmation, you will need to cancel the reservation and submit a new one with the required contact information via the email address wrst_info@nps.gov

We recommend that you submit reservation requests at least two weeks in advance of your desired dates. Cabins are very popular during the months of May through September so plan early if you want to reserve during that time. We may not be able to fulfill a request that is submitted within 48 hours of your desired date. Request cabins early, especially over a holiday weekend.
In your email, please provide the following REQUIRED information when you request a reservation, otherwise it could delay your request:
Full name

Mailing address

Email address

Phone number

Name of cabin you would like to reserve

Dates of the NIGHTS you would like to stay in the cabin
For reservations at Esker Stream cabin in Yakutat, there is a user fee of $25 per night. Visit

Recreation.gov

.



Cabin info: Esker Stream Cabin


Last updated: April 22, 2022