Caribou Creek Cabin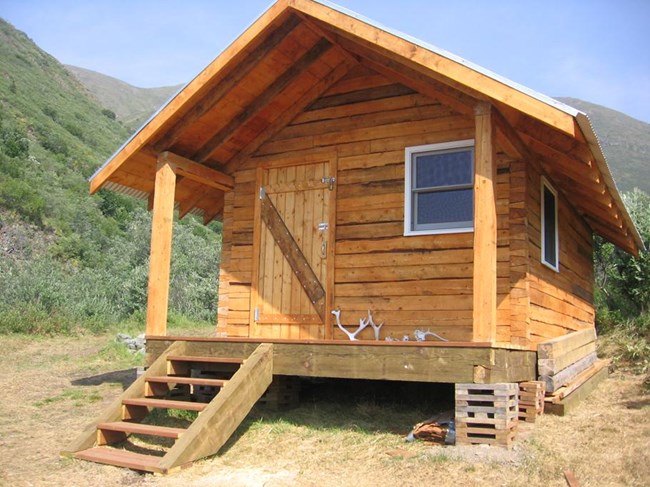 Location: At the end of a three mile hike on the Caribou Creek Trail, located at Mile 19.2 Nabesna Road. Refer to USGS maps: Nabesna 1:63,360 (C-5).
GPS Coordinates: Latitude 62.613142906, Longitude -143.464473434
Reservations: Required year-round and can be made six months in advance of the requested reservation dates. If you need to change your reservation dates on an existing cabin confirmation, you will need to cancel the reservation and submit a new one with the required contact information via the email address wrst_info@nps.gov

Maximum stay in the cabin is 7 nights in a 30 day period per person.

For reservations of the Caribou Creek Cabin, please

email

(click on 'email' to complete form)
wrst_info@nps.gov


Please provide the following REQUIRED information when you request a reservation, otherwise it could delay your request:
Full name

Mailing address

Email address

Phone number

Name of cabin you would like to reserve

Dates of the NIGHTS you would like to stay in the cabin
Access: This cabin is accessible from the Nabesna Road. Cabin is located at the end of the Caribou Creek Trail, which is a three mile hike. Caribou Creek trailhead is located at mile 19.2 on the north side of the Nabesna Road. Parking is available at mile 18.9. In the springtime months or after it's rained, the trail may be extremely muddy. Recreational ATV use is not allowed at this time (trail is closed to recreational ATV use until it is repaired.) Be sure to stop in or call the Slana Ranger Station for the latest trail conditions and information.
Description: The cabin sits nestled between ridges with breathtaking views of the valley south towards Mount Sanford, Mount Wrangell, and the Tanada peaks. There is no running water or plumbing. The cabin is small and includes:
two twin sized wooden bunks (sleeps two people)
a wood stove
a table
a porch
a rustic pit toilet - Please bring your own toilet paper, as the toilet is not regularly stocked or maintained.
Regulations: You must bring all personal belongings that you will require, including sleeping and dining equipment. Please clean the cabin and take all food and trash with you upon departure. Burying garbage is prohibited. Dogs are allowed, but please clean up after your pet. Please do not remove or relocate any artifacts or deface cabins or historic structures. There are numerous bugs in this area. Headnets and bug spray are strongly encouraged during June, July, and August.
Water & Firewood: Visitors may gather dead and down wood for firewood. Replenish any firewood stored in the cabin for the next user. Water can be obtained from Caribou Creek, a short easy walk northwest of the cabin.
Recreational Opportunities: The trail ends at the cabin, but there are opportunities to explore and hike the ridges behind the cabin. This cabin is located in a remote, rugged area. Make sure you're familiar with backcountry safety before venturing out to hike. In winter, it is not recommended to go off trail as you hike to this cabin, as there may be traplines set. Nearby Caribou Creek is not suitable for fishing and there are no other lakes or streams nearby. If you find a place to fish, a State of Alaska fishing license is required. This cabin is located in the preserve, so sport and subsistence hunting is allowed. Subsistence hunting is limited to local, rural residents. A State of Alaska hunting license is required and, if you are a subsistence hunter, a federal subsistence hunting permit may be required. Please refer to state and federal hunting regulations. This cabin is very popular during the summer and is often used during hunting season, so reserve as early as possible. Snowmachines are allowed on the trail, provided that at least six inches of snow covers the ground. Recreational ATV use is not allowed at this time (trail is closed to recreational ATV use until it is repaired.)
Airstrip: none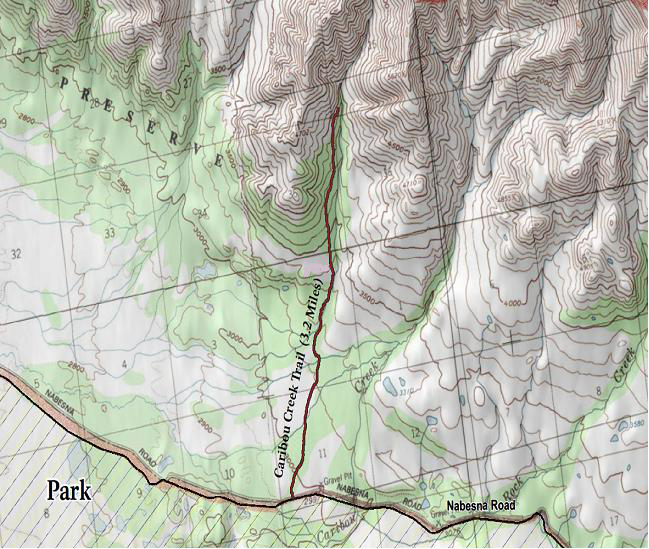 Last updated: November 14, 2022