Plan Your Visit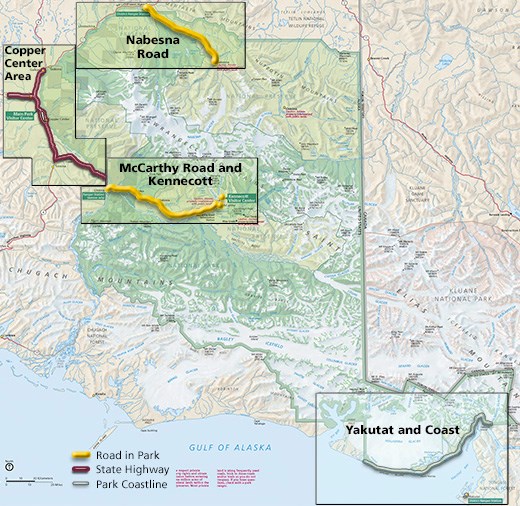 Welcome to Wrangell-St. Elias National Park and Preserve!

Larger than Vermont and New Hampshire combined, this place is unimaginably big. In order to help you plan your visit, the park is divided into five areas where visitor services and things to do can be found. These areas are separated by distances and travel times not expected in a National Park, so please checkout this webpage: travel times between visitor services areas, while planning your visit.
We hope you enjoy your trip to this remote, rugged, and breathtakingly beautiful national park!
Copper Center Area
Located along the Richardson and Edgerton Highways, this area contains the park's main visitor center, the
Copper Center Visitor Center
. Access to the park from here requires flying or at least a one hour (one-way) drive. However, there are still plenty of fun things to do in this area.
McCarthy Road and Kennecott
The McCarthy road stretches from the town of Chitina to the Kennicott River, a 1/2 mile from the town of McCarthy. Three visitor centers are found in this area: the
Chitina Ranger Station
in Chitina, the unstaffed
McCarthy Road Information Station
near the Kennicott River, and the
Kennecott Visitor Center
, which is located in the historic mining town of Kennecott.
Nabesna Road
Starting from the Tok Cutoff Highway, the Nabesna road is a scenic road nestled in a valley between the Mentasta and Wrangell Mountains. Stop by the
Slana Ranger Station
at the beginning of the road for current conditions and things to do in this area
Yakutat and Coast
Accessible only by plane or boat, this is the most difficult area to visit. Most of it is backcountry with visitor services only found in the town of Yakutat. But the scenery makes a trip here worth the effort. Contact the Yakutat District Office for help on visiting this area.
Backcountry
Most of the park area is far away from roads and trails. It's a vast, rugged wilderness. Visiting the
backcountry
has challenges and rewards.
Things to do
in the backcountry include backpacking, rafting and packrafting, mountaineering, staying at a public use cabin, and many other activities.


Last updated: June 26, 2019