Slana Ranger Station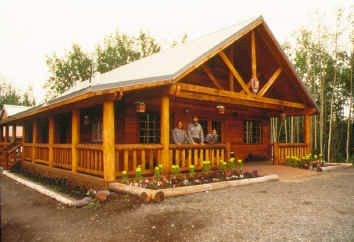 Located in the northern portion of the park, about two hours from the Wrangell-St. Elias Visitor Center Complex.
Mile 0.5 Nabesna Road
(907) 822-7401

Exhibits, park film, bookstore, ranger programs, road updates, park & area information, backcountry trip planning, subsistence and ORV permits.
Spring
early - mid May: Open Monday - Friday 8:00am - 5:00pm.
Please call for hours of operation, since the dates can fluctuate each season due to limited staffing.

Summer
mid May - September: Open Daily 8:00am - 5:00pm.
During the summer, the ranger station may close temporarily if staff members are unavailable due to illness or an emergency.

Fall/Winter
October - April: Closed. If you need assistance, please call park headquarters at (907) 822-5234.

The Slana Ranger Station provides information about the northern side of the park and the Nabesna Road. ORV permits and subsistence permits are also issued here. Bookstore, phone, restrooms, maps are available and the park film is shown on request. Limited park ranger interpretive and/or educational programs are offered during the summer. Please inquire at the ranger station for dates and times of ranger programs.
Learn more about services and activities in the North District.


Last updated: June 10, 2019