Fishing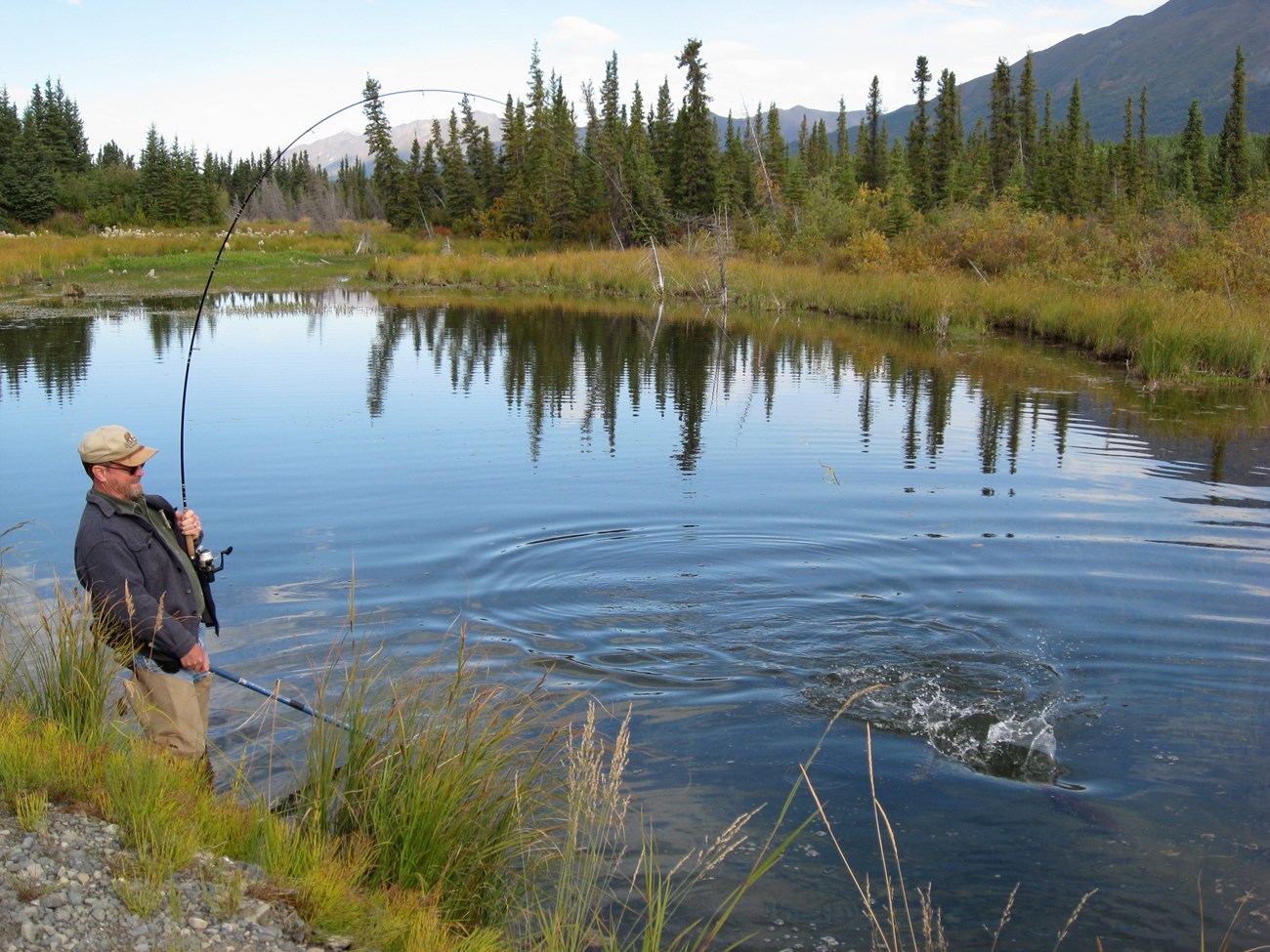 Fishing in Wrangell-St. Elias National Park and Preserve
What comes to mind when you think about fishing? Patience, relaxation, challenge, and memories are a few words often associated with fishing. You will find all that and a sense of stewardship, conservation, and preservation on this page. We want you to have an enjoyable time during your visit, and for those who come after you to fish. Take some time to explore, learn what the park has to offer and learn your responsibilities before casting a line or flicking a fly into the water.
Wrangell-St. Elias National Park and Preserve allows fishing as a means of providing for public enjoyment, and customary and traditional use, and regulates fishing to ensure that it is managed in a manner that avoids unacceptable impacts to park resources.

Wrangell-St. Elias is home to a tremendous array of fish resources. With hundreds of miles of streams draining into two of Alaska's major river systems, the park contains a diverse range of fish species as well as many abundant populations, including salmon populations that support large fisheries.
The Copper River and most of its tributaries are migration routes for sockeye, coho, and king salmon. These fish transport large quantities of marine derived nutrients into otherwise nutrient poor systems. These marine derived nutrients support many of our aquatic ecosystems.
Small lakes and clear water tributaries contain lake trout, Dolly Varden, burbot, grayling, cutthroat and rainbow trout, sculpin, suckers, and whitefish. Some of the northernmost populations of steelhead occur within the park/preserve.
In 2014 a report was released, indicating that mercury was found in fish in some lakes in Wrangell-St. Elias National Park & Preserve. Please go to our Mercury in Fish page to find out more information.
Fishing in the Local Area
In general, the Copper River is not the best place to catch salmon. We recommend fishing in the nearby Klutina or Gulkana Rivers instead. Stop by any of the park visitor centers to ask a park ranger the best spots to fish or visit our Common Fishing Questions web page!
Licenses
A valid Alaska fishing license is required to fish in the park although exceptions may apply, and fees vary. Children under 18 years of age (16 for non-residents) do not require a license, but all anglers are required to record their harvest on a Sport Fishing Harvest Record Card. Visitors fishing within Wrangell-St. Elias National Park and Preserve must follow the fishing license requirements in accordance with the laws and regulations of the Alaska Department of Fish & Game (ADF&G). Bag and possession limits vary by species and by area.
Fishing Regulations
The National Park Service and the State of Alaska cooperatively manage the wildlife resources of the Park and Preserve. For regional Alaska fishing regulations please visit the ADF&G website for information on the Upper Copper-Upper Susitna Management Area and the Yakutat Management Area.
For more information on how NPS fishing regulations work, go to the regulations page on the NPS Fishing website (https://www.nps.gov/subjects/fishing/how-regulations-work.htm).
Subsistence Fishing
Fish may be taken by local rural residents for subsistence uses in park areas where subsistence uses are allowed in compliance with applicable Federal law and regulation, including the provisions of 36 CFR §2.3 and §13.40. Local rural residents in park areas where subsistence uses are allowed may fish with a net, seine, trap, or spear; or use native species as bait, where permitted by applicable Federal law and regulation.
The following communities and areas are included within the resident zone communities for Wrangell-St. Elias National Park and Preserve: Chisana, Chistochina, Chitina, Copper Center, Dot Lake, Gakona, Gakona Junction, Glennallen, Gulkana, Healy Lake, Kenny Lake, Lower Tonsina, McCarthy, Mentasta Lake, Nabesna, Northway/Northway Village/Northway Junction, Slana, Tanacross, Tazlina, Tetlin, Tok, Tonsina, and Yakutat.
Subsistence fishing in Wrangell-St. Elias National Park and Preserve:
Be an Alaskan resident (have lived in the state for 12 consecutive months with intent to remain indefinitely).
Make your primary permanent home in a specific resident zone community, live within the National Park, or have a subsistence eligibility permit (13.44 permit).
Comply with all season and harvest limits.
Comply with all required state and federal permits, and harvest tags.
To be eligible for a subsistence eligibility permit, you must be a rural Alaskan resident and demonstrate that you have (or belong to a family that has) a history or pattern of using the National Park for subsistence purposes at the time ANILCA was passed (1980) without the use of an aircraft for access. The permit is valid for all permanent residents of your household providing you continue to live in a rural community. Call or write the Superintendent to apply.
Please consult the Subsistence Management Regulations for the Harvest of Fish and Shellfish on Federal Public Lands and Waters in Alaska for further information on dates, seasons, means and methods, and permit requirements.


Last updated: June 10, 2021