Getting Around
Filene Center Performances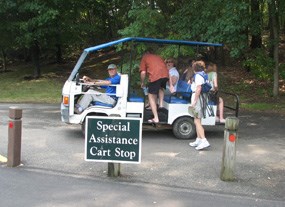 Cart Assistance
Prior to performances, cart transport is provided from the East and West Parking Lots to the Main Gate as well as to other lots and venues in the park starting two hours before each performance. The carts are driven by park volunteers who provide cart service until 15 minutes after the performance starts. These cart rides are a ONE-WAY trip. After performances, because of safety concerns, cart transports are provided ONLY for persons with accessibility needs.
Theatre-in-the-Woods Performances
Cart assistance for Theatre-in-the-Woods performances is only available for persons with accessibility needs.


Last updated: May 10, 2016