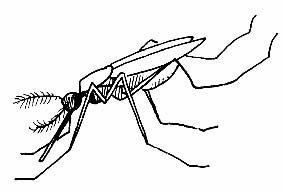 West Nile Virus
Mosquitoes contract West Nile Virus (WNV) after biting infected birds. There is no vaccine and no specific treatment, medication or cure. Most people who become infected have no symptoms. When symptoms do show - usually 3 to 15 days following the bite of an infected mosquito - they range from fever, aches and rashes to meningitis and encephalitis.
You can protect yourself from WNV. People who spend a lot of time outdoors should wear light colored clothing, long sleeved shirts and long pants. Spray an insect repellent containing DEET on top of clothing and exposed skin. Try to avoid being outside during mosquitoes' prime feeding times of dawn and dusk. You can also help control WNV by emptying outdoor containers that fill with water often. Mosquitoes lay their eggs in pools of stagnant water. Culex mosquitoes, the primary carrier of WNV, can complete their reproduction process in about 11-17 days.
Wolf Trap has been part of a mosquito monitoring program for several years. Mosquito traps are set up in different areas of the park and the mosquitoes are counted and tested for WNV. As of summer's end 2004 no mosquitoes caught in the park have tested positive for WNV.
Rabies
Although rabies is controlled among domestic animals it is not easily controlled in the wild. Major carriers of rabies in the wild are racoon, fox, skunk and opossum. These animals are fairly nocturnal. Signs of rabies infection may show as animals appearing in open areas during daytime acting disoriented, lethargic or agitated. The best way to help control rabies is to report any odd behavior seen in wild animals to your local animal welfare agency.
Another way to help control the spread of rabies is to keep domestic pets on a leash when they are outdoors. Letting them roam freely through natural areas or parkland raises the possibility of an encounter with a rabies infected animal. Wolf Trap National Park for the Performing Arts states in it's Park Compendium that all domestic animals brought into the park must be on a leash.